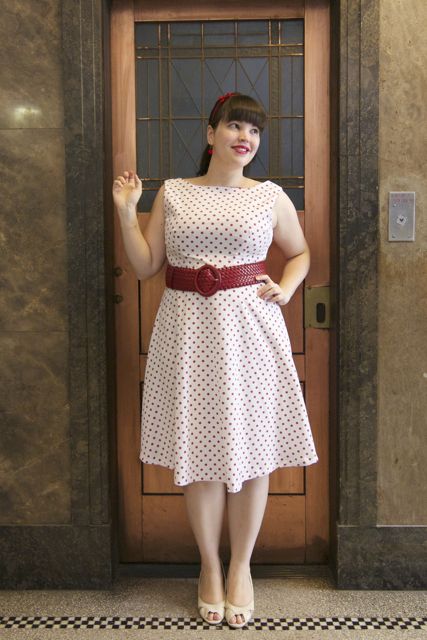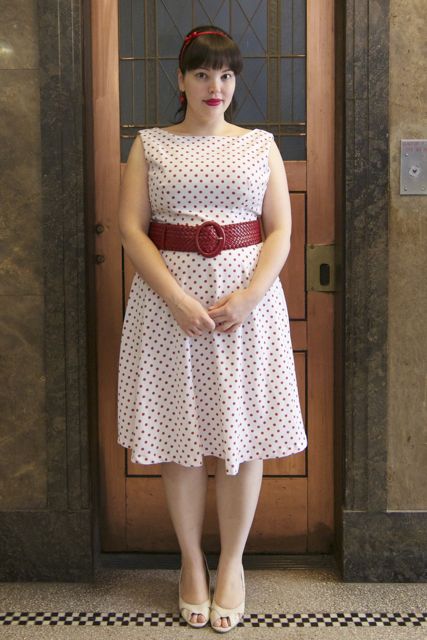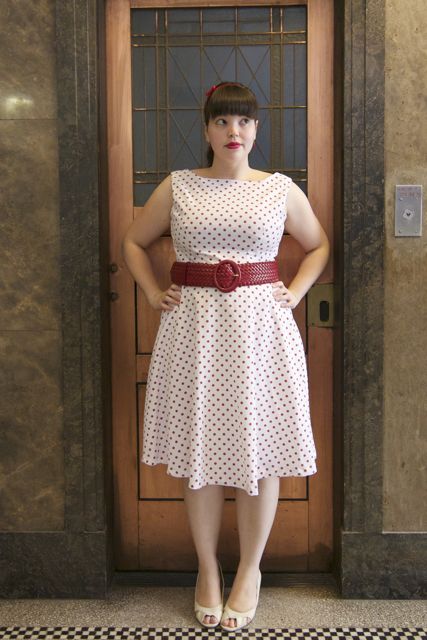 Dress: Bettie Page Clothing
Belt: JAG
Shoes: Hush Puppies
Oooh! It's such a lovely day in Melbourne today – one last little taste of summer, and the opportunity to wear my retro-styled polkadot dress with scandalous red lippy!
I'm so lazy about wearing make-up: I never really learned properly how to apply it, and while I buy the stuff with some regularity, somehow I never seem to have enough time in the morning to put it on. I'm always worried when I wear red lipstick that it makes my already full lips look a little… carnivorous, and I've yet to find an eye-liner that doesn't end up smeared all over my cheeks by the end of the day. I do tint my eyelashes, a pro-tip from my time-poor friend Haz-Mo's Ma; and I've got some powder that I swipe over my cheeks when I'm feeling particularly shiny, but apart from that I'm usually au naturale unless I'm going out somewhere fancy.
My little sister's become a master at makeup application, and she always looks so stunning when I see her that I'm usually inspired to make a bit more effort afterwards, but I'm too shy to ask her what to do (eyeliner: where? how? Blush? On my cheekbones, or under?)
Probably I should take a day course of somesuch, but who's got time, right? Between working, blogging, girlfriending and attempting to expand my horizons to include some kind of free-lance writing gig my days are usually pretty well full up!