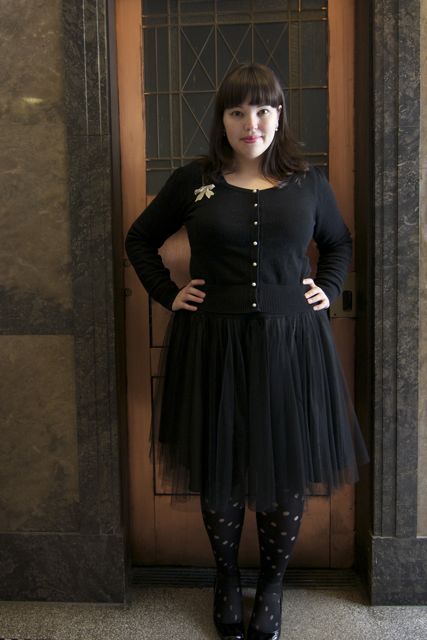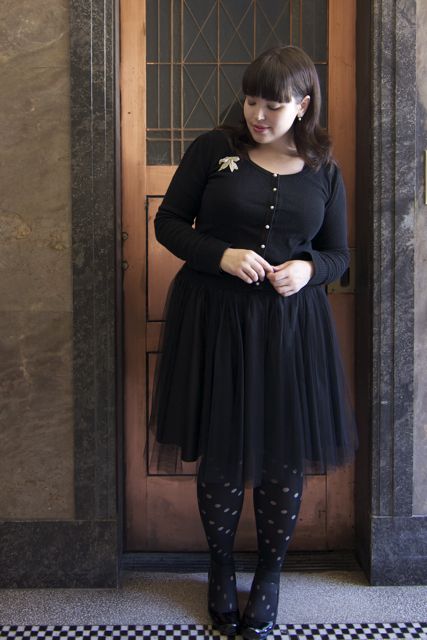 Cardigan: Friends of Couture
Skirt: Charlie Brown
Stockings: Voodoo
Shoes: All Black
After the colour explosion of the last few posts I thought I'd celebrate the first day of autumn with an all (well, mostly) black outfit.
Loving this tutu skirt, and it was the perfect outfit for seeing "Black Swan" with my lovely friend Kate.
I'm loving my new polkadot stockings too! They're from the hosiery brand "Voodoo" though I think they're a DJ's exclusive. I bought them on a hopeful whim yesterday, and was delighted when they fit.  I put my thumb through them on first wear and am thinking I might have to buy a second pair, but the hole's high enough that it doesn't show under this skirt and a dab of nail varnish stopped the run. If you decide to get a pair for yourself though easy does it; they're more delicate than they seem.