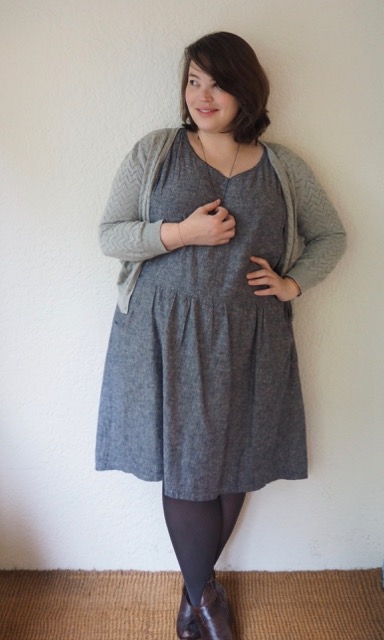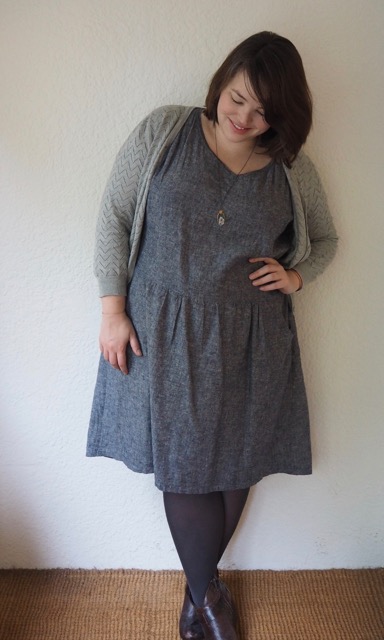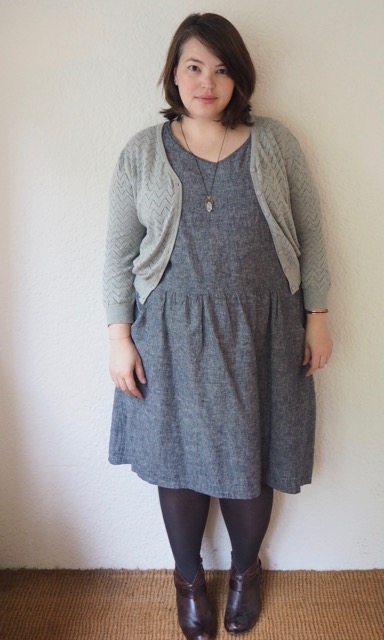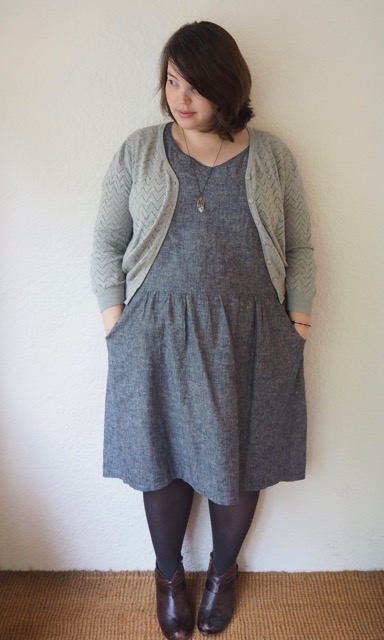 Cardigan: Princess Highway
Dress: DIY from Fancy Tiger Crafts pattern
Tights: Sonsee Woman
Shoes: Miz Mooz
I was trying to expand my sewing repertoire beyond Colette patterns (on account of the sheer number of Myrtles and Monetas now in my wardrobe!) when I stumbled across Fancy Tiger Crafts. Ostensibly a craft supply shop in Colorado, they also do a few patterns of their own design, including the oh-so-chic Fen Dress which looks like it's wandered straight off the racks at Melbourne-based hipster-favourite, Obus.
This fabulous smock frock has deep scooped pockets, a boxy fit, and 'choose-your-own' features like sleeves, hemlines, and necklines so that you can mix and match your own perfect creation from the one pattern. I've made three now, and they've all been made of different fabrics with different elements, and I've loved every one of them.
This version has a dipped hem and a v-neckline, plus I lengthened the bodice by an inch to give it a slightly dropped-waist effect. For the fabric I splurged on a totally, totally divine cotton-hemp blend 'denim', that looks and feels like well-loved linen with none of the wrinkle-factor. I've been reading a lot lately about ethical production in the fashion industry (I've just started reading this great book on the topic called Wardrobe Crisis – do check it out if you're interested in fashion and consumerism) and I was reassured to see that the company who supplies the fabric traces the provenance – and worker standards – right down to the raw materials. At $25 a yard It's probably one of the more expensive fabrics I've bought, but the quality speaks for itself and it was definitely worth the investment.
The fabric's lovely in summer, but Melbourne seems to have finally caught up to the fact that it's autumn, and the mercury is dropping fast. Teamed with tights (Sonsee, naturally) and a cardigan, the style of the dress is clean enough to layer beautifully.
I kept my jewellery simple, adding my New Favourite Necklace: a 'spinner' pendant that lends itself to being endlessly fiddled with during the day (the rough-cut faceted crystal rotates with the flick of a finger).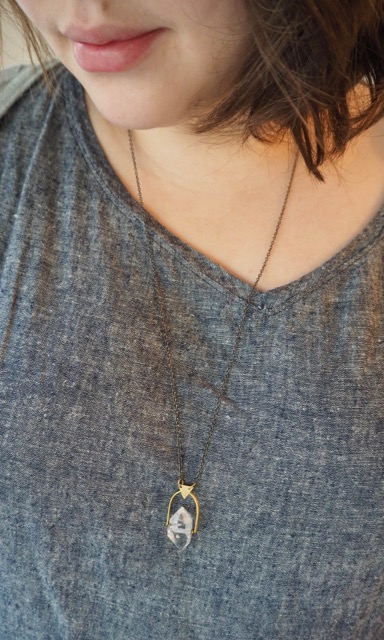 Necklace: Foxtail Boutique
I've had my eye on the necklace for the better part of a year now, and I'm so glad I finally snapped it up, because now I want to wear it all the time.