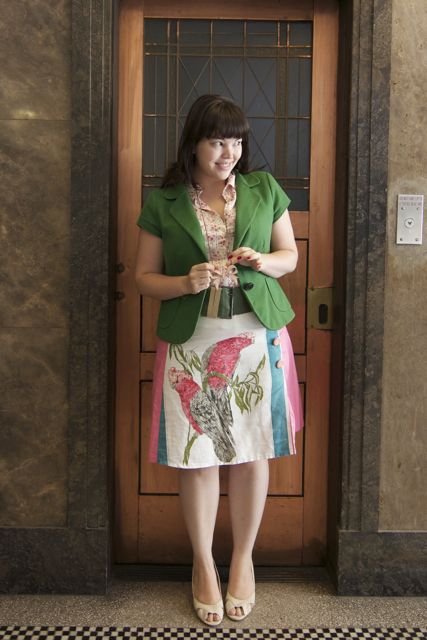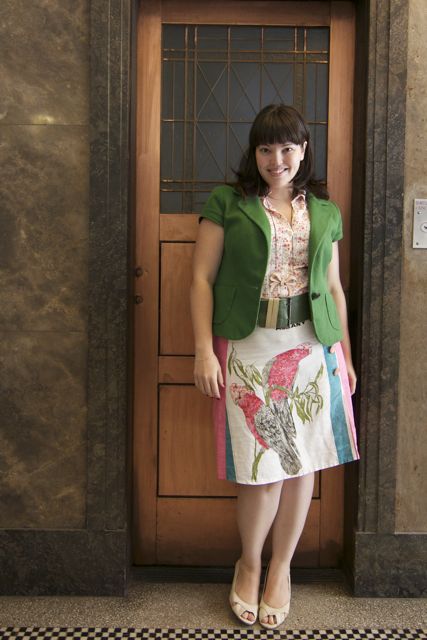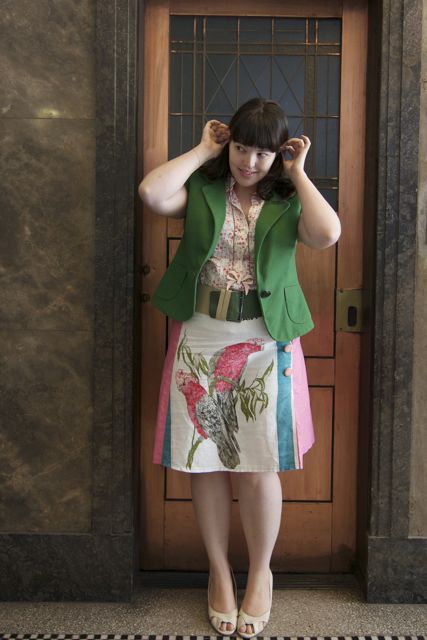 Jacket: Veronika Maine
Skirt: Pearl & Elspeth
Top: Jeans West
Belt: Nancybird
Necklace: City Chic
Shoes: Hush Puppies
There is a LOT going on with this outfit: the floral blouse, the re-purposed tea towel skirt, the  belt, the jacket. As I was putting it together I was thinking "this'll NEVER work" but surprisingly it did, and rather well too.
Coco Chanel famously said "before you leave the house, look in the mirror and take one thing off", but instead after looking in the mirror I put two things ON, and it was the belt and the necklace that finished this outfit and tied it together against all odds.
It's nice when that happens. Too often I'll put together a proposed outfit, and it'll look great laid out on the bed, but once I get dressed it looks dreadful.
I was seeing a new account today who had a particular interest in our local titles, so I donned my most "Aussie" skirt, which was made beautifully by Annie at Pearl & Elspeth out of a tea-towel featuring the Australian galah. Turns out it goes wonderfully with the bottle green Veronika Maine jacket that I don't wear nearly as often as I should. The whole outfit is a satisfying explosion of colour. Not very "Melbourne" but never mind!