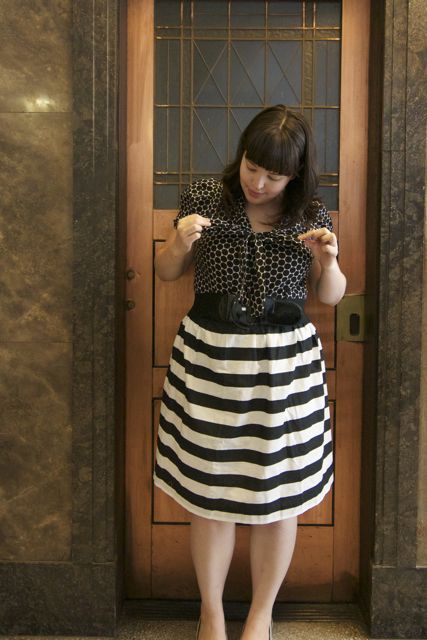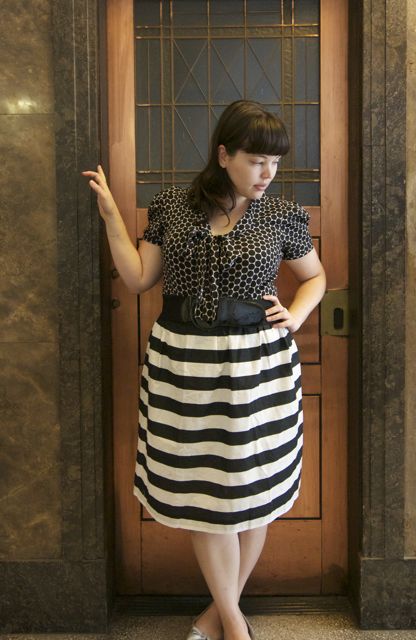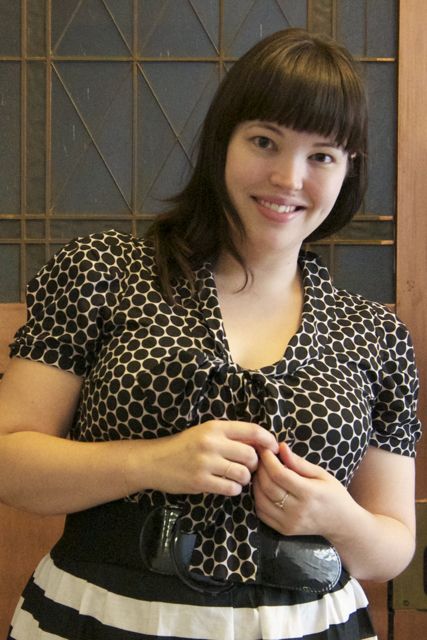 Blouse: Harris Scarfe
Belt: Portmans
Skirt: Princess & Queen (via Etsy)
Shoes: Diana Ferrari
I actually really love the idea of pattern mixing, but it's not something that comes naturally to me. I'm a bit of a matchy-matchy girl when it comes to getting dressed in the morning, and I don't have that splendid innate ability that some women do of looking at two very disparate items of clothing, and understanding how they'll work together.
It's a shame, because I love my prints, but you'll notice I never wear more than one patterned piece at a time. It's not because I don't think it looks good – my favourite fashion bloggers are masters at it (floral dress & polkadot tights! Genius!) – just that I haven't figured it out yet. It doesn't help that printed plus-size clothing has historically been so difficult to find, because it means I haven't been able to turn to places like Fatshionista, Flickr or Tumblr for inspiration.
A week or so ago I read a blog post somewhere (and now of course I can't find the ruddy thing to link to it) about pattern mixing for beginners, and they suggested baby steps like "match the colours".
Recently I'd seen a woman on the street wearing a fantastic monochromatic outfit comprising of a full 50's style skirt and a blouse. The skirt was black with white polkadots; the blouse white with black polkadots. It. Looked. Amazing. It also looked like something I'd be able to manage.
Combining that black-and-white aesthetic with the spots-and-stripes of pattern matching worked out pretty well, though I think I probably need to re-hem the skirt to a shorter length so the stripes don't overwhelm the spots quite so much.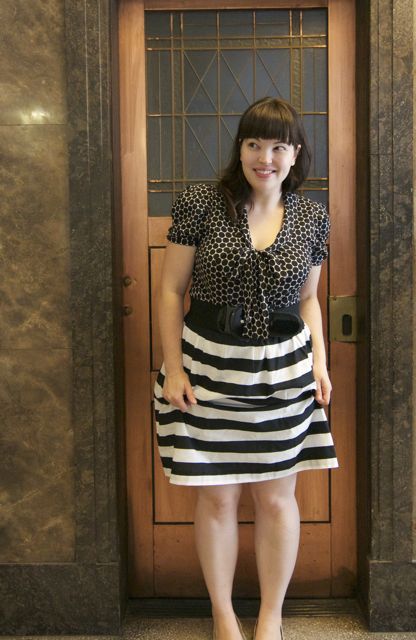 The skirt was custom-made for me by Princess & Queen on Etsy. It's made of a thinnish cotton fabric and is pretty cheap 'n cheerful, but it fits well, and the stripes aren't wonky which is more than I can say for the striped skirts that I've attempted for myself!