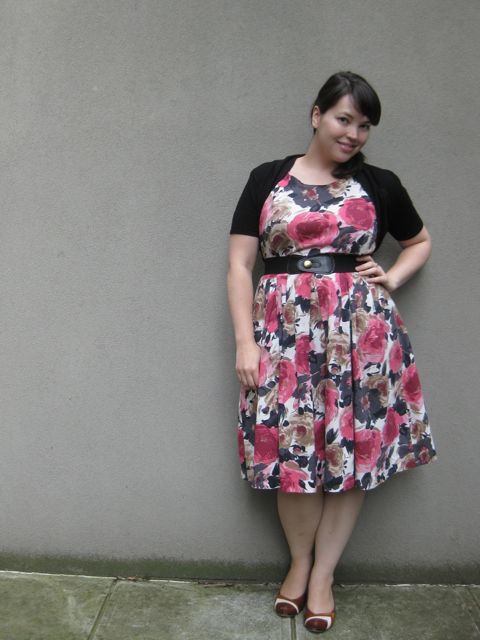 Dress: Now @ Kmart
Shrug: City Chic
Belt: Eliza Parker
Shoes: Chie Mihara
Oh dear! This is what happens when you get dressed, then don't look in a full-length mirror before you leave the house!
I love this flowery little dress, and thought it would be perfect for Melbourne's warmish weather, but when I opened the windows it turned out to be a little brisker than I'd anticipated, so I pulled my little shrug over the top and an elasticized belt worn high to emphasize my waist. The I trotted out the door and was half-way down the street before I realized that while the tan shoes I was wearing worked well with the unadulterated dress, teamed with the black belt and shrug they hit a decidedly wrong note. Sigh.
Also causing me a bit of grief at the moment is my fringe: too long to wear straight, too short to disregard. As I always do whenever summer comes knocking I've started wondering if maybe I should grow the fringe out, since it's getting so long anyway. When I first started Frocks and Frou Frou back in 2008 I was wearing the same clothes (well, mostly) but I looked pretty different. After my catastrophic break-up in 2009 I got the penultimate break-up haircut and to be honest I kind of feel like a new Lilli was born that day. She's pretty cool, this new Lilli, and she's living a really good life with a great boyfriend, a good job, and a pretty awesome cat. And she has a fringe. Maybe. Unless I get fed up with sweating into it on yet another humid summer day, and grow the thing out. Decisions, decisions.