Happy New Year! Has it really been a month since I last posted? You'll have to forgive me – the Mister and I went away over the Christmas holidays and I gave myself full permission just to loll about, and catch up on my reading, and recover from The Great Cold of 2016. Now, I'm back to work, and back into the swing of things!
Which isn't to say that I spent the last month naked, and in fact – this outfit hit Instagram a couple of weeks ago… it's just been a long time since I popped the lid on my laptop to write a blog post!
Last year, after being delighted by my first order at Society Plus (the Kate Midington skirt) a friend and I went in on an order together for a pair of Society Plus' famous 'Mermaiden' sequin skirts. Both this friend and I sew (her much more professionally than I), but neither of us relished the thought of putting our machines through the process of sewing sequined fabric, and these just looked so glittery and gorgeous that I didn't take much convincing to place an order.
As with last time, I followed the size chart to the letter – it meant that I was ordering a size larger than I had in the Kate Midington, but I'm very glad that I did, because as you can see it fits perfectly. The sequins are actually matte, not shiny – but I'm in my late 30's so this probably a good thing. The sparkle is a bit more subdued, and the result is more 'elegant' and a bit less 'mirror ball'.
I was a bit worried that the elasticised waistband would be miserable to wear – sequins + skin = a world of nope – but it's actually faced with a smooth lining fabric.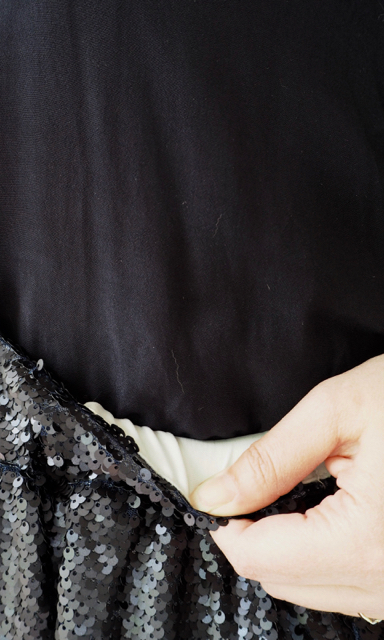 The lining is cream – which is a bit annoying, as the skirt is pull-on which means the waistband fabric shifted around when I pulled it over my head, and I had to do some adjusting to ensure that none of the lining was showing. It's an issue that could have been minimised with a matching lining fabric, but at least once it was fixed it stayed in place.
I wore it with the Arianna Cape Shoulder Top, which is a really classy piece from Advocado.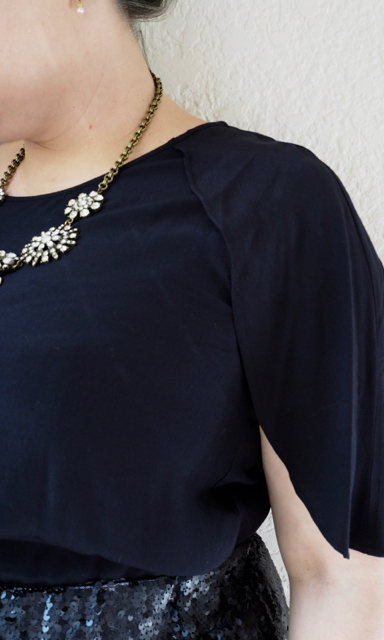 It's basically a tank top, with floaty petal-shaped sleeves that are attached at the shoulder. The result is a really lovely top that's drapey and dramatic, but has upper-arm coverage for those who want it.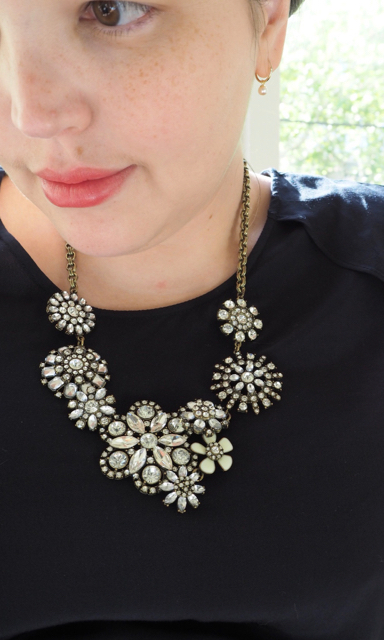 Necklace: Totally Jewel
Because the skirt was so muted I felt confident about introducing a bit of OTT sparkle, with this blingy diamante necklace from Totally Jewel. It provides the whole ensemble with just a little bit more drama.