Belt: DIY
You guys, you guys… this is not a drill. eShakti – the holy grail of plus-size fashion – is finally, finally, shipping to Australia!
If you haven't heard of eShakti before now, prepare to have you world rocked: this brilliant company – the name comes from the Sanskrit word for power – has been a mainstay for plus size bloggers in the US for years now. They offer classic, on trend fashion that is highly customisable, and tailored to meet each customer's needs… and all for less than the price of most off-the-rack items in Australia.
Their philosophy is clothing that looks good on people – not mannequins – and if your particular kind of person has big boobs, or a tiny waist, or is anxious about their upper arms, or refuses to wear anything shorter than their knees, well, then eShakti can make it happen.
Every item on the website can be ordered as pictured, or – if you're so inclined – you can make alterations: custom measurements for people whose measurements might not reflect the size chart, the option to change the neckline, to add pockets (or remove them), to adjust the hem, and even to add sleeves. The cost of all these alterations? A negligible $9.95 fee.
The clothes are made in India, but eShakti has a strict – and transparent – ethical production policy. Their workers are paid at least 70% over the minimum wage, and are promised a clean, safe and healthy work environment with appropriate sanitation facilities. I was delighted to discover that my order came with a handwritten note telling me who my order had been sewn by (and an invitation to send them a personal message).
I placed my order for six dresses (three for me, three for a friend) on 25 November, they shipped on the 12 December, and I was wearing my beautiful new dresses by 16 December. That's a faster turnaround than most off-the-rack clothing shops. I was also able to track the process of my order – from pattern creation, to cutting and stitching, to quality control… all the way to my front door.
And what arrived at my front door was not – as I had expected – a vacuum-packed bag of wrinkled clothes, but a carefully packed box with individually folded items wrapped in tissue paper.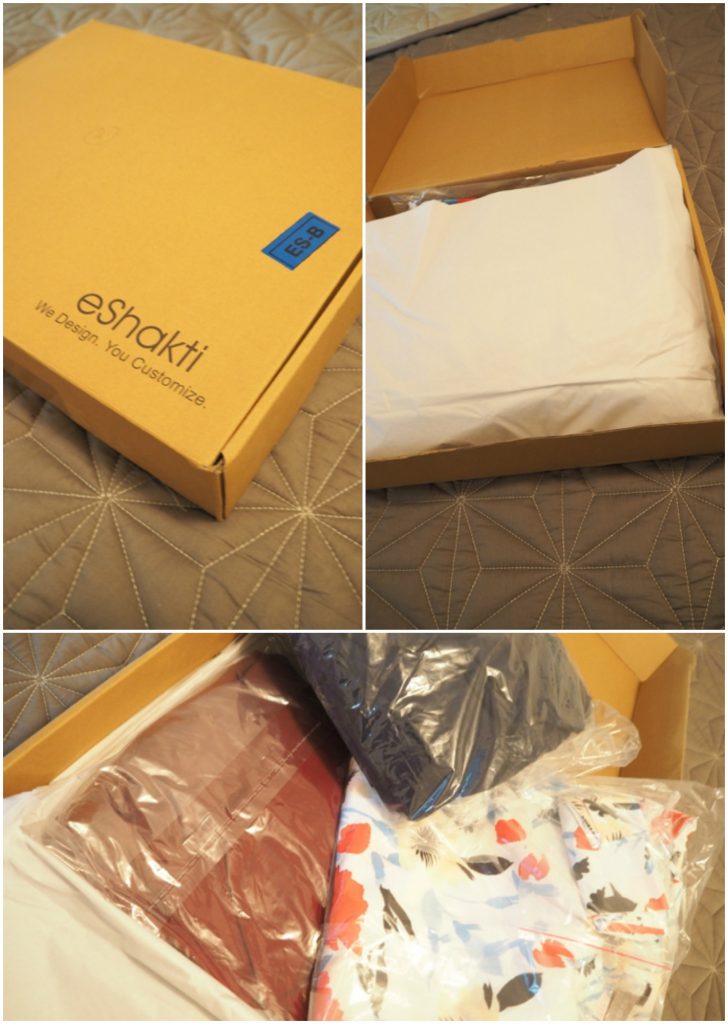 Of course, none of this means anything unless the clothes are good, right? Well – I'm thrilled to let you know that they're great.
I bought three dresses – two in a knit fabric, one in a woven – and I had two of them customised and bought one as-is.
All three dresses fit perfectly, and were beautifully sewn and finished. The fabric isn't brilliant quality, but it's not worse than what you'd usually find at that price range, and all three dresses had a number of wonderful features that you would normally only find in premium brands, including strap-keepers (little fabric strips that you loop around your bra straps to ensure the neckline doesn't slip on your shoulders and expose your bra). Also pockets… pockets are standard.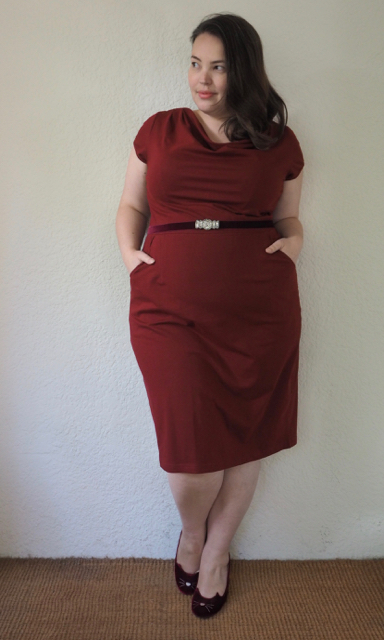 I'd be hard-pressed to pick my favourite of the three dresses, but its difficult to go past the gorgeous berry-red colour of this cowl neck sheath dress. I ordered it to fit my measurements exactly, and added little cap sleeves, and the result is an absolutely divine frock that follows the curves of my body without hugging my tummy or pulling across my hips. Not bad for $48.
I added the belt myself – a little DIY'd number made of elastic velvet ribbon and a rhinestone buckle.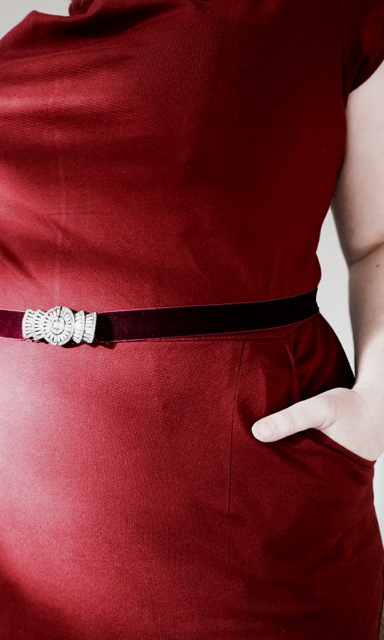 eShakti regularly has site-wide sales and special discount offers, plus new customers get a $25 voucher and free customisation…. but full disclosure – it's addictive! I'm already planning my next order!