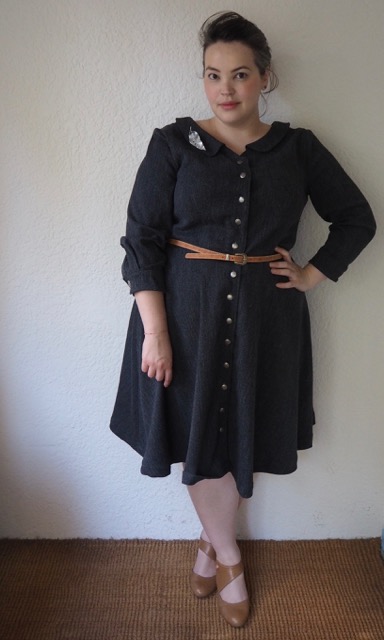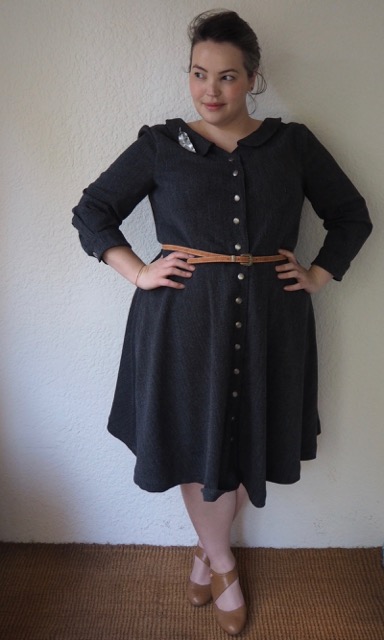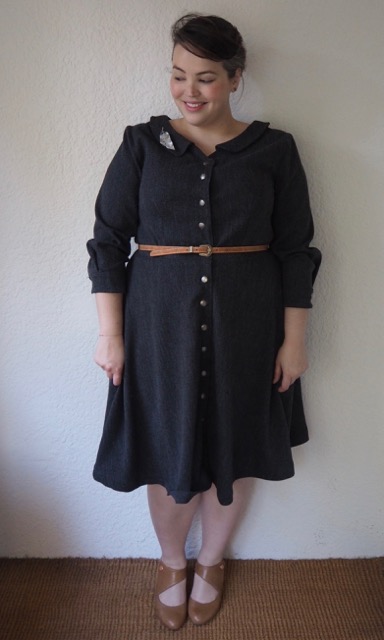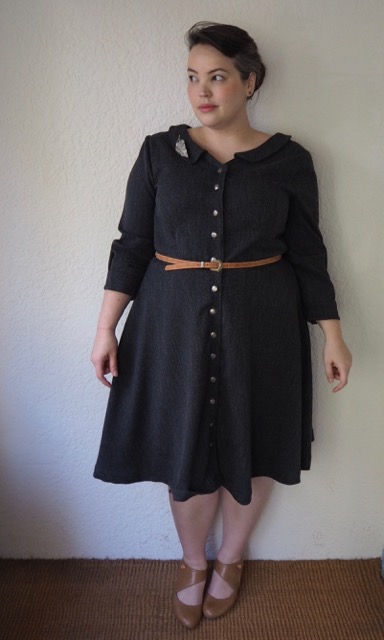 Dress: DIY from Colette Hawthorn pattern
Belt: Princess Highway
I had so much success with my first Colette Patterns Hawthorn Dress that I decided to give the pattern a second go with sleeves for the cooler months.
The Hawthorn was the first time I'd sewn a collar, and with the clear instructions provided it went off (more or less) without a hitch, so I was looking forward to having a whirl at making my own shirt cuffs. In the interest of warmth I picked a wool blend fabric in a charcoal grey herringbone – it was a much heavier fabric than the cotton I made the first dress in… and that was my first mistake. (It also frayed like the devil, and was a total pain-in-the-ass to sew with.)
So, the heavier fabric meant that the collar didn't sit as neatly as my previous attempt, and no amount of pressing could get it to lie flat. Between the collar, the facing, the interfacing, and the main body of the dress there's a lot of layers of fabric, so in retrospect it wasn't entirely surprising I was getting collar pop. It might soften over time, but in the meanwhile I've just been coaxing the collar flat by pinning it with a brooch!
The heaviness of the fabric also meant that I ran into trouble making the cuffs, which – just so you know – are a total nuisance to sew. If I ever say I'm going to sew something with cuffs again slap me, ok?
As usual for Colette Patterns, the arms were hilariously too baggy, and I had to tweak both sleeves and cuffs dramatically before I was satisfied. Well, satisfied-ish.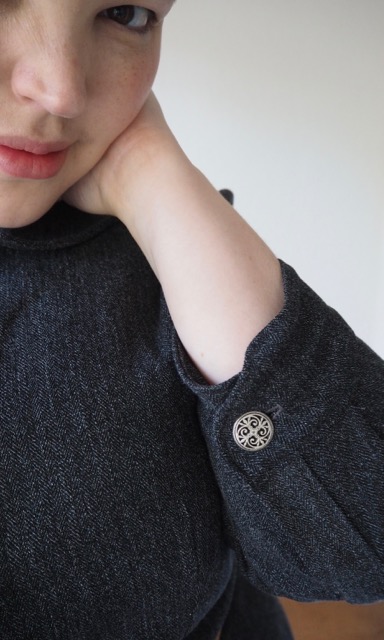 They're a bit wobbly and warped, but they'll do, and they look better shoved halfway up to my elbows (though it does result in billowing sleeves).
The fabric was a nightmare, fraying if I even looked at it sideways, which meant I lost patience with perfecting the fit long before it, well, fit. So it's a bit boxier and lumpier, and the waist isn't quite straight (which is fine, I need to belt it anyway) but it's comfortable and warm, and while it might not be the first winter dress I reach for in the morning it's definitely wearable in public.