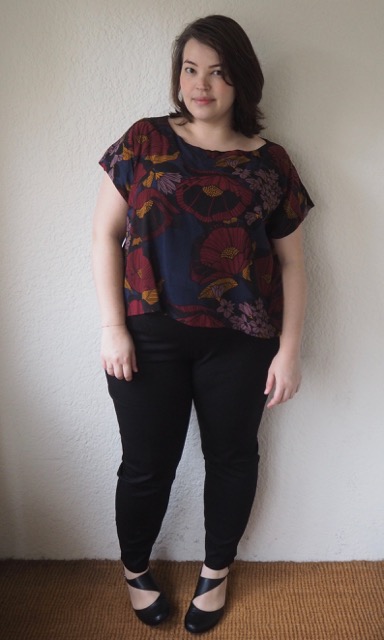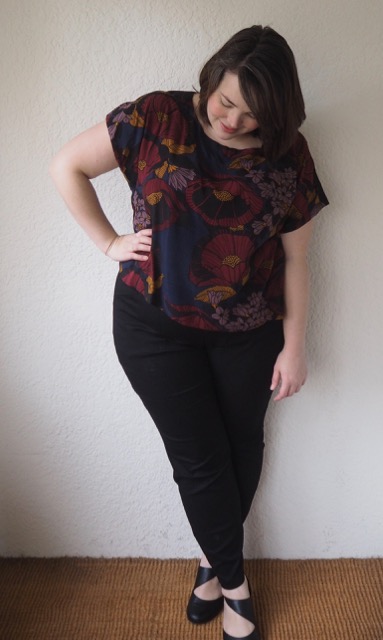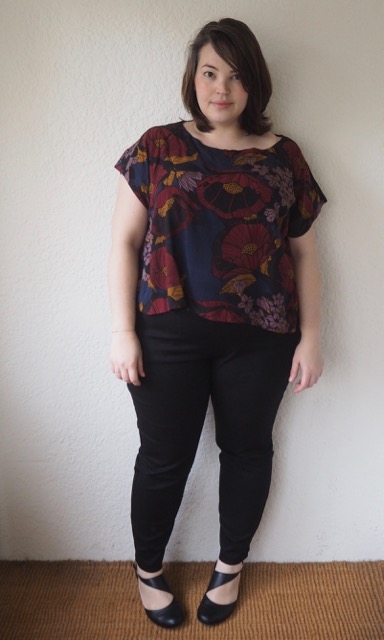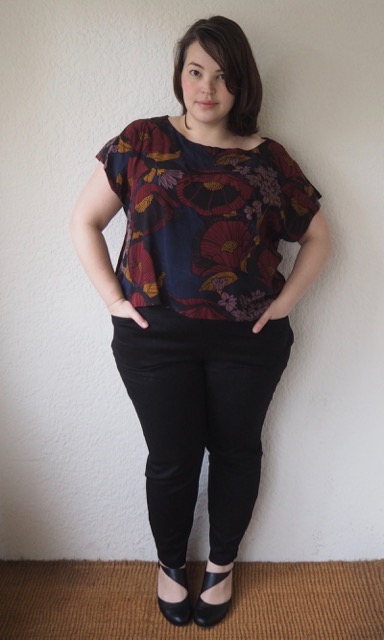 Top: DIY from Marilla Walker pattern
Trousers: Taking Shape "State of the Art" pants
 The mister's marvelous Mum gave me a very generous Spotlight voucher for my birthday in May, and I was looking forward to a quiet unplanned weekend when I could redeem it. Finally it came, a couple of weeks ago, and this top is one of the pieces that I made!
I snapped up this gorgeous poppy-print rayon the moment I saw it on the shelves – it's got a lovely soft drape, and the bold print makes a statement in some of my favourite colours. The mustard, deep red, black and navy mean that there aren't many items in my wardrobe this top won't match.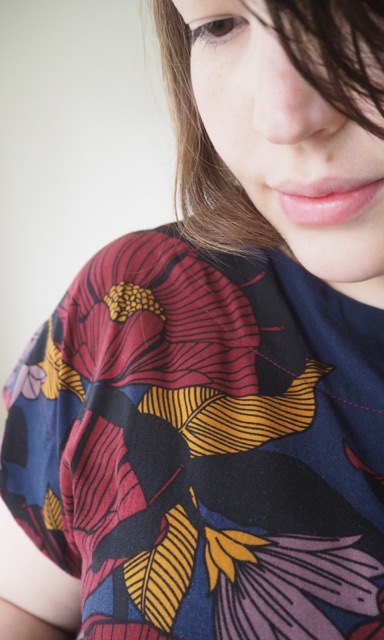 I took the opportunity to crack out my newest pattern, an easy little downloadable number that I'd bought from Marilla Walker after seeing Meg from the Curvy Sewing Collective rhapsodising about it.
It's a great basic top, and a really good project for beginner sewists – There's no tricky darts, or sleeves to set in and while the neckline and sleeves are interfaced you could easily skip those and just hem them if you were a real newbie. The pattern sizing is spot on. I recently made a second version of this top with a friend who's quite a few sizes smaller than me, and just like the version I'd sewn for myself, the size the pattern recommended for her measurements fit perfectly.
It looks great tucked in as well, but for a casual work day I wear it loose over slim-fit trousers. These are some not-so-cheapie ponte pull-on pants that I succumbed to at Taking Shape. I don't know why it's so bloody hard to find well-fitting slim-leg trousers for plus sizes – I'd been searching for weeks before I finally caved and bought these. The elasticised waist (WHYYYYYYY?) means I can't really wear them with anything tucked into them, but they fit well and are really comfortable, so I'm making my peace with the fact that cost SO MUCH, and don't even have a functioning fly.
For warmth I went with a mustard cardigan.
Naturally.