Top: Country Road
Tights: Em Tee See
Shoes: Wittner
Depending on where you are my most recent DIY project is either a Jumper Dress or a Pinafore. Whatever you want to call it, it's pretty cute.
I've been seeing them on some of my favourite plus-size bloggers on and off over the last year and  the combination of a preppy-retro style coupled my obsession with aprons decided me: I needed to give them a whirl.
After a few months of scouring the interwebs for the perfect preppy pinafore I decided on Modcloth's Bicycle Built for Cute Jumper Dress (the title of the post's making a lot more sense now, isn't it?) I thought it might be a smidgey bit short (it was) and at the time it wasn't available past an XL size – it's now listed up to a 4XL, yay – so I thought I there was a chance I'd have to have the waist adjusted (I did), but at $50 I was willing to give it a chance.
In the end it wasn't the hem or the waist that made the dress unworkable on my figure, but the good old rack-of-doom. On a smaller bust the pinafore front looked cute, on my F-cups it was dwarfed, and the effect was far from flattering.
I decided it might be better to start from scratch and build my own from some cheap black material and a bit of trial and error.
It was a fairly simple DIY project; just an A-line skirt with an apron front attachment and shoulder straps. I didn't take step by step photos because I was making it up as I went along, but if you're a confident sewer I'm sure you can probably figure it out.
To start with I cut front and back pieces for the a-line skirt using my waist and hip measurements as a guide. I made the skirt fasten at the back with a zipper so I sliced the back piece in half before sewing the two pieces together at the side seams.
I made endlessly long straps by sewing two tubes of fabric, turning them inside-out and pressing them flat. No need to finish the ends – they'll be tucked into seams at both ends.
Next I cut an apron front simply by measuring the height and width that I wanted it to cover on my torso. I made the waist portion very slightly narrower that the top to create a slightly tapered effect. I cut two pieces, pinned the straps into the top corners then sewed the two pieces right sides together along the top and sides (making sure I didn't catch the straps in the seams) then flipped it outside in and pressed it flat.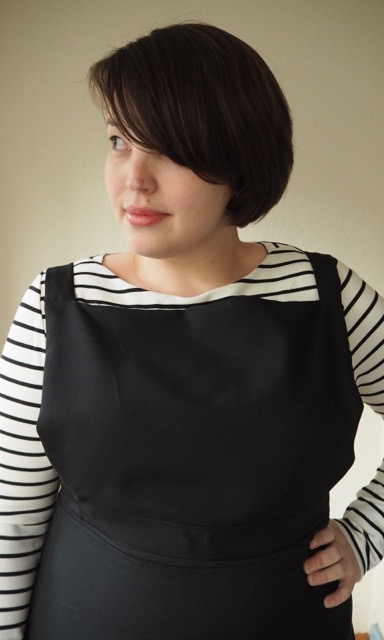 Looking at it now I probably should have put in darts to allow it to follow the curve of my bust, and it's probably just a leeeetle bit too wide.
The final job was to attach the top to the bottom which I did with a waistband to add a bit of polish. I put the pinafore on to better judge how long the straps needed to be, then attached them close to the zipper fastening. This helps prevent them from slipping off my shoulders during the day.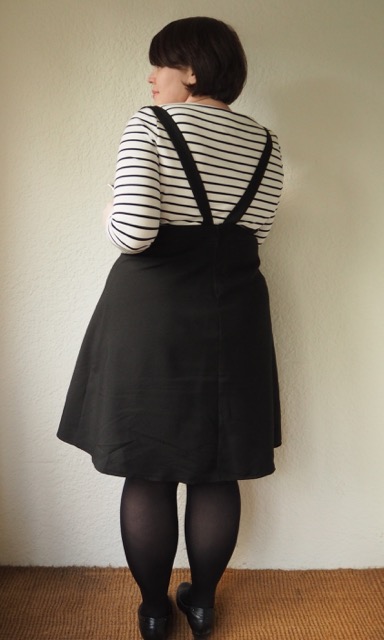 I should be able to wear this little DIY'd frock in summer with t-shirts and collared blouses, but for now I've teamed it with a stripy long-sleeved top, and my cute little cat-face tights from Em Tee See.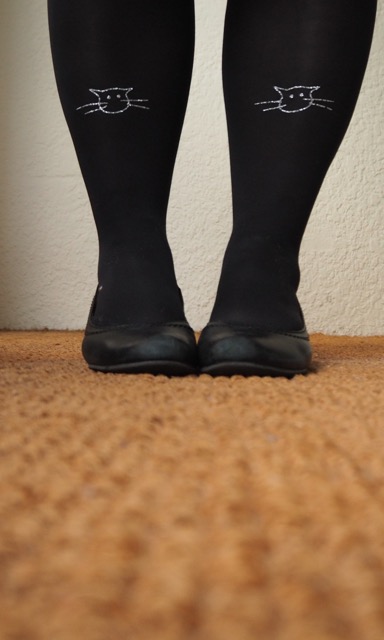 Tights: Em Tee See
(I'm looking forward to the warm weather, but I have to admit I'm enjoying being able to  get lots of wear out of my tights still!)