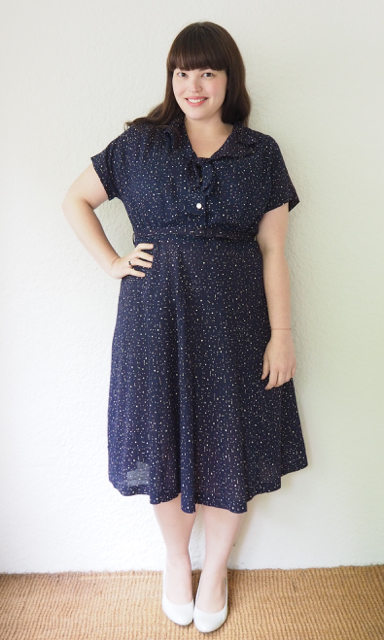 Dress: Vintage, via Style & Salvage 
Shoes: Shoebuy
I discovered this dress on Etsy months ago. Vintage, in my size, and in the most perfect star-print fabric that I've seen. It didn't take me long to talk myself into buying it. I had to have it altered when it arrived, but since then it's become a favourite part of my wardrobe.
Vintage dresses are nigh impossible to find in larger sizes. Possibly it's because in thriftier times they'd be cut down for younger siblings or children, or because we're simply larger these days, or possibly it's because of all the unscrupulous scavengers who buy them up, lop the hems off, whack in an elasticised waist and add a zero to the price-tag before selling them on to knobble-kneed teenagers at hipster craft-markets.
None of the vintage clothing stores in Australia seem to have much on offer for larger sizes, apart from the specialist stores Bombshell Vintage, Hey Fatty, and the occasional lucky find at the A+ Markets.
Online I've found the best place to look for plus-size vintage is actually Etsy. Size is Just a Number is a good place to start, or Re/Dress Vintage.
If you see something you like you should snap it up straight away, because I can almost guarantee you won't find it again anywhere. I've missed out on a few pieces because I hesitated, which is why I jumped on this dress almost immediately.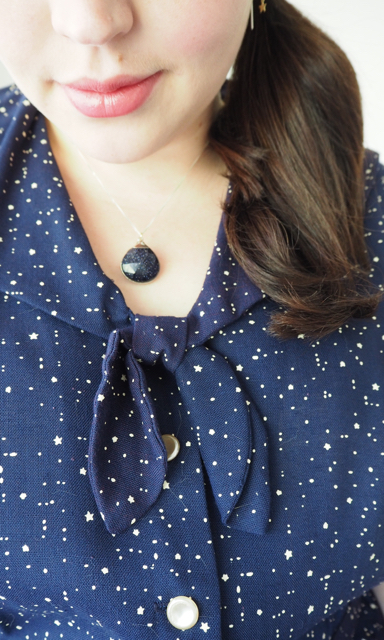 It has a cunning speckled star print, mother of pearl buttons and a sailor-style collar.
I've been wearing it with the beautiful Andromeda Earrings that Sian Giplis, founder of The Jewel Collective sent to me in November, and which I've been wearing pretty much non-stop since then.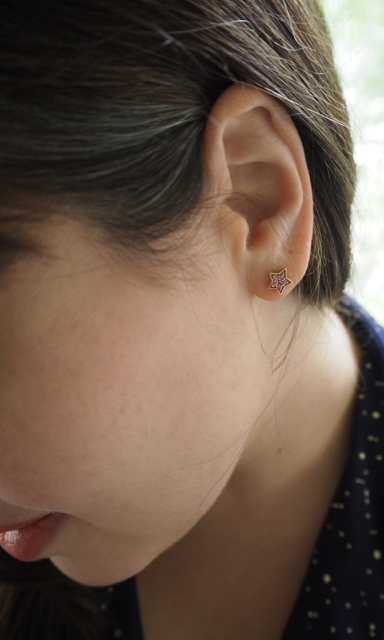 Andromeda Earrings: The Jewel Collective
 These lovely earrings are made from rose gold and pink sapphires and are named for the Greek maiden who was transformed into a constellation of stars by Athena.
Sian told me that she left her PR this year to pursue her life-long passion for jewels and pearls and launch The Jewel Collective. She explained that "It was important to me that the jewellery we designed was high quality and beautiful yet still affordable for customers. I wanted to provide stylish women with another option for their accessories collection, other than just costume jewellery or expensive, unaffordable pieces."
They arrived stunningly packaged in a felt pouch and keepsake box. This was also a deliberate choice from Sian, who understands that running an online business it's incredibly important to create a good relationship with customers. She says "First impressions speak volumes about a company and we want people to say "WOW" when they open a package from us."
I certainly did! The box sits on my dressing table, and I've taken the pouch with me on my last few interstate trips as it's the perfect size to tuck a few pieces safely away in my suitcase for wearing later.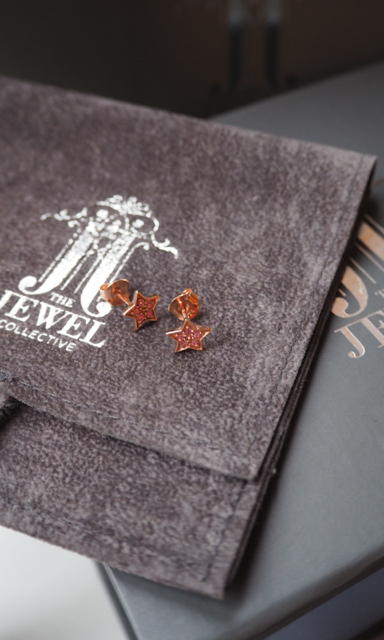 I've got my eye on the gorgeous Charis necklace now, and I think I'll have to treat myself once my bank account has recovered from Christmas!