Over the last couple of years Asos has become a huge player in the fashion world in Australia. The combination of on-trend styles, affordable prices, a massive range, and free international shipping is obviously compelling.
Throw a reasonable size range into the mix, and a strong and ever-evolving plus size range in the Asos Curve line, and Asos has become one of my favourite places to shop online. The sizing can be a bit funky – I'd love to see the ability for customers to review items onsite – but the ability to do local returns has eliminated a lot of the risk that comes with online shopping for clothes.
They've had a few good sales in the lead-up to Christmas, and I've placed an order or two (or three) but my wishlist is ever full. There's a number of really great plus size dresses in the Asos Curve section of the website at the moment (including some knockout formal gowns if you're planning to attend a really fancy event over the holiday period).
Here's what on my Lust List right now.
Gowns: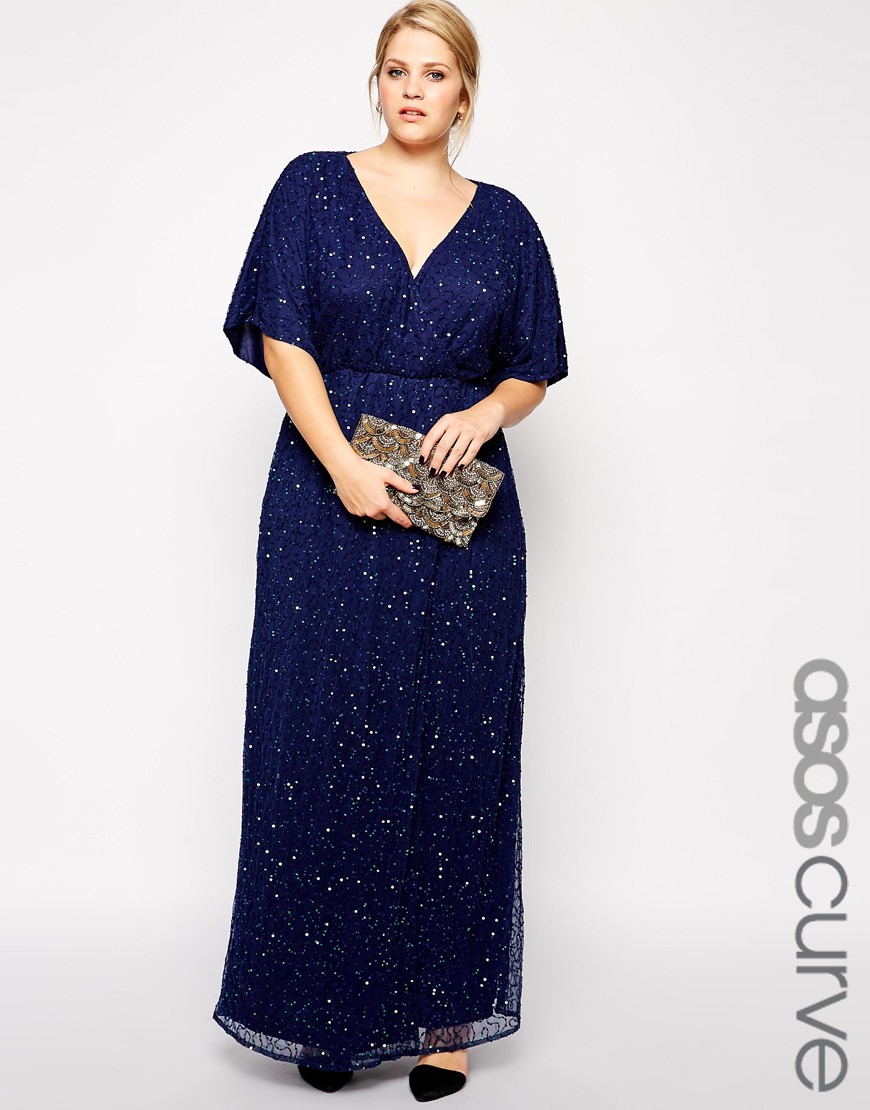 This navy blue gown is a show-stopper. The plunging neckline and kimono sleeves give the bodice an understated elegance, and the shimmering sequinned overlay makes it sparkle like the night sky. The back is open, which makes an amazing statement, but might require some imaginative bra wrangling for those of us who can't do without. Make sure you watch the catwalk video for the full, glittery effect.
*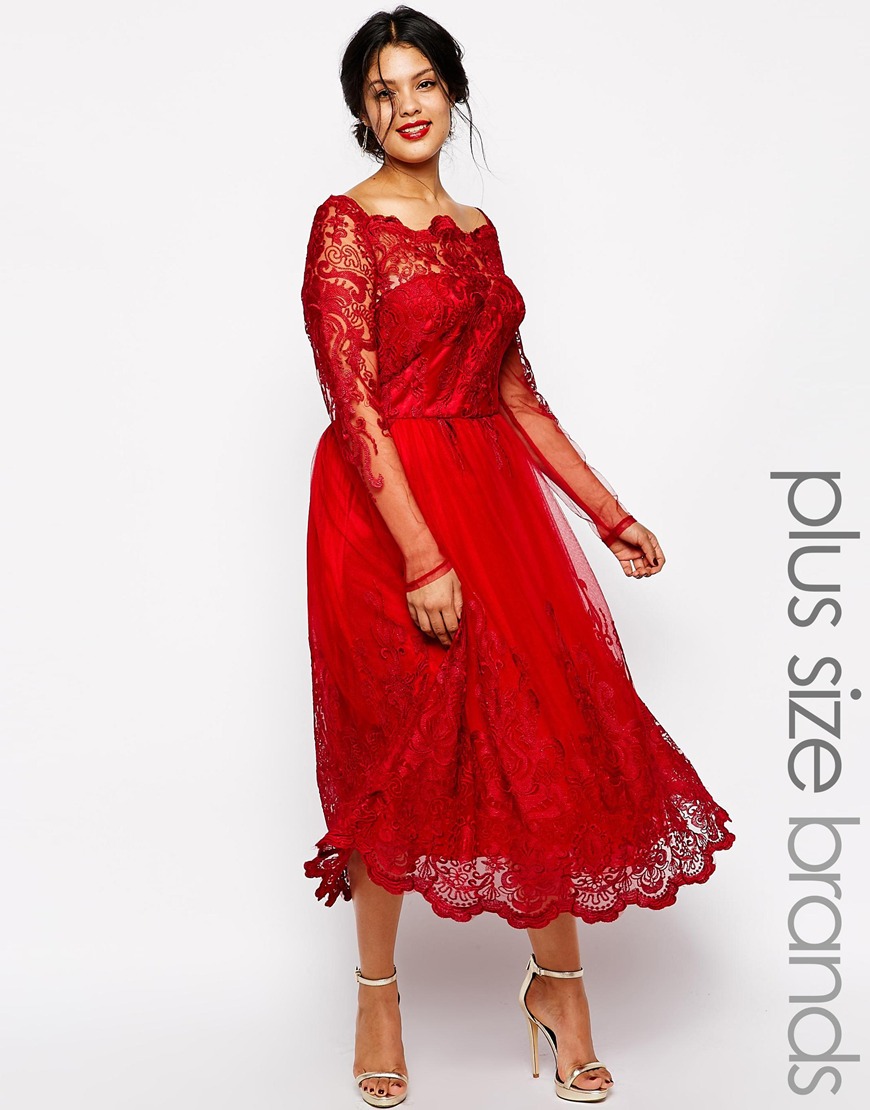 Longsleeved Lace Bardot Midi Dress 
Holy moly, this dress! It's only available in a size 24 at the moment (though the black and silver version is available 18-24) otherwise it would already be in my wardrobe. The bardot neckline over a sweetheart bodice, scalloped lace hem, illusion sleeves (this is a goodie if you're shy about your arms), and can we talk about the colour? Phwoar.
***
Embellished Frocks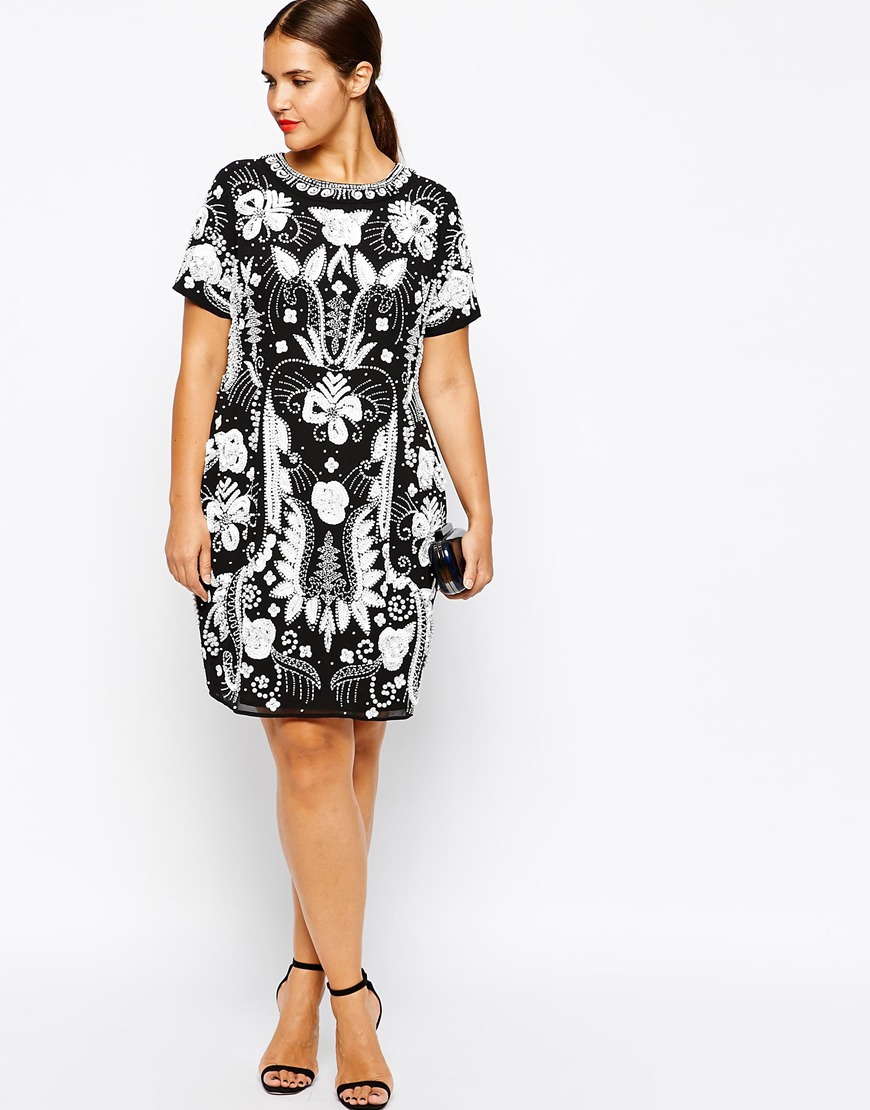 Heavily Embellished Mono Shift Dress
At AUD$270 this is one of the more expensive frocks in Asos' Curve collection, but they don't call it "Red Carpet" for nothing. On closer inspection the incredibly intricate detail on this frock is heavily beaded to absolutely devastating effect. The dress is fully lined, and has a perfectly simple silhouette to best showcase the beading. It's not just on the front, either, the whole dress is embellished from cap sleeves to feature back.
*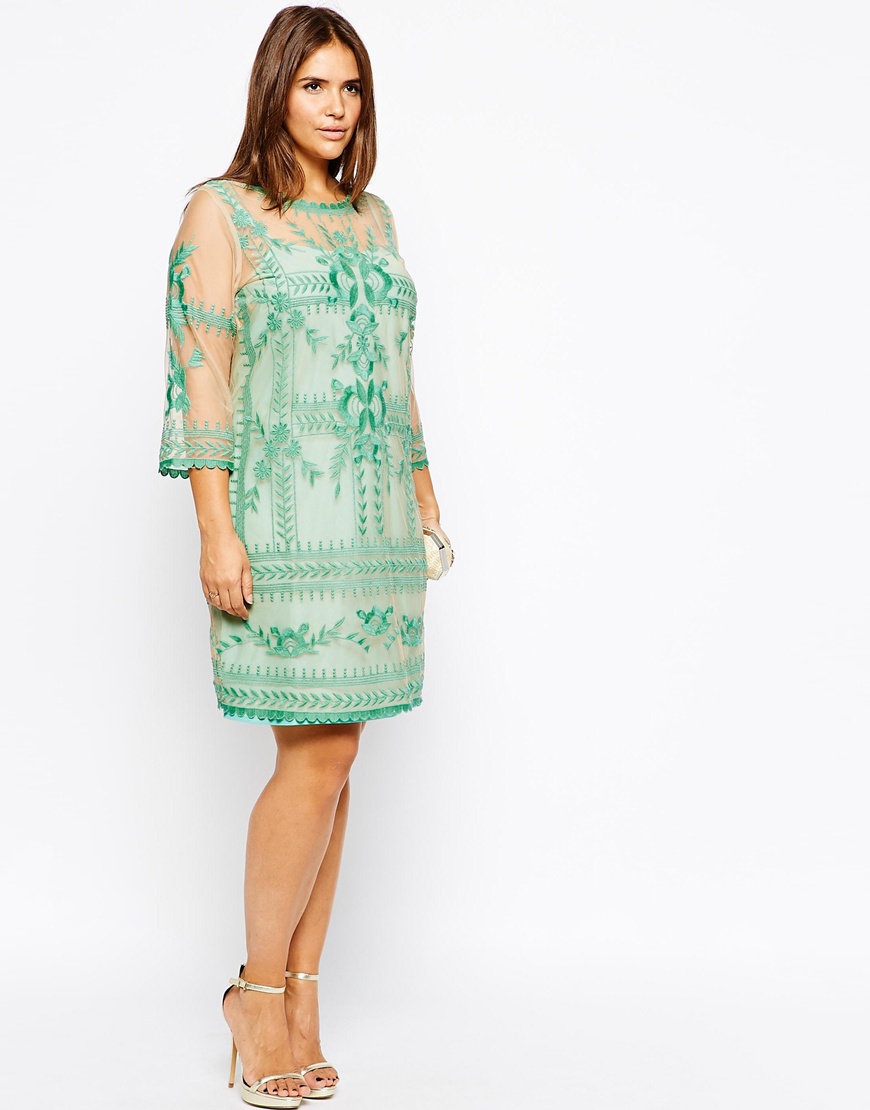 If the $270 price point's just a bit too much for you there's a similar dress available in the "Premium" range – black, with a white lace overlay – but personally I prefer the mint incarnation as seen above. The colour is so fresh, it's perfect for a fancy summer 'do in Australia. There's a lovely scalloped trim on hem, cuff and neckline, and it's a relaxed fit that's perfect for "apples" to show off their pins.
*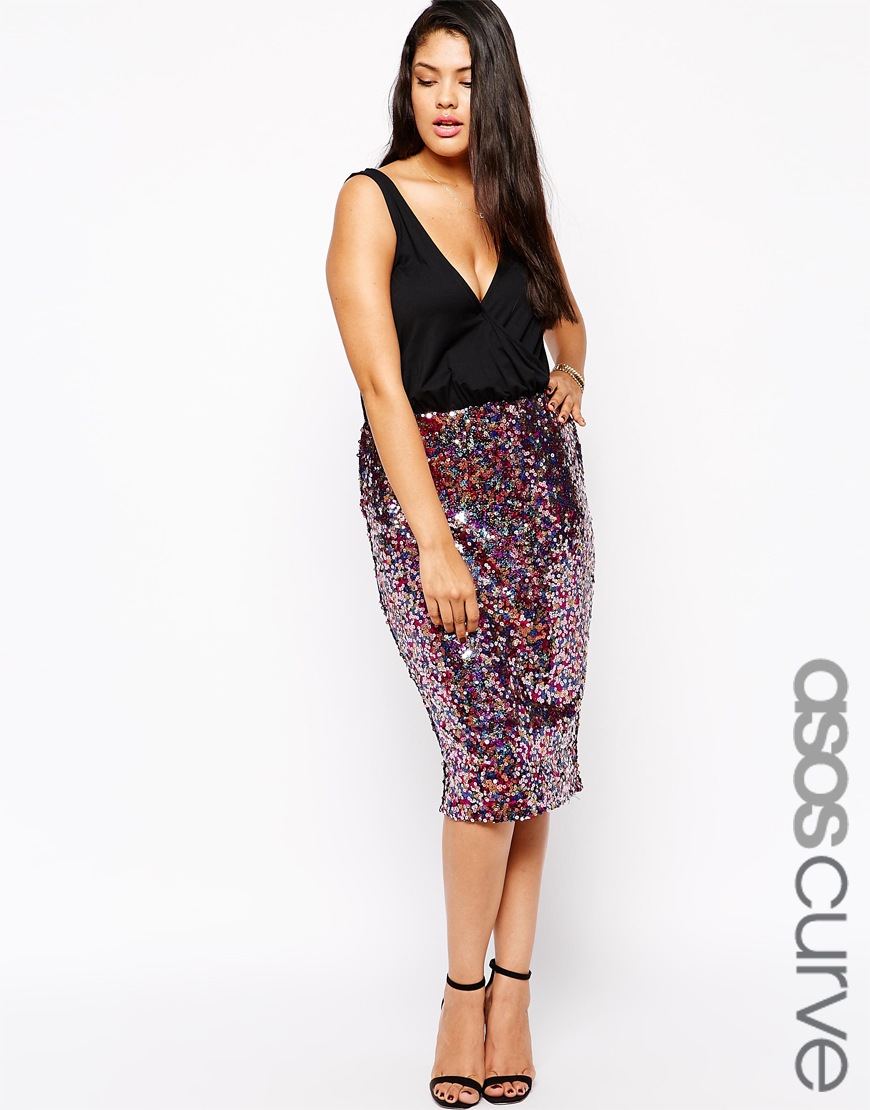 V-Neck Dress with Sequin Skirt 
This is my favourite dress for New Year's Eve right now, the deep-v neckline is super-sexy, and coupled with a sequin skirt that looks like glitter confetti, I am ALL OVER IT.
***
Printed Dresses
I do like a good print, and this mod-style shift dress with a modern check print is pretty cute. I'm all shy and weird about my knees which makes this a smidgen too short, but I'd wear it with opaque tights in a heartbeat.
*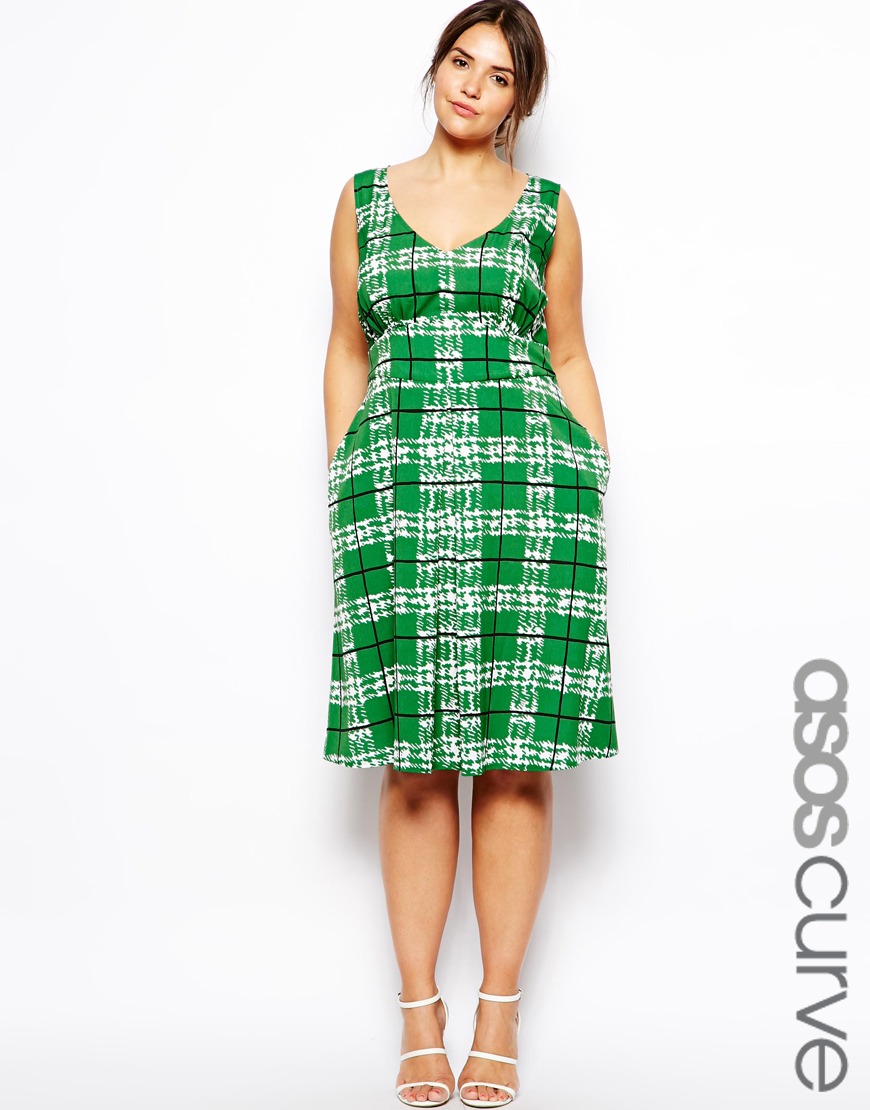 Curve Midi Dress in Check Print
More checks, but how amazing is the colour? The ruching under the bust line means that this dress would be a great fit on someone busty, and there's pockets (hell yeah!). It's on sale at the moment, but it's only available in a size 18, so if you like it you should snap it up quickly!.
*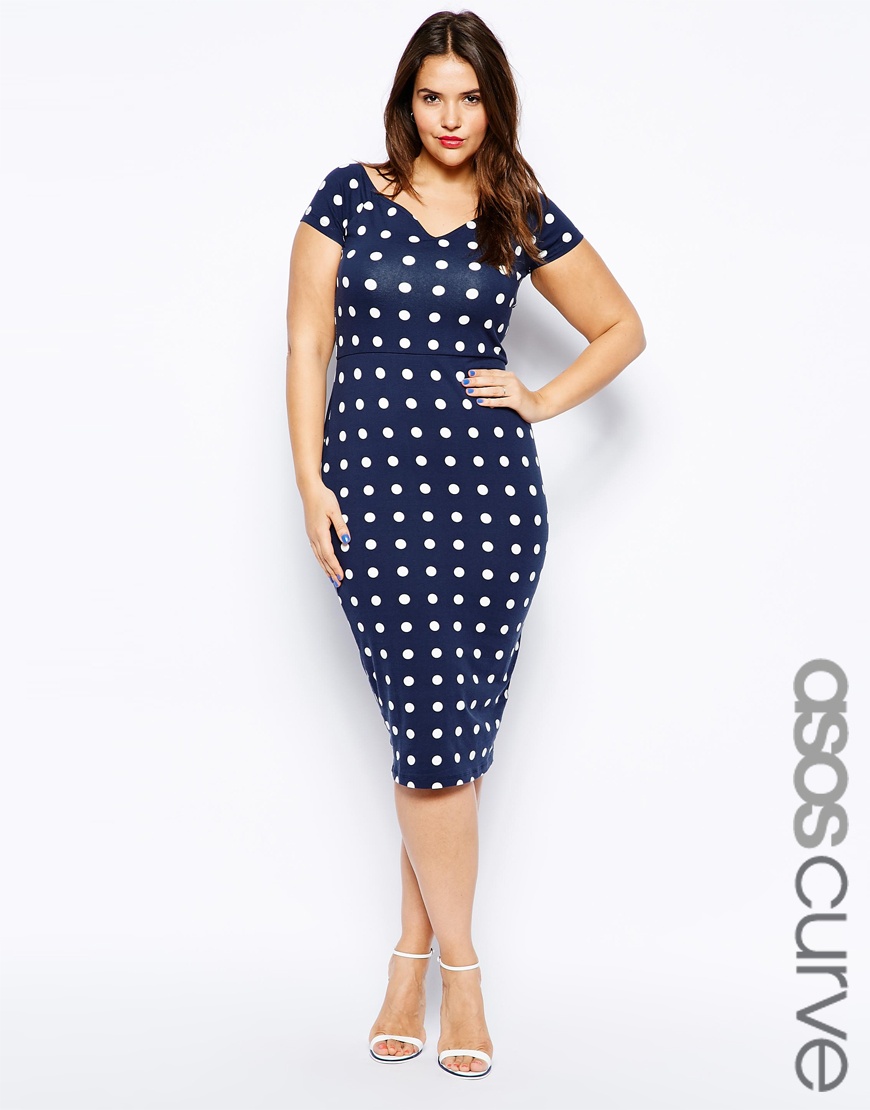 Bodycon Dress in Spot with Cross Back
Polkadots. Feature back. Bodycon. This dress is equal parts fun, and super sexy (though I'm a bit suspicious that the fabric looks a bit sheer in the product shots). These larger polkadots are great on fuller figures, and look smashingly defined, even from a distance.
*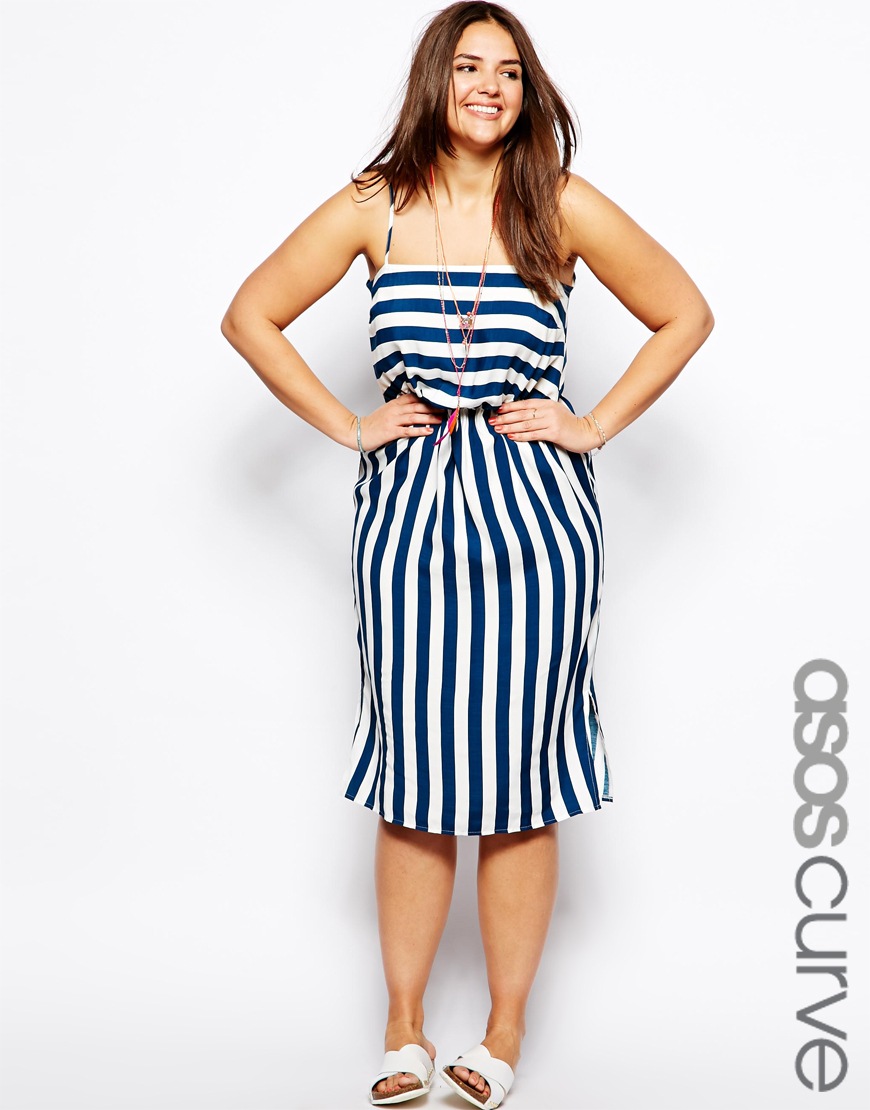 Exclusive Midi Dress in Stripe
Confession: Today was the hottest day we've had in Melbourne for a long time – it seems like maybe summer's decided to finally grace us with her presence – and everyone was walking around in boob tubes and spaghetti straps. I love the casual-strapless look that so many women seem to be able to pull off, but I've never managed to make strapless look laid-back. This dress looks like it could be a good option – the blouson style and beachy stripes make it look fresh and comfortable, and the straps look they'd be in the right position to mask your bra straps if you can't bear the thought of a strapless.
***
LBD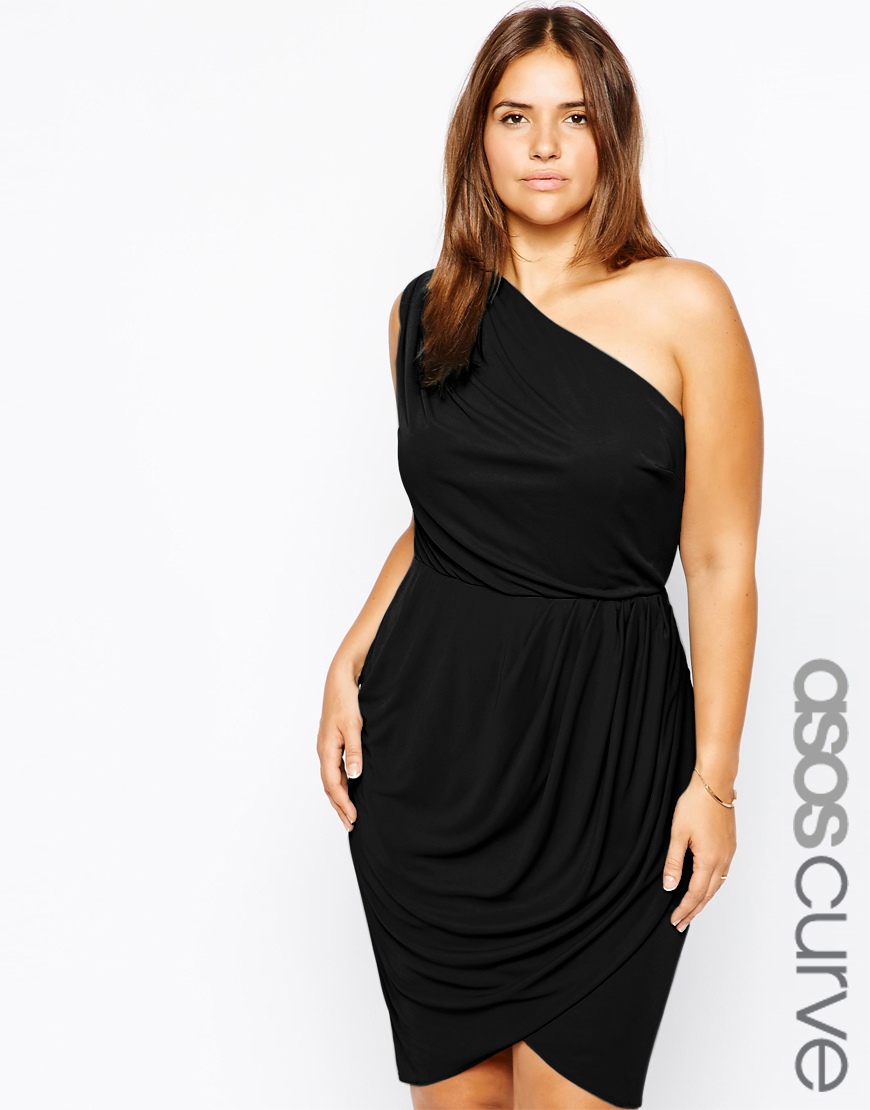 This dress is understated elegance personified. The draped tulip hemline plays up your curves, and the one-shoulder neckline is a really classy way of flashing some skin without being overt. I think this looks like a great New Year's dress, too, and I'd play it up with some really blingy earrings, maybe a sparkly bangle or cuff, and some sky-high heels (so a New Year's party with plenty of seating)
*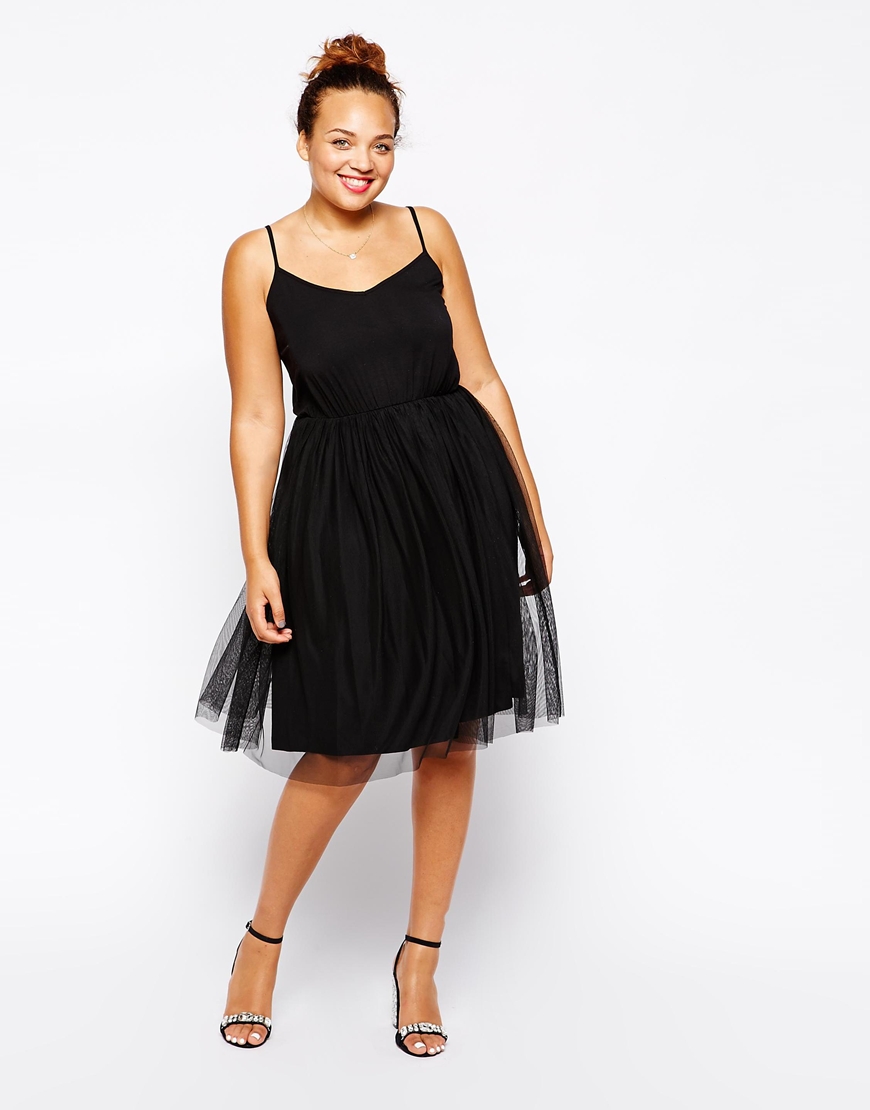 Exclusive Skater Dress with Tutu Skirt
The frustrated ballerina in me loves this dress. Truly, madly, deeply. I've been lusting after a tutu for some time, but I've never really quite known how I'd wear it for day to day use. This is perfection. The strappy jersey singlet plays down the glam factor, the little pouf of fabric at the elastic waist saves it from being too balletic, and the skirt has just enough volume to be swooshy without being OTT. I want to wear it and sashay around in it with a messy bun and perky little boobs just like the model. I'm interested to know if it'd suit someone a little more… endowed. Interested enough to buy? Maybe. Probably.
***
Is there anything on Asos that's caught your eye lately? What's on your wishlist right now?  Or are you like me, buying up big every time they give you a discount code?