I've just arrived back from my last interstate trip of the year; this time to Perth to visit my WA sales team, and spend some time with my beautiful little sister.
Waiting for me when I got home were two lovely new dresses from Igigi's range of party frocks: a glam, sequinned version of their classic "Francesca" dress, and a chiffon polkadot adaptation of the "Adelle".
We're deep into Party Season now, and it's great to have a couple of pretty new LBDs up my sleeve for the celebrations.
The Francesca's a lovely cut that I've had my eye on for a while, so when this sparkly version hit the store I leapt at the chance to try it. It's heavily embroidered with a swirly sequinned pattern that's also available in the super glamorous, floor length Angelica gown. With elbow length sleeves this fully lined frock is perfect for cooler climes, and the striking fabric can play up the elegance factor without needing accessories.
I teamed it with black pumps and basic jewellery, and just let the fabric sing. The sweetheart neckline and crossover bodice can be worn wide on the shoulders bardot-style, or pulled up to frame collar bones.
The sequinned version is definitely a nighttime dress, but it also comes in a range of other colours and patterns including an absolutely killer red, and a smashing leopard-print which is no-doubt on the wish list of more than a few fashionistas out there.
If you're looking for something a little less OTT (or if your Christmas Party season is shaping up to be a hot one!) you might like to check out the Adelle Dress.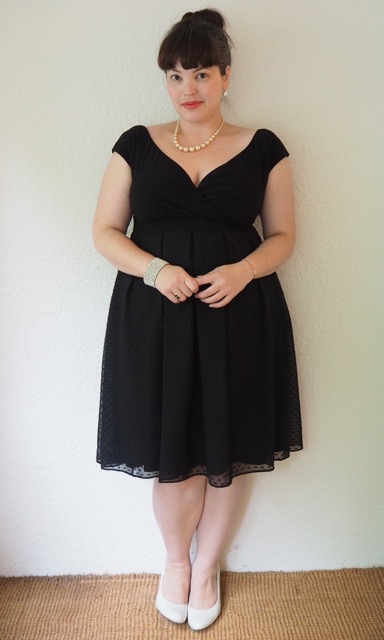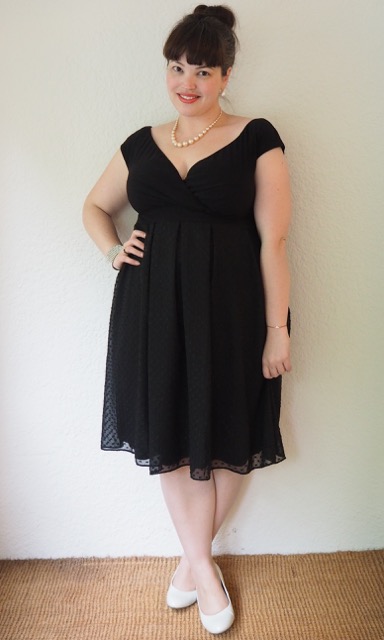 The Adelle dress has the same crossover bodice as the Francesca, but with cunning little cap sleeves, and a little elastic inserted into the edges of the neckline, so that it follows the contours of your bust without revealing more than you want it to. It's a really clever design feature, and something I'd love to see in more wrap/crossover bodices.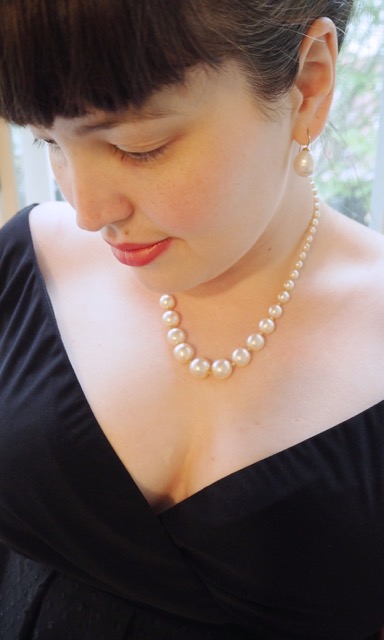 The effect is good-golly-miss-molly excellent cleavage that didn't need to be pinned or double-sided sticky taped into place.
The dress is a lot lighter than the Francesca, the bodice a double-lined jersey, and the skirt featuring a polkadot chiffon overlay.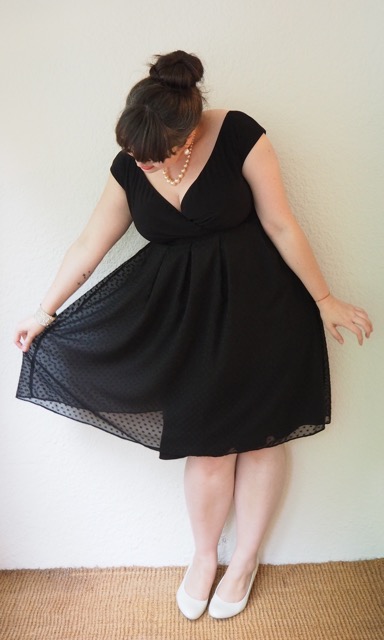 The empire cut elongates my legs and works with my short-waisted figure. It's fun and flirty, and ultra comfortable to wear.
I played up the vintage-retro vibe, and teamed it with pearls and nude shoes, but it's one of those dresses that could go classic or contemporary, depending on the accessories you teamed it with.
The fit was a little smaller too, which was good. Often the Igigi dresses are just a smidgen too big for me, but this one was perfect, so if you're an inbetweenie who's never been able to wear Igigi before this could be the style for you. There's a gorgeously decadent version heavily embroidered in gold, and the floral and sheer geometric versions are currently included in the 40% off sale.