Cardigan: Gorman
Shoes: Chie Mihara
Boy oh boy, where did the last fortnight go? I'm sorry to be so absent – not even replying to comments or anything. All cylinders in my Real Life™ are firing at the moment, and the blog's falling a little behind as a result. It's a good thing – it's a happy-making thing – but it does mean that I have less time for writing!
It's been a whirlwind of a month so far; I've been jetting all over the country doing staff appraisals, my parents have been to stay, and I've had a lot on over the weekends too. It's been a good end to the year, if an abrupt one. We're – oh God – just over a month from Christmas, and I'm feeling spectacularly unprepared. Gone are my carefully planned present-buying spreadsheets. my tree, my stash of wrapping paper. I'm flying by the seat of my pants this year. I've been to a few of the pre-Christmas markets (and true to form have managed to find more for myself than for other people)
I was in Canberra for a wedding a month or so ago, and while I was my sister and I visited the (outstanding!) Canberra Handmade market. While we were browsing I spotted this lovely brooch taken from a cast of a gum leaf and a pair of gumnuts, and I loved it so much Mae bought it for me as an early Christmas present. I'm preeeetty sure it came from Ricardo Pewter.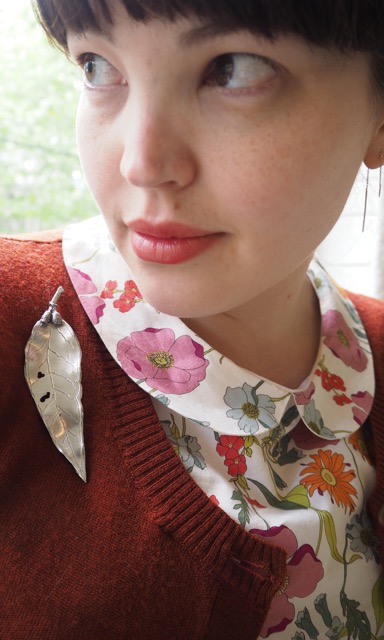 When I was a kid I used to think that the Australian wildlife was so desperate looking. I craved rolling green hills, hedgerows, fields of bluebells, and I couldn't understand my Mum's affinity for our straggly, dry, native flora. As an adult though I love it. I love the scent of eucalyptus, the particular olives and golds of the Australian landscape, trees with resilient leaves, secretive blossoms, and rugged seed pods and nuts that need the kiss of bushfire just to fruit.