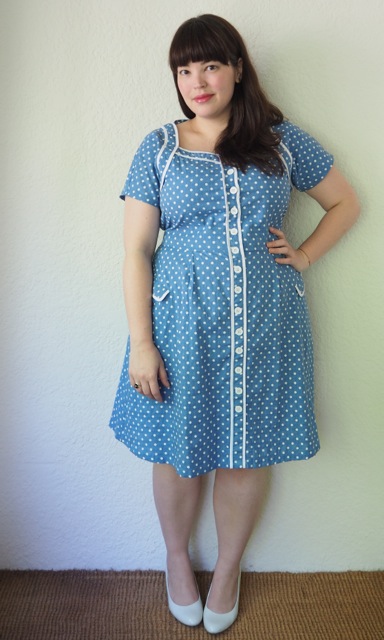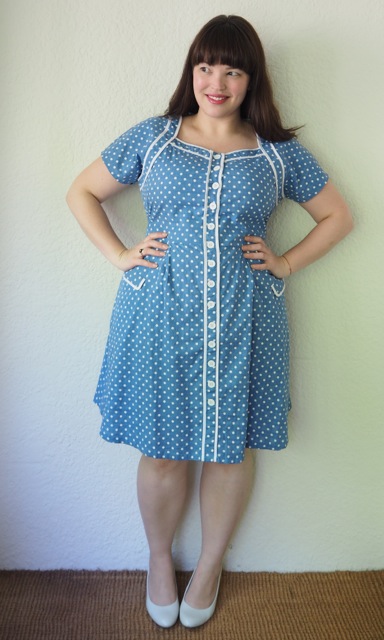 Dress: Kaylene
Shoes: Shoebuy
I've been dying for it to get warm enough to show you this pretty dress from Singaporean designer Kayde Yeo of Kaylene.
You may remember Kaylene from last year's Full Figure Fashion Week – it was one of the indie brands presented at the Press Day Event, and I was so excited by the brand that I completely forgot to take any photos. Classic, retro, a little whimsical, with lots of colour and prints – I was in heaven.
When this little polkadot dress arrived in the post a while ago I wasn't disappointed. It's made of a specially imported Japanese fabric with a lovely linen feel, and is finished with white piping and plenty of cute little buttons. The button-up effect is mock from the waist down, but the dress unbuttons from the waist up. Fortunately the buttons are carefully placed and close enough together that there's no gaping.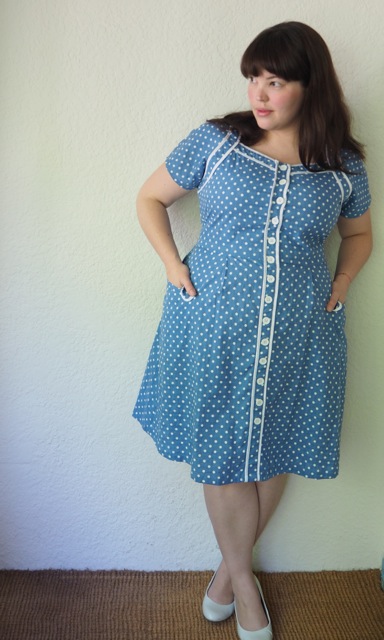 The dress has great big, functional pockets under those flaps – big enough to carry around an a-format book if you didn't mind spoiling the lovely line over the hips.
The size is perfect – the waist is quite high which suits me well, and the back of the dress is elasticised so it fits like it was made for me. I was sent the medium, and the brand ranges from XS to XL, so if you're an inbetweenie or on the smaller side of plus Kaylene is definitely a brand to pay attention to.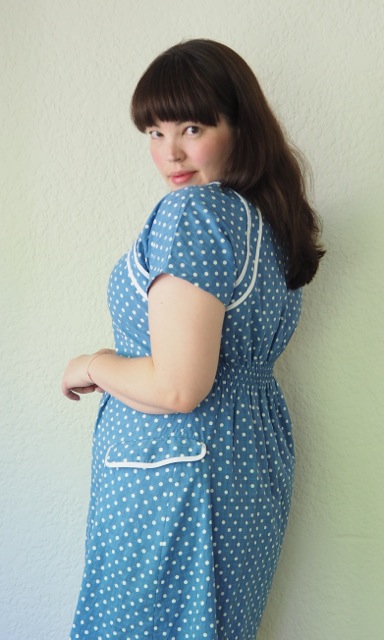 Do watch out for the sizes though – they don't seem to be consistent between items, but Kayde has provided measurements for each piece of clothing, so go by that instead.
This particular dress is called the Luxe Vintage Print Dress with Pockets, and in addition to this cute polkadot print it's also available in a black floral, and a really pretty pink rose print.
At the current conversion rate the dress will cost around the AUD$80 mark with another $15 in shipping costs, so it's very, very reasonable – especially for the excellent quality!
It's a very versatile dress. As you know I consider polkadots to be the "neutral" of the print world; they go with anything. And the pale blue is colour that teams really nicely with a variety of other hues: Pink, yellow, red…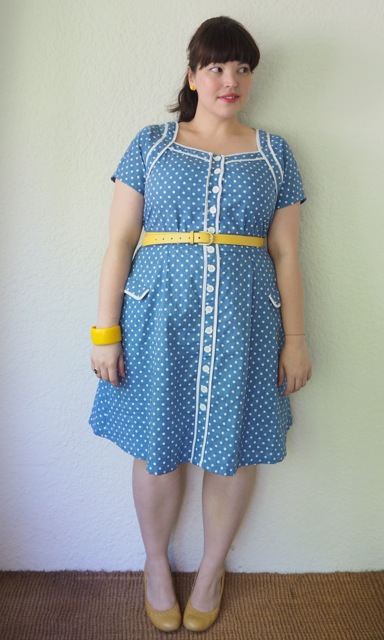 With some sunny yellow accessories (belt from Sussan, shoes from Seychelles, and bangle from Dinosaur Designs) it's a fun outfit for a day shopping, or a picnic in the park.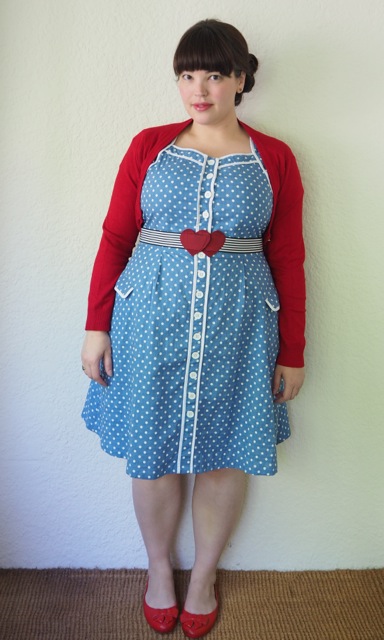 You can add a statement belt (from I Will Fly on Etsy), and a cardigan (from Crossroads) and you're ready for date night.
 I'm loving Kaylene's range (this donut print dress is knocking it out of the park for me right now) and with the warmer months finally here expect to see a lot more of their cute, wearable pieces.