Shoes: Chie Mihara
There are polkadot people, and there are non-polkadot people. I don't know what the non-polkadot people do (stripes?) but personally I adore a good dotty print, so when I saw this twofer dress on Igigi's website I knew I had to try it.
The fun thing about spring, and autumn (fall!) is that all that new trans-seasonal stuff pops up on the UK and US-based websites and you can actually wear it straight away without having to wait six months for it to get cold/hot enough. The "Morgan" dress is actually part of Igigi's fall line when all the northern hemisphericans are packing up their sunny sundresses and donning longer sleeves and hemlines in anticipation for the cooler months. But it works in the opposite direction for those of us down under. We're just taking the first forays out of our cardigans and tights, and baring our ghostly white legs to the sun, and this dress is a nice one for that, too.
The skirt's a gauzy georgette, fully lined so as not to be completely transparent and it flutters enticingly in the breeze. I like the large size of the polkadots – a smaller dot often just has the print fading into obscurity at a distance whereas this one is bold and clear.
I'm going to have to sew some bra-strap keepers into the shoulders, but apart from that little quirk the wide neckline is absolutely divine. It's lined as well, and constructed from Igigi's usual good-quality jersey. The outer shell of the bodice is designed to be a little blousy, so it's a good style if you're shy about the little rolls around your middle. The keyhole detail at the front's a sexy little addition that gives a peek of cleavage without being overt. It makes the Morgan into a dress that will transition easily from the office to a party, and I'd be happy to wear it to a fancy wedding or for a picnic on the grass.
The waistband is fully stretchy, so even though the dress fastens with a zip up the side it actually possible to pull it on over your head, and it's perfectly comfortable around the waist, even after a substantial lunch of fish and chips on the St Kilda Esplanade (not that I'd know anything about that!).
I like the monochrome myself, but you could easily add a brightly coloured belt and shoes, or even some blinging gold accessories. I decided to keep it simple, and teamed it with a simple little necklace from a great new online costume jewellery store I've discovered called "Totally Jewel"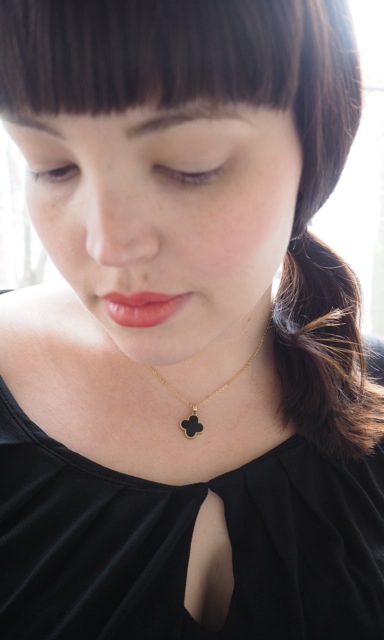 Clover Necklace: Totally Jewel