Shirt: Country Road
Skirt: DIY
Tights: Sonsee
Shoes: Chie Mihara
At the start of last year I was invited to attend the launch of a new hosiery company named Sonsee Woman. I was hugely impressed with the product that the team presented, and have been delighted to watch the fledging brand go from strength to strength since then.
Sonsee just celebrated their first birthday and I'm certainly not the only person singing their praises anymore – almost every day I read another positive review on their Facebook page, or stumble across a blog post rhapsodising about Sonsee's comfortable fit and extraordinary "ultra stretch" technology. From their decision to use actual plus-size women on their website to the way they interact with their fans and customers on social media Sonsee seems to be a company that are kicking goals at the moment, and I'm proud to have been there right from the beginning.
I couldn't believe it when the team at Sonsee told me that one of their gorgeous new pairs of limited edition embellished tights was named after me! Behold, the "Lilli"s!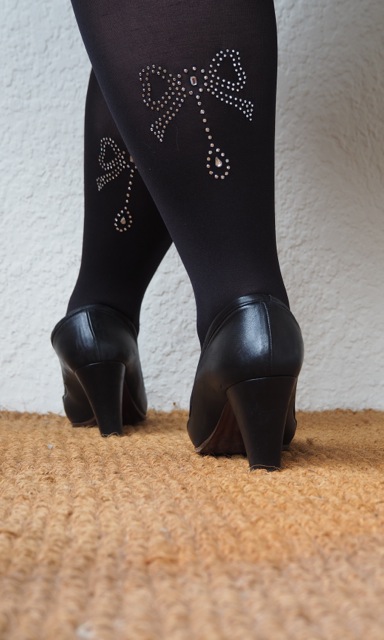 Tights: Sonsee Woman
Aren't they gorgeous? Oh my God.
Those pretty little bows on my ankles have been embellished with Swarovski crystals, and they sparkle most bewitchingly. The tights are Sonsee's almost opaque 60 denier tights and also come in the Forest, Shadow and Midnight colours. If you've already tried Sonsee's range I don't have to tell you how comfortable they are (ridiculously) or how resilient (very). I'm still wearing the first pair of tights I got from Sonsee over a year ago. No sags, no snags. I've had less luck with their sheers, but mostly because I have a special skill for walking into every thorny bush/exposed nail/ splintery park bench in a five metre radius to myself, and even Sonsee's magic ultra-stretch technology is powerless against my clumsiness.
I wore these tights for a full day on my feet at the Reed Gift Fair this week, and I didn't have to adjust the position of the bows once. They added a bit of discreet glam to my all-black outfit, and were hilariously comfortable to boot.
I honestly can't say enough positive things about Sonsee – both the product and the team get two enthusiastic thumbs-up from me, and I can't tell you how honoured I was to be able to lend my name to an ultimate piece of frou-frou. Thanks, Sonsee – you guys are the best
If you'd like a pair of the "Lilli's" for yourself – or some of the basic pairs of tights – Sonsee are offering free shipping on orders of two or more with the code "BIRTHDAY" until the end of August.