Dress: Kayemkay
Cardigan: Gorman
Tights: Big W
Boots: Miz Mooz
We had good weather over the weekend. Lovely weather, in fact. Warm enough to do a load of washing and put it out on the line, so that's what I did on Saturday.
Apart from my short stint in a share house last year I haven't had a washing line since I left home; everywhere I've lived I've either used laundromats or a dryer. While it's convenient to be able to dry things quickly despite the weather it's HELL on your clothes, bad for the environment and I have to admit that I bizarrely missed the routine of hanging the washing out (not so much the mad dash to get it back OFF the line when you realise it's started to rain).
The apartment building I live in now has a shared backyard with lots of half-wild plants, a saucy sculpture garden, and a big old washing line. Suki and I go out together (officially she's an indoor cat, but she's too adventurous to be content with the four walls of our apartment) and I hang the washing on the line while she prowls the fence line for interesting smells.
I love these little routines: hanging the washing with Suki, dropping off a few biscuits from every batch to the lovely old guy who lives downstairs, grabbing a coffee every day on the way to work, and knowing that I don't even have to tell them what I want because I'm a regular. I feel like after living in four different places last year I've put down some fledgling roots in my new home. It makes me happy.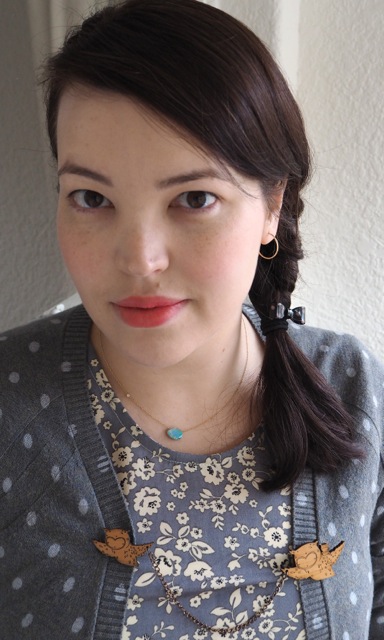 Owl brooch: Catrabbit
Also making me happy today is my favourite brooch from Melbourne-Craft-Goddess, CatRabbit. Her paired brooches are just so adorable, and work brilliantly as sweater clips and collar clips as well.