Belt: Dream Diva
Skirt: River Island (via Asos)
Shoes: Comfortview "Regina"
I bought this skirt some time ago from Asos, but haven't worn it much due to the cold weather. I'm also having a bit of trouble understanding what best to pair it with (my dirty little secret? I mostly wear dresses because you don't have to worry about what goes with what!)
I tried it with black t-shirts, and that didn't work. Blouses and cardigan were OK, but a bit fussy-looking. I can't find a blush top that works properly with the creamy blush of the skirt. I dream of wearing it with a blush and black striped top, but one hasn't presented itself to me yet.
It seems to like pale grey though, so I thought I'd pair it with the cashmere owl sweater I bought over Christmas in New York. The dots are actually black, but with a navy belt and the navy detailing of the owl on the sweater I can sort of force an optical illusion to make suggest that the polkadots are blue too. Because – as you know – matching is important to me!
I don't mind the skirt – I hadn't bought anything from the River Island brand before, but took a punt that the size chart on their website was a better guide than the generic one on the Asos website which would mean sizing up, and I'm glad I did. They run about half a size (maybe a full size) smaller than Asos' own brand clothing, but are very similar in style and quality.
The skirt is made of a non-stretch woven fabric and it's a bit crush-prone, but it's cottony to the touch and will be nice to wear on hot days when (if!) summer ever comes. The manufacturers seem to have made an effort to match the prints on the different panels of the skirt, so you don't get that annoying thing where there's half-dots on the seam line which I appreciate. Not all companies do this, and it's annoying as hell and a hazard for people like me who a) shop online and b) like printed fabrics.
I didn't actually realise until recently that River Island had their own website; I just thought they were a subsidiary house-brand at Asos. Actually Asos only stocks a selection of their full catalogue, so these days I've got River Island bookmarked for virtual browsing too. Like Asos they offer free shipping to Australia (on orders over $50) and regular discount offers.
Some of my favourite lust-worthy pieces at the moment include these: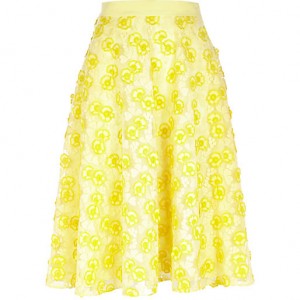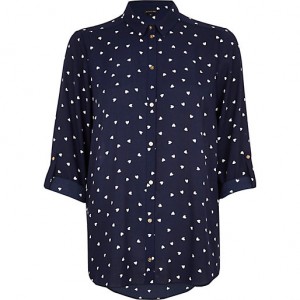 Navy Heart Print Roll Sleeve Shirt