Cardigan: Target

Skirt: Target
Tights: Sonsee
Shoes: Easy Spirit
I love stars. Love them. When I was a kid I used to think I wanted to be an astronomer (that was before I found out how much math was required). I grew up in Canberra, so the night sky was pretty visible, and I remember going onto the neighbour's balcony to look at Halley's Comet when I was about seven or eight. I was obsessed with Star Wars into my early teens, and I still harbour a secret fantasy about going into space (though after watching Gravity my ardour for that particular endeavour has cooled dramatically).
Spacey, planety, starry, galaxy-themed clothing and accessories get me every time. Stars and hearts: my two favourite motifs.
I was on Yesstyle recently, ordering up some more of my favourite BB-cream and thought I'd have a bit of a peruse around the rest of the site so I wasn't "wasting" the free shipping.
The "plus-size" line is pretty hilarious (most of what they consider to be plus-size would be lucky to fit a size 14 in Australia) but each clothing item has the real measurements listed, which means that you can usually take a safe punt on what will or won't fit you. And most things are so cheap it's worth giving it a whirl, anyway.
This black and gold starry print tee is also available in white, and is theoretically "one-size-fits-all". At 46″ around the bust it's fitted on my f-cups, and oversized on the teensy little model pictured. I'm not fussed though, I love the scattered star print, and the $28 price tag made it hard to say "no" to.
The fabric's a stretchy, woven polyester that has enough drape and stretch to work over a wide variety of shapes and sizes. The wide neckline and dropped-shoulder-sleeves give it enough volume to work easily on my fuller-figure.
It's better quality than what I would have expected for the price (under $30!), the gold-foil stars have a lovely spangly shimmer to them, and while the fabric doesn't even pretend to be anything but 100% polyester, it's a soft, wearable, utterly un-crushable tee that should be easy to dress up or down according to what it's paired with.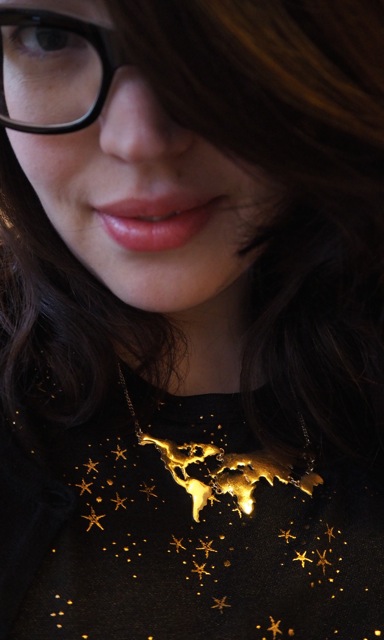 I wanted to wear it to work, so I teamed it with tights, a skirt, a cardigan, and then – because I couldn't resist – my shiny gold "There's a Map For That" necklace from Modcloth. It goes so nicely – the earth, suspended again the background of starry heavens – don't you agree?