Shoes: Seychelles
A few touches of sparkly gold to brighten up this navy dress on a grey and dreary Melbourne Monday.
This dress is one of those almost criminally comfortable dresses that make you feel guiltily under-dressed: like you've left the house in your dressing gown.
It's a heavy jersey with plenty of stretch, a non-restrictive waistband, cross-over bodice, and midi length skirt. It's the sort of thing that you can throw on and look instantaneously elegant and put-together even if you spent the previous night thrashing around in bed trying to get to sleep, while fighting a stuffy nose and the infernal tickle behind your breast bone from a cough that just won't go away. *ahem*.
The shoes I bought from the Nordstrom Rack in New York when I was there in June, and they're a pair of squishy ballet flats that invariably draw the attention of every 3 to 8 year old girl within twenty metres with their sparkly sparkliness.
The glitter on these babies doesn't shed (!) and they're actually very comfortable for walking, with a decent amount of padding on the innersoles that makes the pavement slightly less palpable than the average ballet flat.
The real statement piece from today's outfit is my "There's a Map For That" Necklace from my very first Modcloth order a few months ago.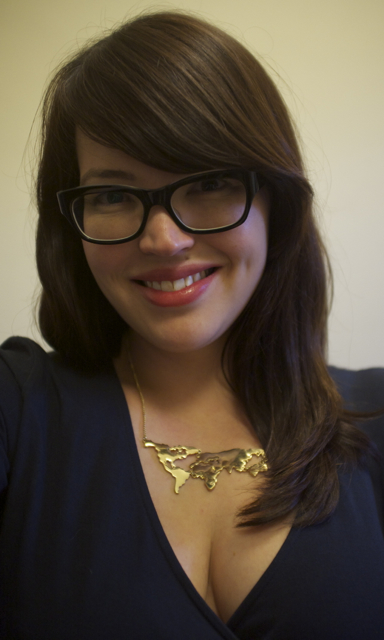 There's a Map For That Necklace: Modcloth
I originally spotted this necklace on the gorgeous Clementine Ford, and fell hard for it. It's only $20, and is also available in silver, so it was an easy add-on to help rationalise the international postage costs for a Modcloth order.