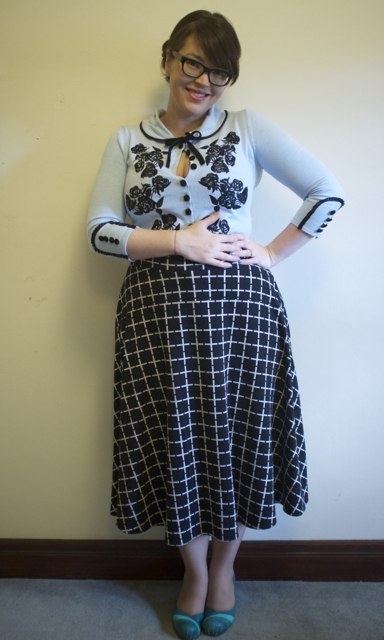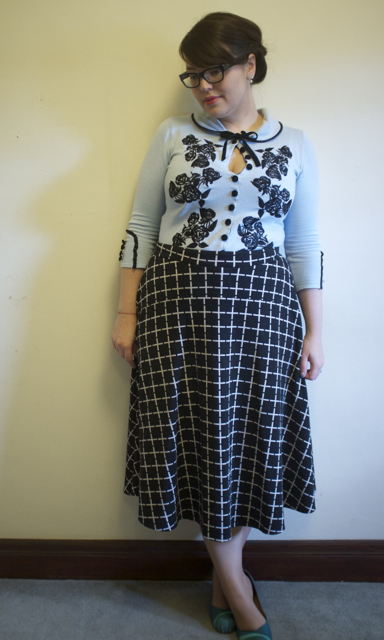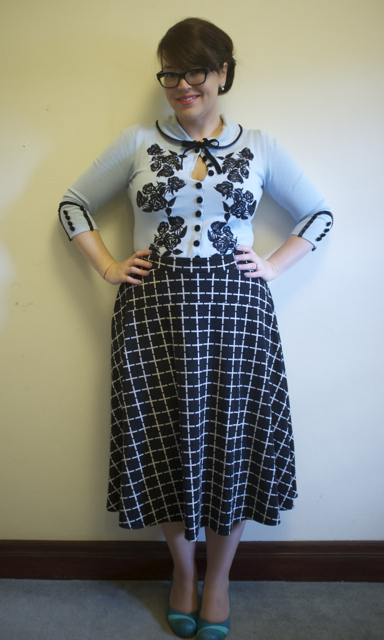 Cardigan: Wheels and Dollbaby 
Skirt: Asos
Shoes: Chie Mihara (via eBay)
At the princely sum of $200 and change, this "Dita" cardigan from Wheels and Dollbaby is one of the great indulgences of my shopping career. It's divine, don't get me wrong, but like my Leona Edmiston t-shirt dress, and more recently the Cashmere heart sweater from Banjo & Matilda it was one of those items I had to work reallllly hard to rationalise, because it just didn't seem to warrant the inflated price tag.
Like the Leona Edmiston Dress and the B&J sweater I've never regretted it for even a second, but I have to admit that I've found it a difficult item to pair things with and as a result it's only appeared on the blog once. ONCE.
I've worn it plenty of times, but always with the same, plain, high-waisted black skirt because none of the other ensembles I've tried it with have worked. Until I fluked this one.
I'd love to pretend that I have some magic fashion-blogger-fu that allowed me to look at these two items in my wardrobe and go: "Ahhhhh…. the monochrome colours in the skirt won't clash with the pale blue of the cardigan, and the unexpected juxtaposition of the mod-print and the baroque embroidery will be cheekily effective" but I think I've explained before that I don't really possess that enviable skill that allows people to mentally construct outfits out of disparate pieces.
In all honestly what actually happened is I dressed in my customary black-skirt-and-Dita-Cardigan, went to brush my teeth and drooled toothpaste all over the skirt, went back to the wardrobe to start from scratch, swapped the skirt over first and then went "Huh. That actually works."
So there you go.
Worst. Fashion. Blogger. Ever.
Incidentally, (and despite the fact my poor Mum hates them with a burning passion) I'm getting lots of queries from people about the new spectacular spectacles.
During the White Cruise at FFFWeek in June Dani, Ashley, Sam and I crammed ourselves into the onboard photo booth to take some silly snaps to remember the night with. I donned a pair of downright hipsteriffic black framed glasses, and when the photos came back I was pleasantly surprised to discover that they suited me.
A few days later I spotted these beauties at Fabulous Fanny's after a reader recommended I check the store out. They're actually part of the store's modern "vintage inspired" range, rather than being a one-off vintage pair, and are called "Skier II" just in case you'd like to try a pair for yourself.