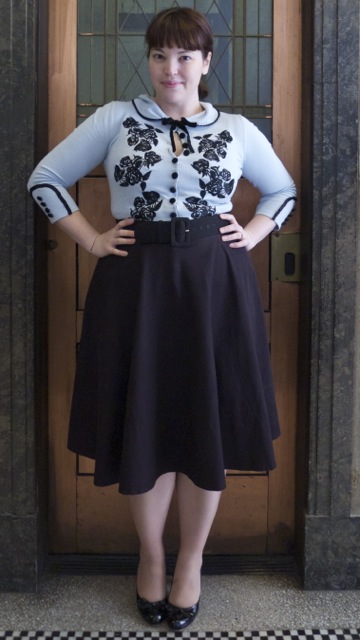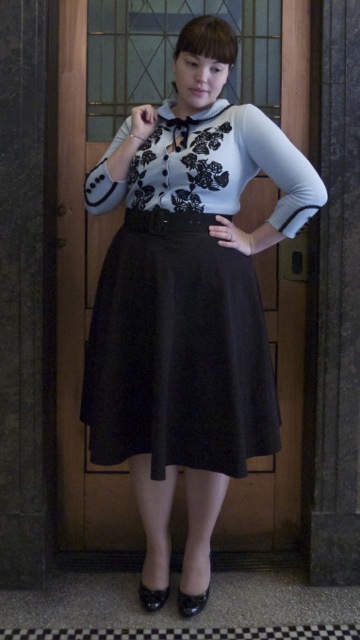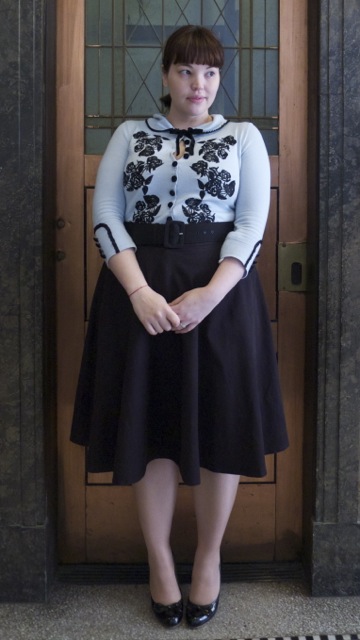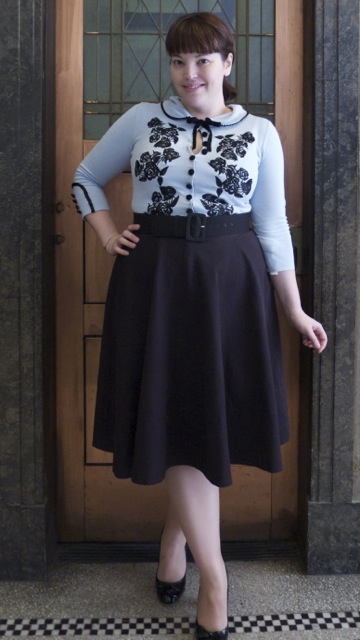 Cardigan: Wheels And Dollbaby
Skirt: Asos
Shoes: Milu
Yeah, I'm a little dressed up for a Saturday, but when you've indulged in a cardigan like this one, why wouldn't you dress up?
This, my dear readers, is the famous, much-coveted, limited-edition "Dita" cardigan from Wheels and Dollbaby. At *cough*over$200includingshipping*cough* it's the most breathtakingly expensive cardigan I've ever bought myself, especially considering it's cotton, and not woven from the mane of a unicorn. Other cotton cardigans in my wardrobe cost me $8. But, of course, they don't look like this one.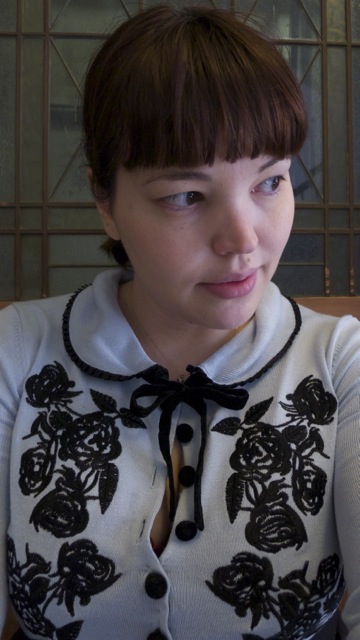 It's beautifully embroidered down the front, and has a cheeky rose embroidered on the left shoulderblade as well (which I forgot to take a photo of). The many buttons are covered with black velvet (and had to be all resewn on, after three fell off in quick succession and I got anxious about losing the others). There's also a gorgeous velvet ribbon tie at the neck, and the cuffs and collar are trimmed with a pleated black satin ribbon.
So, basically, it's all the the details. And the (optional) keyhole neckline.
I fell hard for the Dita Cardigan after seeing the inimitable Teer Wayde looking even more mouthwateringly luscious than usual in her own black and red number.
Wheels and Dollbaby only ever do a limited run of these cardigans, so the red and black was out of my reach (as was my other favourite, the blush and black) and I knew I'd only have a limited time to make a decision on the ice blue.
It's not a colour I wear much of. Or, you know, at all. So the decision was quite a difficult one, but in the end I decided to throw caution to the wind, and I put my order in.
I bought the size 16, and while there's plenty of stretch in the fabric I had to perform my usual trick of sewing the front of the cardigan up, to avoid unsightly gapping between the buttons.
The result though is a perfectly form-fitting, extraordinarily flattering, retro-styled cardigan that looks great in the pictures, and even better in Real Life. The first time I wore it (in this exact ensemble, plus crinoline & hat, to Melbourne's recent Love Vintage Show) I was stopped by several strangers commenting on my outfit.
So, two thumbs up, and even though the thought of the price still leaves me a little breathless I'm prepared to consider it an investment piece, and one that will earn its keep in my wardrobe. And I'm not promising that I won't buy another one, in whatever colour comes next!