Top: Big W
Trousers: Target
Shoes: Mollini
Necklace: Fun
When I wore trousers yesterday one of my customers commented that she didn't think she'd ever seen me wearing anything but dresses or skirts before! It has been a while, hasn't it?
I do wear trousers and jeans from time to time, but it's rare enough that someone will always point it out whenever it happens. I suspect I'm regressing a bit to when I was a little pink-loving, bonafide girly-girl. When I was young and Mum was still dressing me she learnt quickly that I wouldn't ever wear trousers if I could possibly avoid it. It had to be a dress or skirt, or there'd be a tantrum forthcoming. (I jest, of course. I was the perfect, even-tempered child and I never ONCE threw a fit over nothing).
The Sophisticate used to tell me that the careful attention that I paid to my wardrobe was part of my appeal for him, but he admits that conversely he's become so used to it it's almost like I'm dressing up when I dress down in jeans and a t-shirt.
He would have liked this outfit; shame he's too far away on the other side of the world to enjoy it. You guys, long distance SUCKS.
This is pretty much what I wore to fly to NYC last month; give or take a few layers of cardigans and pashminas. It's simple and comfortable. The trousers are a lovely soft ponti, with a decent weight, sewn seams down the legs and a little bit of PU detailing on the pockets. The slim fit is totally flattering – as close to leggings-as-pants as I'm comfortable with for myself.
I threw on some nice turquoise accessories to add a bit of Frou Frou; a necklace that I bought down Brunswick st at a shop called "Fun!" for under $10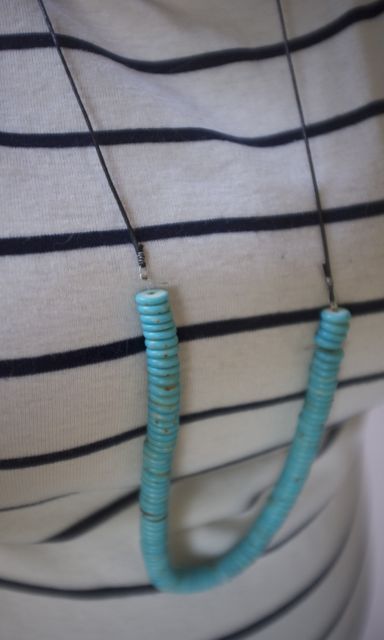 Necklace: Fun
It matched so nicely with my turquoise ballet slippers I couldn't resist: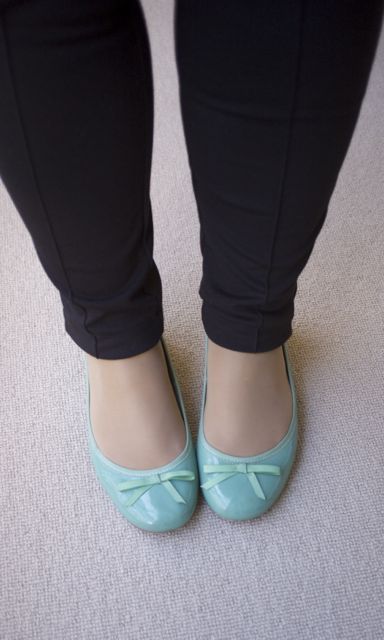 I do like my match-matchy!
Before I sign off, I wanted to take a moment to thank everyone who's contributed so far to healping me get the NYC for Full Figured Fashion Week. I appreciate your generosity more than I could possibly say. You guys are just so wonderful, I just wish I could reach through the screen and give you all great big hugs.