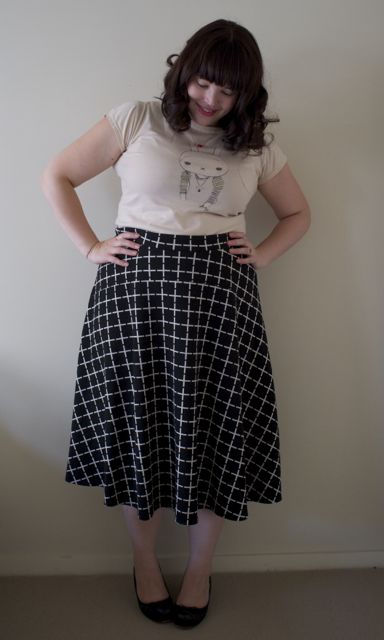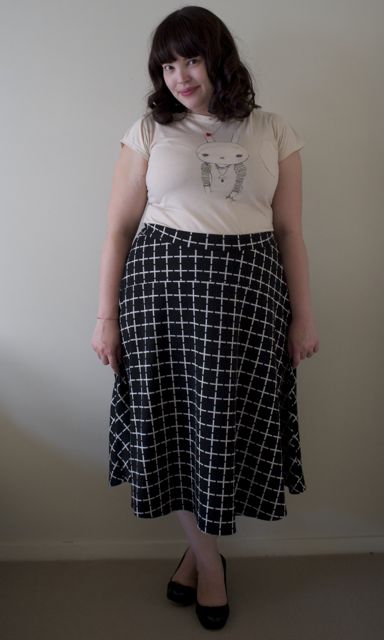 Top: Luxx
Skirt: Asos
Shoes: Chie Mihara
You know how people always want what they don't have? Pale skinned girls want tans, short girls wish they were tall, busty girls wish they had b-cups. I want curls.
I've always had a thing for curly hair. I don't know if it was instilled in me from watching my Mum emerge from the bathroom on special occasions smelling of Guy De Laroche's Fidji perfume and hair still warm from the hot curlers that she used; but I just think soft curls epitomise beauty and glamour.
My mum had super soft, golden blonde hair, and it always seemed to hold a curl remarkably well.
Mine, not so much.
Don't get me wrong, I like my hair. It's strong and shiny, and pretty luxurious even if there's an increasing number of what my hairdresser charitably refers to as "sparklies" (AKA, grey hairs) in it. I've learnt how to manage it without needing torturous hours with hairdryers and teasing combs. But it doesn't hold a curl to save itself.
For my 30th birthday I "gifted" myself a perm. Worst. Decision. Ever. My hair overnight became brittle and lacklustre. I didn't have the waves and barrel curls I'd imagined, I just seemed to have frizz that felt crunchy and fell out in handfuls. To add insult to injury the second the perm started growing out great chunks of my hair would regularly snap off where the healthy met the chemically destroyed.
Never again.
It didn't do much to diminish my love of curly hair, but it turned me off trying to do it to myself.
Enter the ghd.
Friends more adept than I with salon equipment would speak about the ghd in hushed tones, but as far as I was concerned it was just another straightener and, a) why would you want to straighten your naturally curly hair, for God's sake? and b) no device I'd ever used had any kind of lasting effect on my stubborn locks anyway.
Newsflash: Apparently you can use a straightener to curl your hair.
When ghd offered to send me a straightener for review, I wasn't quite sure whether or not I should say yes. On the one hand, I'm not at all familiar with using a straightener, and I wasn't sure whether or not it would be a waste of their resources to give me a device that I wasn't capable of using, which would probably have little to no effect anyway. On the other hand…. I was kind of curious to know what the hype was about.
Curiosity won out, and a few days later this beautifully packaged piece of machinery arrived on my doorstep.
Let me preface this by saying: an amazing product in the hands of a complete amateur is not going to result automatically in perfect style. You just have to check out my first attempt at curls on my Facebook page to see what a dog's breakfast I made of styling my hair. But the good thing about the internet is that there's lots of very helpful videos that show you how to do things… and if you have an amazing friend who knows how to drive one of these things, then so much the better.
My first impression of the ghd is that it's a beautifully designed item, aesthetically and mechanically. It's comfortable in the hand, not too heavy, cool to touch, and heats up astoundingly quickly. Even as a complete newbie I didn't manage to burn myself once. And my second (post-tutorial) attempt looked like this: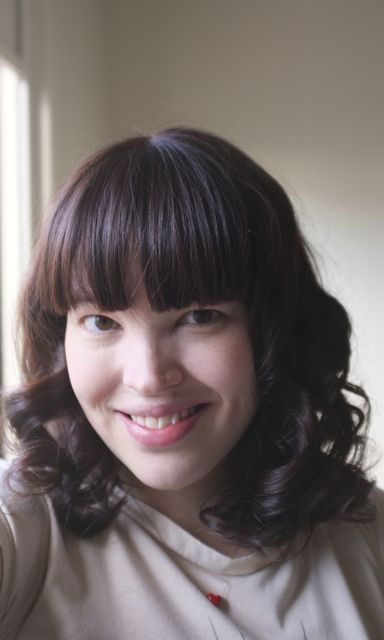 CURLS! THE CURLS OF MY DREAMS!
I used no product, no hairspray, nothing but the ghd, then I took myself out for an evening on the town, staggered home at about 11PM, put myself to bed and guess what?
The next day I still had curls.
I got up, had some breakfast, wandered around the shops went home, cooked dinner and put myself to bed again. And the next morning?
Curls. A little less buoyant than before, but indisputably curls.
The ghd is officially a miracle device, and well-deserved of its reputation as the very best hair straightener (curler) on the market, and I'm looking forward to developing my repertoire of hairstyles (the ghd website's got a few on-trend tutorials that provide a good starting point for experimentation)