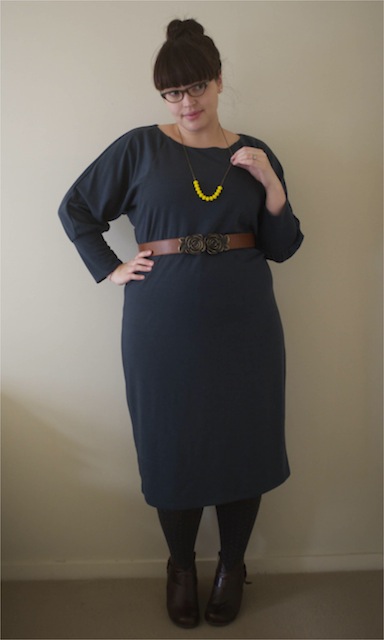 Dress: Igigi
Belt: Glassons
Tight: Marks & Spencer
Shoes: Miz Mooz
I work really hard at being socially adept. I'm a bit of an introvert, and I can come off as stand-offish, cold, or a bit of a snob unless I'm paying attention to how I interact with people. And I'm really not! I'm reserved (and surprisingly shy for someone who's puts so much of herself onto the internet), but I'm very loving and gregarious when you get to know me, and even a bit cheeky and irreverent when you get to know me well.
Sometimes it can get a bit tiring, having to always work at "fitting in", especially when I'm around people who aren't necessarily sitting on my wavelength.
Since moving to Fitzroy, I've found myself having to work a bit harder to pass myself off as normal. The bulk of the people living in this suburb seem effortlessly cool; sipping latte's in tiny coffee shops while interesting dogs stand guard over their fixed-gear bicycles (My brother jokes that every shop in the main drag – regardless of what they actually sell – has a bike in the window).
And while The Sophisticate – black-rimmed-glasses-wearing, apple-product-buying, film-industry-working gent that he is – mocks me for being a "hipster" along with the best of the Fitzroy-ites (Fitzrovians?), I know I'm actually just faking it.
Today's outfit helps. It's a kind of social camouflage, and it makes me feel a bit less like I'm being silently judged when I order my coffee in the tiny local cafe on the corner.
I'm wearing the batwing dress from Igigi that was sent to me at the beginning of Summer last year. It's finally cooling down enough to wear it regularly. Which I totally am. Today I swapped out the kimono-style wide belt for my own slimmer brown belt. I think I actually prefer it this way – It's not quite as shapely, but I don't feel like my boobs are so prominently presented.
I'm also wearing a bead necklace that I made myself, after seeing a similar one on Etsy for $40, and deciding it would be a quick and easy project to DIY. It was. Did you guys want a tutorial?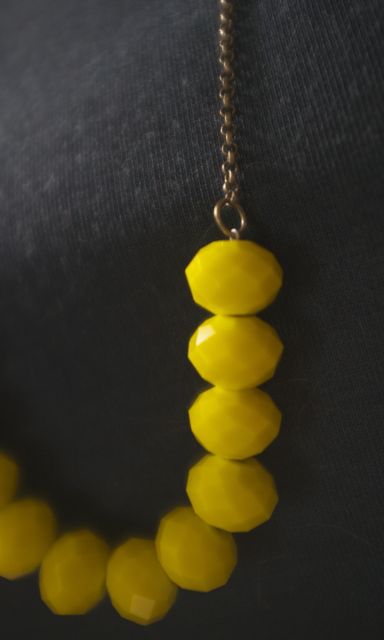 Necklace: DIY
I was thrilled to find a decent bead supply shop walking distance from home (Fitzroy. They like to craft here.) and the supplies for this came to about $7, which is hard to complain about.
My true "hipster" camouflage is my messy top-knot and vintage cats-eye glasses.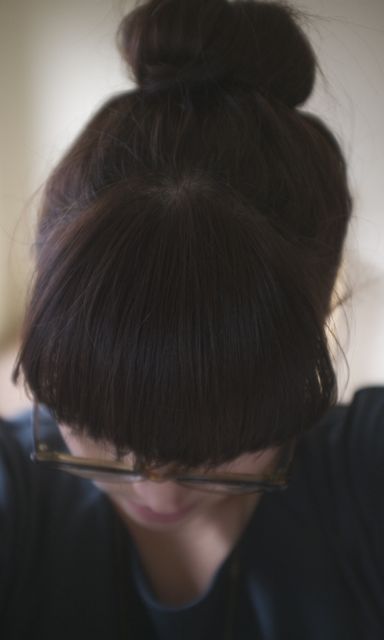 I always feel equal parts smug and embarrassed when people ask where I found my spectacles and I get to tell them I bought them at a second-hand dress shop in Kansas City, and yes, they're really vintage.
I'm also feeling Pretty Damn Pleased that I managed to find some ankle boots in New York that don't make my curvy calves look like fence posts.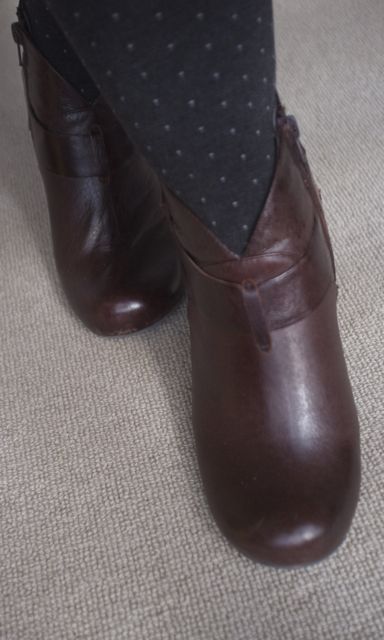 Boots: Miz Mooz
I'd pretty much given up on trying to find ankle boots that flattered my legs, but I got caught short in ballet flats during a rainstorm when I was in New York, and my feet were so cold and wet that I kind of gravitated towards the boots, and spotted these.
They're fantastically comfortable, with a solid wedge heel and a little secret platform that makes the heels look much higher than they really are. I trekked Manhattan in them pretty much non-stop for the next few days, and they've rapidly become one of my favourite pair of shoes. I think the dipped ankle stops the boots from cutting my legs off short, so I know what style to look out for in the future.
Just quickly to finish up, I've been invited to offer one lucky reader the opportunity to take her Mum to a special Mother's Day High Tea hosted by Bursaria at The Abbotsford Convent.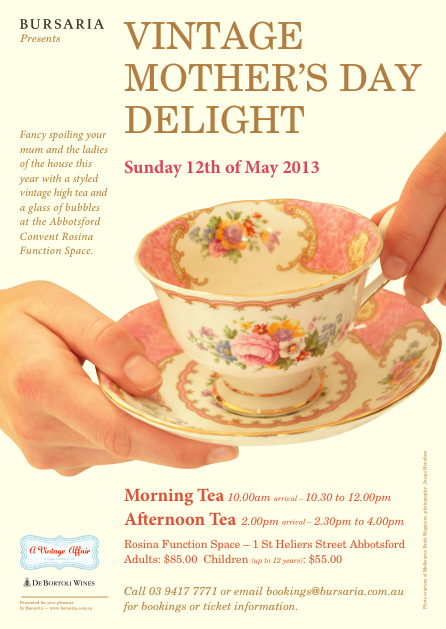 I do love a spot of high tea, and this sounds just divine with its vintage theme. Plus Mum's are awesome and well worth spoiling, so if you're in Melbourne and you would like to go into the draw to win a double pass to treat your Mum leave me a comment telling me what item from your Mum's wardrobe reminds you of her the most.
For me it was – and she'll kill me for telling you this – a navy blue corduroy dressing gown to which she had pinned a little bell. As far back as I can remember she cuddled me in that dressing-gown, and I was secretly heartbroken when she told me recently that she'd thrown it out. Apparently she kept the bell though.