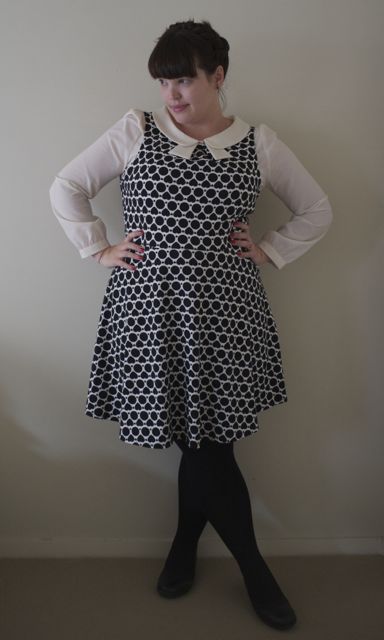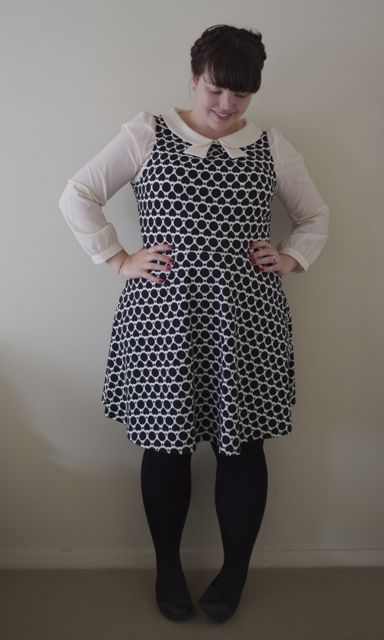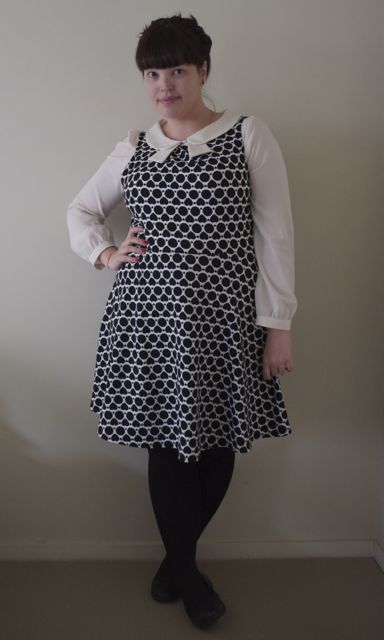 Dress: Dorothy Perkins
Blouse: Princess Highway
Tights: Donatella's
Shoes: Easy Spirit
Before I left for New York, I did what any (in)sane person would do, and put through several online orders, which meant that when I got home there were a number of yummy parcels waiting for my arrival.
One of those parcels came from an online hosiery store that had contacted me regarding promotion on the blog. With the up coming launch of Sonsee I'd more or less turned my back on anything in hosiery world that wasn't coming from them, but Donatella's email really struck me.
For one thing, she'd obviously taken the time to read my guidelines for advertisers, but more importantly, hers seemed to be a company that fit comfortably with my own stance on body image.
In her email, Donna said:
  We don't use descriptions with negative connotations, for example I banned terms like "flattering" (partly thanks to the 'fuck flattering' campaign coming from Australia),
also we don't stock control wear that implies that there is something wrong with fat bodies that has to be 'controlled' (punished) through uncomfortable clothing. 
As a fat woman myself I want my products to be fun and to make women feel good about their body. 
Hoo-bloody-rah! I'm so glad that there's business owners out there who understand that being plus-sized doesn't mean you necessarily want to be squished and squeezed into conforming with what's rapidly becoming less and less the "norm" in society. That sometimes we're pretty happy in our own skin, exactly as it is, and have no desire to camouflage ourselves in flattering (which in the plus size world usually equates to "boring") clothes and accessories.
When I clicked through to the shop I was delighted to see that Donatella's stocked one of the web's best ranges of patterned and trend-based hosiery. I was quickly able to pick a few favourites for review, and by the time I got back from visiting The Sophisticate they were waiting for me at home.
Donatella's doesn't have their own house brand, but they do provide a convenient single point with which to source plus-size hosiery from many different brands like Pamela Mann, Silky, Missi and others. And the free international shipping doesn't hurt, either.
You can search by size or style, which eliminates the frustration of falling in loves with a pair of tights, then discovering that they don't actually come in your size (hate that). but it's worth keeping in mind that each brand fits differently. Most of the tights on her site come with an item-specific size guide… for the hips anyway. As ever I find myself wishing that there was also a measurement for thigh width, because I know a number of brands (Pamela Mann included) seem to fit VERY tight around my full thighs, as if the only concession to being designed for "plus sizes" is an extra panel in the brief and a few inches length in the leg.
Today was quite chilly, so I took the opportunity to road-test the 140 denier thermal fleece tights, and I'm delighted to say they fit comfortably, and were deliciously soft and warm. I could have done with a bit more room in the upper thigh, and I did have to do my usual party trick of wearing knickers over the top to keep them up, but I think they'll be a go-to essential as the colder months close in.
Overall I'd give Donatella's two thumbs up if you're looking for cool on-trend patterned hosiery.
Also waiting for me when I got home was the order I placed with Dorothy Perkins – taking advantage of the 25% off code that launched just as I was promising myself I didn't need to spend another cent before reaching the Big Apple.
This mod heart print dress seemed to be a steal at just 18 pounds, but I have to admit I was surprised when I opened it up and unexpectedly found it to made out of a stretch jersey.
It's…. okay. The bodice will need a bit of tweaking, as the armholes gape and it's surprisingly too big, even for my generous f-cups.
The skirt's great, and just long enough; any shorter and I'd be getting shy-knee-syndrome.
I like the print. A lot. It's bold and eye-catching, but it's a little bit off. It took me a while to realise why.
Look closer.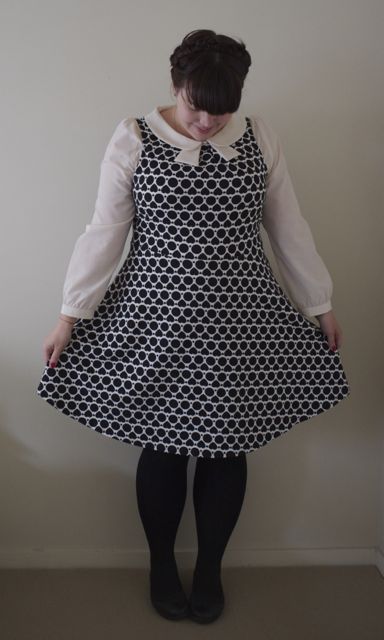 Cloooooser….
BAM! Upside down.
It's annoying, but I've decided it's not annoying enough to warrant sending it back. Instead – because at least the hearts are the right way round from where I'm standing –  I'm going to consider it a reminder to love myself.