Dress: Eliza Parker
Belt: Glassons
Shoes: Chie Mihara
Ugh. When will this wretched heatwave end?
I am not a hot-weather girl. I don't enjoy being sweaty. I like my tights and my cardigans. There's something about hot weather that always makes me feel more aware of my body, too. It's not effortless, walking through heat, there's a density to the air that I find oppressive.
I envy the girls who swan about in the heat in floaty spaghetti straps and carefree summer hair, all tanned legs and big sunglasses. It always makes me feel more aware of my heavier limbs, the necessity of bras and shorts under dresses, my feet swelling in the heat, and the slick of suncream and sweat that covers my skin.
Yuck.
When it gets REALLY hot I reach a point where I just don't want anything against my skin. I just want to lie naked on my bedsheets and feel sorry for myself.
Unfortunately, real life doesn't allow for that, so when I have to get dressed and face the world I usually try to find something that's airy and cotton-cool, not too tight, but not a shapeless muumuu either.
This Eliza Parker dress has actually proven to be a bit of a lifesaver this summer. I think it's shrunk a little in the wash… it certainly seems to be shorter than it was when I first got it, but it's still one of the most comfortable things to wear when the mercury rises.
The cotton fabric has a bit of stretch, and is soft and breathable, the full skirt doesn't cling to my legs, and conveniently hides a set of pockets, the half-length sleeves aren't too tight, and mean that I don't have to slather my shoulders with suncream. And it's super versatile. I can wear it many different ways: with brightly coloured accessories for a party, elegantly with a string of pearls and heels for work, and today with the addition of a leather belt, and my feathered necklace for a bit of hipster chic.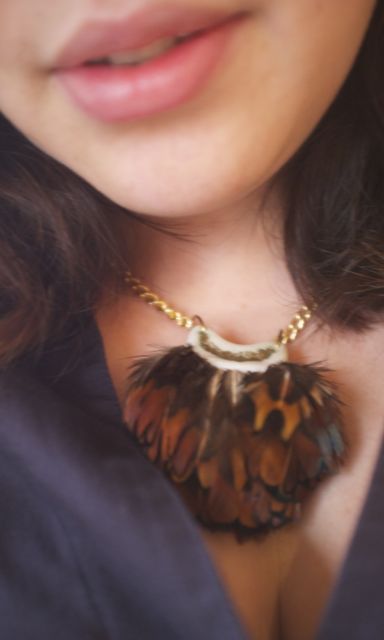 Necklace: Foudre Blanche