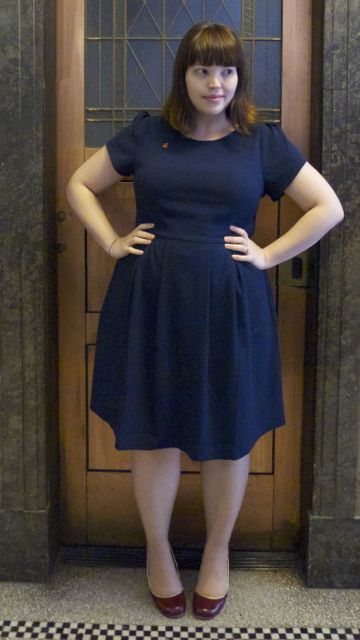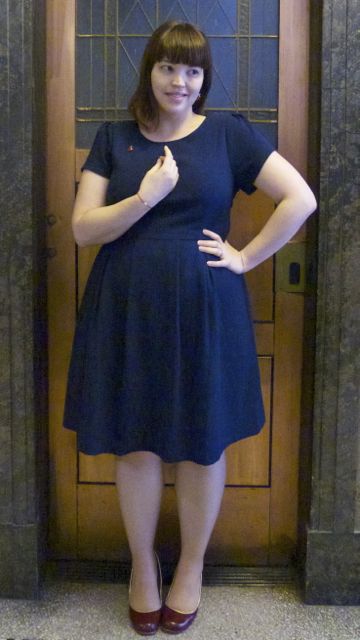 Dress: Jacqui E
Shoes: Poetic License
What's the most important item that I'm wearing today?
Is the cute, but simple navy dress from Jacqui E? The much-loved patent pumps from Poetic License? My… smile?
Give up?
It's this: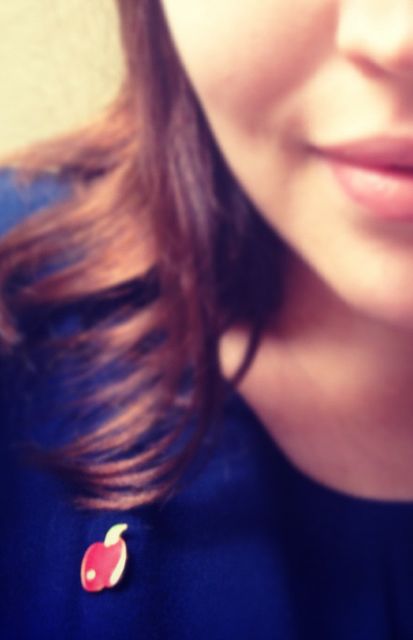 I haven't really talked much in the past few months about what's going on in my personal family life. It's been too close and too raw to share, but I asked my sister if she was OK with me talking about this on the blog, and she said it would be, so here we go.
In July my sister Mae was diagnosed with bowel cancer.
God I hate that word. Cancer. I know it's ridiculously common. I know that almost all of you will have had brushes with it in the past. Perhaps you're still dealing with the fallout of a diagnosis right now. It's a part of life. I guess I just never expected to have to apply it to my baby sister.
Bowel cancer's very common – it's the second most common cancer in Australia – but it's very rare among young people. Very, very rare among young women. And it's very, very, very silent.
Mae was only diagnosed because it had spread, causing irreparable damage to her ovaries and uterus. What began as a frightening diagnosis of ovarian neoplasia (requiring my twenty-eight year old sister to undergo a full hysterectomy) rapidly snowballed into a frankly terrifying diagnosis of stage four colon cancer.
And the bottom dropped out of my world.
My sister has the most generous heart of anyone I've ever met. She has a breathtaking capacity for love and kindness, and is the bravest, strongest and most empathetic person I know.
She doesn't deserve the hand that's been dealt to her.
But in typical Mae-fashion she's meeting the battle head-on. Her recovery from a ten-hour surgery was awe-inspiring, her courage and fortitude as she undergoes pretty full-on chemotherapy amazes me. And on top of everything else, she's now planning her wedding.
So to my brave, beautiful, loving and dearly loved little sister: I am SO proud of you, and I love you more than I can say. I wish I could fight this battle for you, but I'm walking with you every step of the way.
And to you, my readers, bowel cancer isn't the most glamorous of cancers. There are no glossy bowel-cancer themed products in the supermarket aisles. GHD isn't lining up to do a bowel-cancer hair straightener. OPI hasn't done a line of bowel-cancer nail polishes. Witchery isn't encouraging everyone (well, everyone under a size 16 anyway) to wear a white shirt to promote bowel-cancer awareness.
Bowel cancer DOES have a really cute fundraising pin though. Do me a favour and buy one, OK?