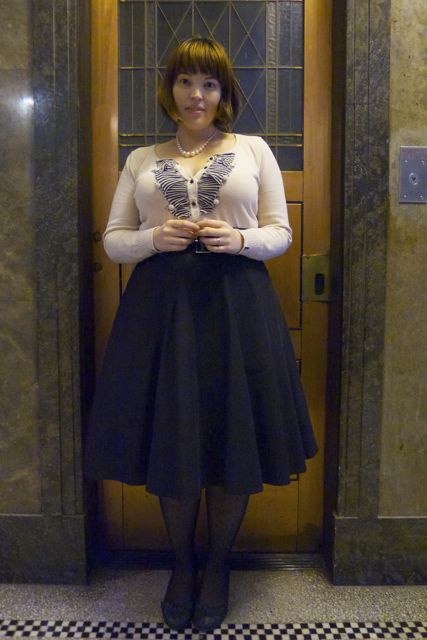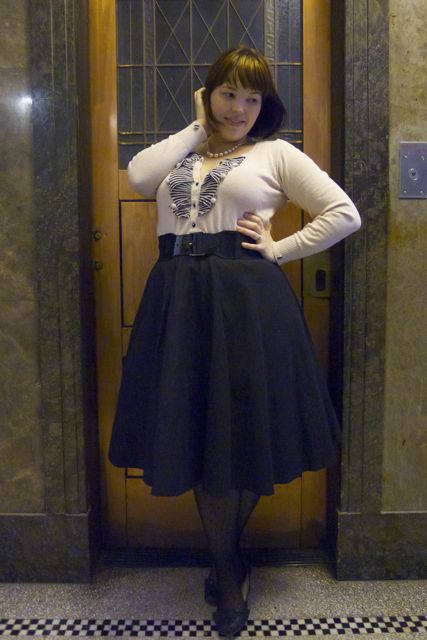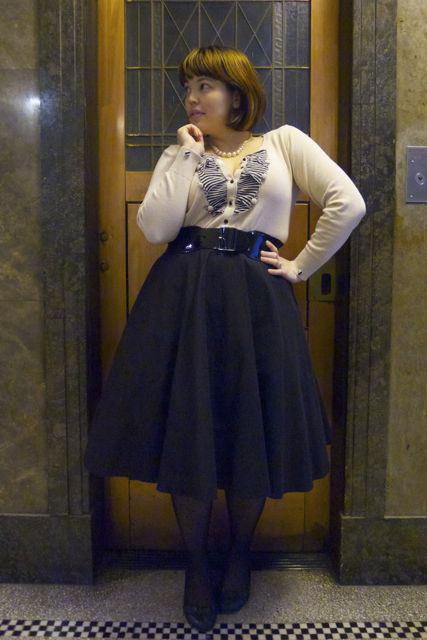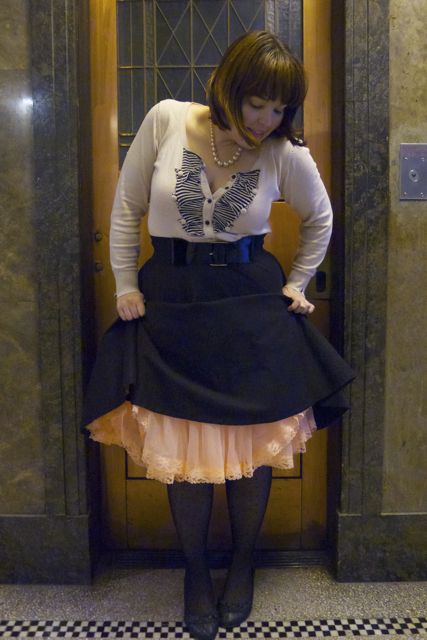 Cardigan: Friends of Couture (remixed… sort of)
Skirt: Asos (remixed… sort of)
Petticoat: Domino Dollhouse
Belt: Portmans
Shoes: Wittner
Tights: Sussan
Today my good friend San and I ventured into Melbourne's misty morning to visit the Love Vintage fair that was taking place up at Melbourne's Royal Exhibition Building.
We easily lost several hours pawing through the most amazing collections of vintage frocks (and yes, frou-frou) that I think I've ever seen in one place, and I was reassured to see so much larger size vintage (though a lot of it still too small or too rich for me).
I did manage to find a gorgeous beaded 1950's cardigan at the very first stall we visited that I couldn't leave behind, but apart from that I was content to run my fingers over the dresses, and dream.
Weren't the clothes from the 1950's and 60's just to die for? It makes me sad that dresses like that aren't really being made anymore. I mean, look hard enough and you can find similar silhouettes; but the textiles, embroidery, finishing elements that make a vintage piece so amazing seem to be lost.
I've got it into my head that I want to wear a frothy 1950's vintage prom dress to a wedding in October, so I'll be on The Hunt for the next few months. Let me know if you spot anything, ok?
I know there's gorgeous plus-size vintage out there…. I saw enough BEAUTIFULLY put together bigger girls at the market today. I just wanted to run up and make them twirl for me then grill them on where they got their clothes.
I donned my (barely) remixed Friends of Couture cardigan (I sewed up the front, and replaced the self-covered buttons that Just. Kept. Falling. Off. with little sparkly black numbers) and my barely remixed Asos skirt (it used to be longer).
Realistically, my May(de) item today is the Domino Dollhouse petticoat, which has rapidly made its way to the top of my rotation pile. Who can go past a crinoline, right?
It's far too cold to feature my other DD item, the strawberry dress, so I'm glad to be able to share something. They're a great indie label, and well worth checking out. Especially their current "!" print range. I'm a little obsessed with their "!" print range.