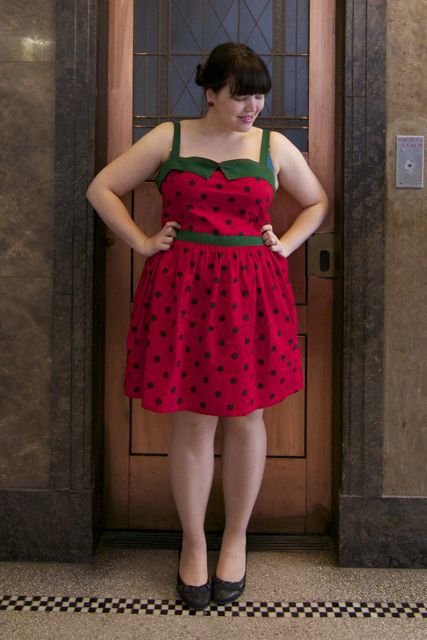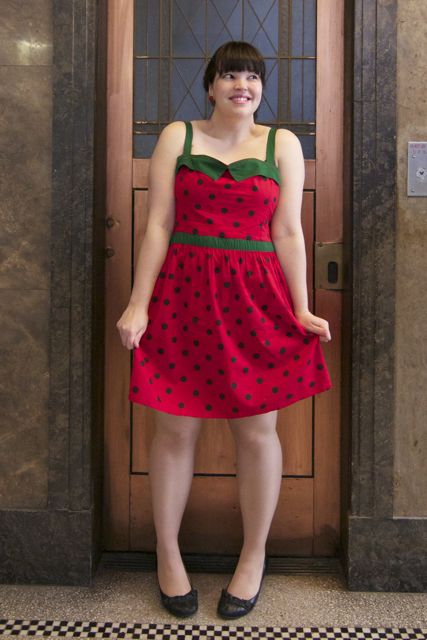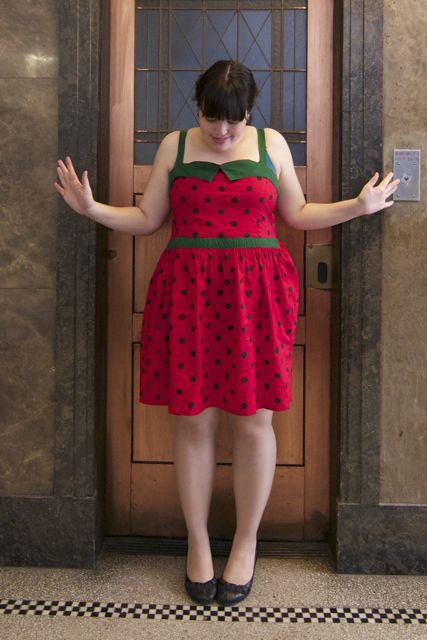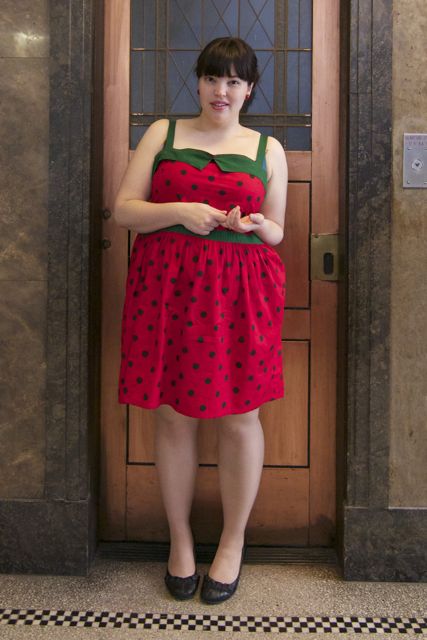 Dress: Domino Dollhouse
Shoes: Wittner
Were you lucky enough to have been in Melbourne today? Wasn't the weather SPECTACULAR? Nearly thirty degrees, and everyone swanning around in strappy tops and dresses like a preview of summer.
I was delighted, because it gave me the opportunity to try my new Domino Dollhouse dress. Which looks like a strawberry. Yes it does.
I'd never bought from Domino Dollhouse before, and a few readers had mentioned to me that the dresses were quite short, which as you know isn't really my thing. But then I saw her Delectable Dresses range; which has a cupcake dress, a watermelon dress, and this luscious strawberry number. And I was a goner.
It's even cuter in person, with the deep green bodice and straps playing off against the ladybird red and black magnificently. The back is smocked so it would fit a good range of sizes. I bought the 1X, and it's a bit roomy, but that's hardly the end of the world. The cotton's a very light and breezy fabric that's going to be sublime as the mercury climbs.
It's short. Shorter than I'd anticipated (it's pictured on the website with a petticoat, which gives it an extra inch or so) but I think with such a novelty look less is definitely more.
Ordering from Domino Dollhouse was fast and easy, and shipping for both this & a petticoat came to just over $20 which is a steal for a US-based company. It took a little less than two weeks to get to me, which is a helluva lot shorter than some other stores I could mention *coughASOScough*.
Now, the strawberry dress is out of stock at the moment, but according to the website it's back at the end of September, and if you shoot them an email the good folks at DD will let you know when it's available again. If you like the look of it I'd urge you to snap it up as soon as you get the notification because I suspect this is the favourite of the three dresses, and it's likely to sell out very quickly again!