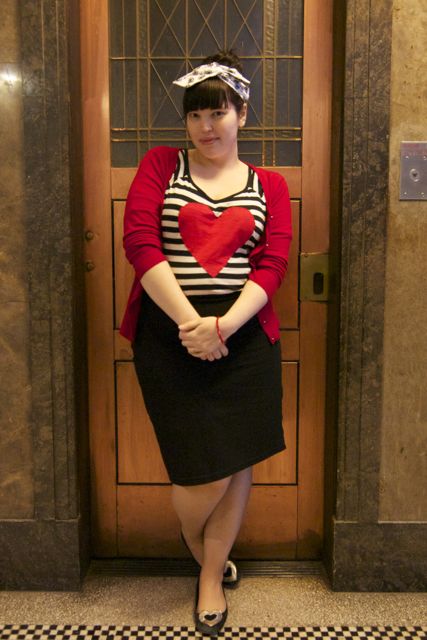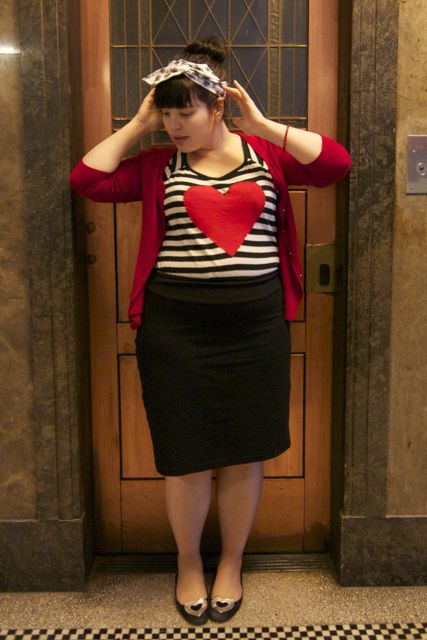 Top: Dorothy Perkins (remixed)
Cardigan: Crossroads
Skirt: Target
Shoes: Zensu
More stripes with red – variation on a theme I guess – I've discovered a renewed passion for it after wearing pretty florals and mustards for weeks on end. Apologies if it's getting a bit tedious, it's just a safe combination to reach for when I'm feeling rushed or uninspired.
This old remixed top is starting to look a bit tired and well-worn, and I'm seriously considering sewing some more giant hearts to the fronts of things as a big, bold focal points. Anything with a heart on it will automatically go with my Zensu Heart shoes, right?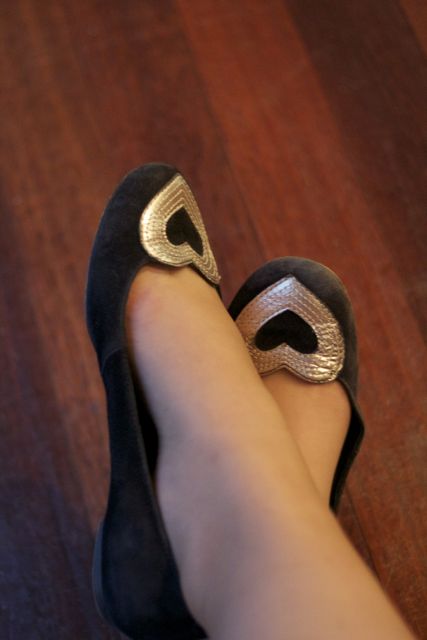 I've also gone for the 50's bandanna look again with my fab wired headband from Marscapony: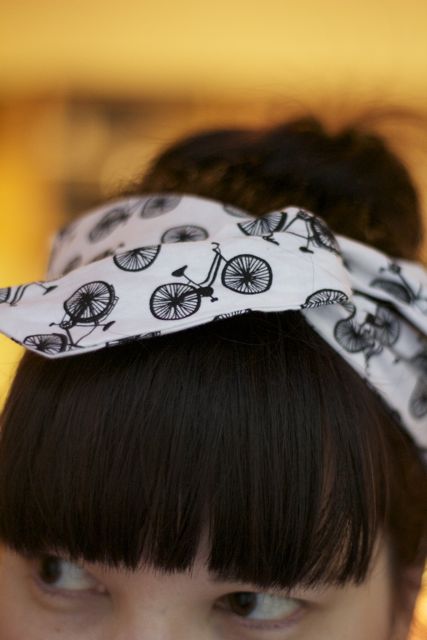 AND I have a new bracelet – a glitzy rhinestone number that I wish I could give a rave review to, but unfortunately I've worn it a grand total of three times, and it's haemorrhaging Swarovski crystals. I took it back to the store I bought it from but apart from stressing that it wasn't a "cheapie" item (oh, I already KNEW that, the price tag was pretty ambitious) she refused to do anything about the missing stones except tell me that I couldn't just whack any old red crystals in there as the stones were SWAROVSKI, as it was a VERY GOOD QUALITY PIECE OF SHIT JEWELLERY.
Bit of a pity, because I was thinking of buying a set as bridesmaid gifts.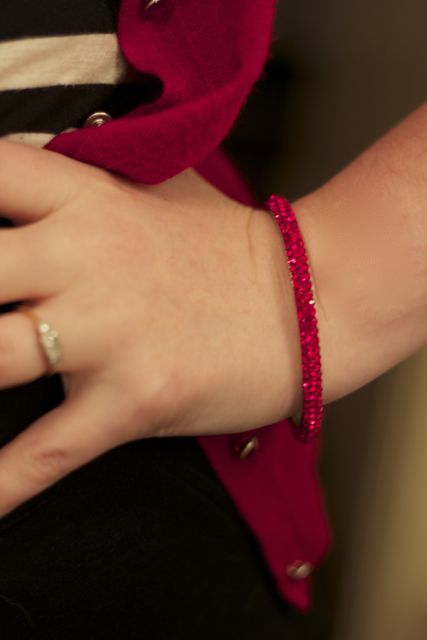 Bangle: Peeptoe
One recent purchase that I CAN give an unequivocal rave review to is Suki's new scratching post which I bought this morning from a very lovely young man who's gone into business custom-making non-crazy-cat-lady style pet furniture.
On twitter a few weeks ago I was moaning about how I couldn't find a cat scratching post that was tall enough that Suki could look down at what was going on beneath the balcony, but didn't take up four fifths of The Sophisticate's carefully curated living area.
I stumbled on Michael's Custom Scratching Posts on Facebook, and contacted him immediately to order the suggestively named "Thick and Tall" which at 145cm, was almost as tall as me, and at $120 was way cheaper than any of the obnoxious pieces I'd seen in petshops.
He had one in stock which I drove out and collected this morning.
The moment we got it in the door Suki shimmied up the post like a monkey up a coconut tree, proceeded to go to town on the top, and then sat there with a puffed tail and an excited look on her face for the rest of the afternoon. Instant success.
If you're in Melbourne, and are looking for a decent-sized scratching post or a cat platform that doesn't come in obnoxious colours then I urge you to check out Michael's range.