Dress: eShakti
Shoes: Wittner
Aaaaaand we're back to summer again.
I've lived in Melbourne for over eight years now, but I'm still not used to it's ADHD approach to the seasons. A few days we were shivering and subjected to torrential rainstorms, and today was steamy and hot. Just the right weather to wear my OTHER eShakti purchase!
This dress is the one I bought INSTEAD of the Migratory Birds dress (as opposed to "as well as", sigh) which should give you some idea of how much I liked it.
It's breezy cotton with a flattering bustier-style bodice and a smocked back.
And look, Ma, POCKETS!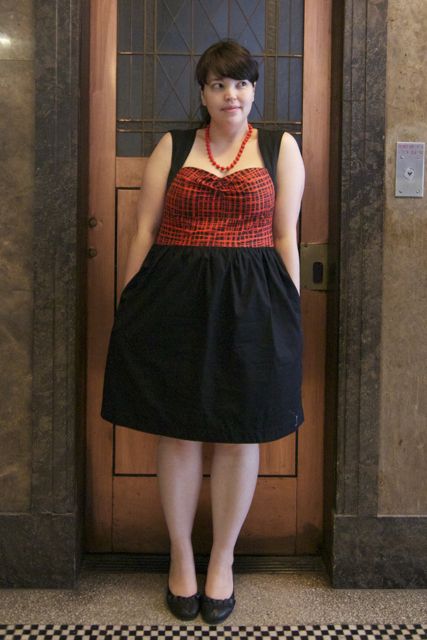 The graphic print fabric reminds me a little of my Monaco Dress  and is a tomatoey red that I tend to steer away from, but actually works better in this context than my more favoured deep red would.
I had a moment of concern that the bodice wouldn't work with my big boobs, but of course, eShakti asks what cup size you wear during the ordering process, and presumably adjusts the fit accordingly. Irrespectively, the smocked back ensures a snug, but still comfortable fit.
I DID have a bit of trouble finding a bra that didn't peek out at the corners where the bodice meets the shoulder straps – The neckline is wider than even my balconette bras. A pair of safety pins dealt with that issue though.
The thing that sold me on this dress though? The back.
I'm a sucker for a good feature back, and this has a corker; the dress fastens behind the neck with a little button, but the back isn't secured to the bodice at all meaning that you get a flirty little peekaboo of skin.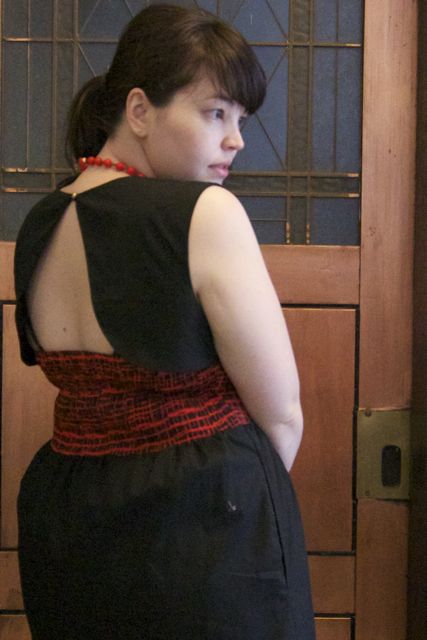 Of course, the moment you do anything more strenuous than standing still the flaps widen, showing a goodly quantity of bra strap…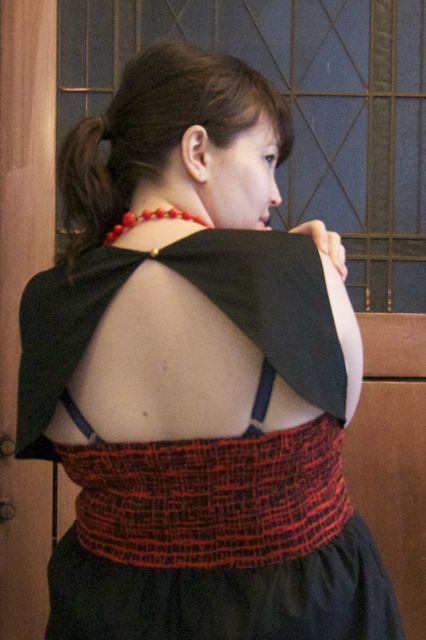 … but really, on hot 30+ degree days like today it's the least of my worries.