Dress: Light In The Box
Shoes: Hush Puppies
Necklace: Gifted By Joss
Now, I don't want to mass spam you guys with an overload of images, but a few of you asked me to give a comprehensive review of Light In The Box when my bridesmaid dress arrived, and since pictures really do tell a thousand words I thought I'd go with the more-is-more approach.
 As you guys know, I'm getting married (at the end of January, for those of you who were asking). I've got four bridesmaids – four of my favourite lady-friends – and I really want them to have a great day, and feel amazing and gorgeous in their dresses.
Now, each of these four girls have very different senses of style and one of them will be about eleven months pregnant, so I don't like the idea of dictating to them what they should wear, or trying to force them into some cookie-cutter of a dress that suits none of them.
Add to this the fact that bridesmaid dresses are ridiculously expensive (lots of posters on the wedding forums congratulating themselves for choosing dresses that were only $400) and usually silk. My Maid-Of-Honor is vegan, and while she's totally easy-going and said I should just choose the dress that I liked regardless of the fabric, I absolutely refuse to have her wear something she's ethically opposed to.
Mum suggested I give the girls a few metres of fabric and let them design their own dresses, which would have worked for the girls who had access to a sewing machine or a seamstress Mum, but would crank the price back up into the hundreds for the others. I also got it into my head that I wanted to carry on the (spoiler!) chiffon drapery from my dress into the bridesmaid's outfits.
So I wanted a range of mismatched dresses that could be made in an identical chiffon fabric, but I didn't want to pay through the nose for them.
Even Etsy failed me.
My research led me to Light-In-The-Box (among others) which is an online store – based in China as so many are – that custom makes bridesmaid dresses. There's about 200 styles available in chiffon, and most of them are around the $100 mark.
The reviews though were… patchy.
Lots of people on the wedding forums said that Light-In-The-Box were TERRIBLE (though most of them were of the "friend of a friend of mine" variety of anecdote). Posters who said they were actually OK were shot down as being incognito Trojan horses for the company.
It's hard to know who to trust when you're approaching an online company for the first time, so I hemmed and hawed, and totally failed to make a decision until I was asked to be a bridesmaid myself.
The brief was simple: Pink. And it just so happens I didn't own a pink dress that was going to be suitable as a bridesmaid's dress.
I thought I'd take the opportunity to try Light In The Box out for myself before committing to putting my own bridesmaids into their hands, so I ordered a strapless a-line chiffon dress for a whopping $103. I decided to opt for the "custom measurement" option and the "express shipping" which brought the total up to $146. Which isn't cheap for something that had the potential for disaster, but was a good deal cheaper than the bridesmaid dresses I'd seen in the stores.
They make each purchase to order (which they say can take up to 18 working days) so I ordered on the 11th of September and got the dress today.
This is what I ordered: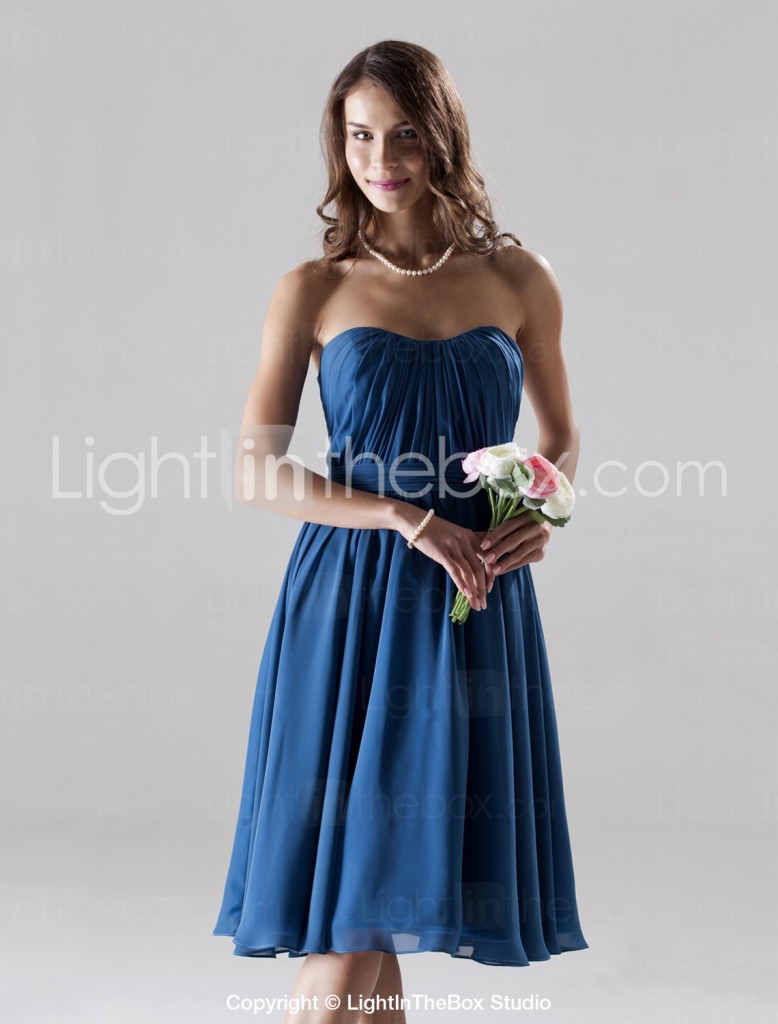 And this is the dress, straight out of the box: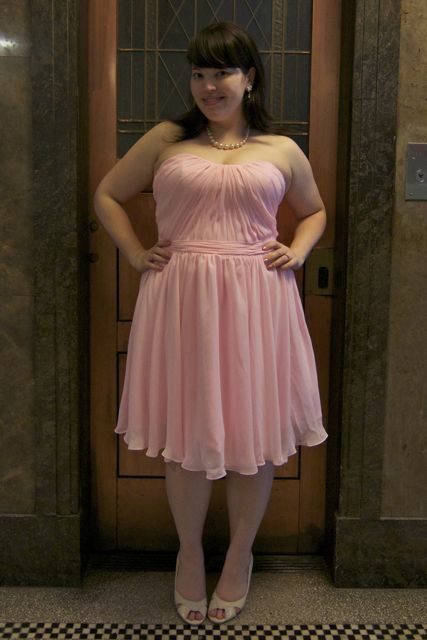 Can you see how impressed I am?
I needed The Sophisticate's help to be zipped up – the zipper's pretty stiff, and I was a bit stingy with my measurements so the bodice is pretty snug – but once it was on I felt comfortable and it definitely got two thumbs up from my other half.
The dress is finished beautifully: It's fully lined…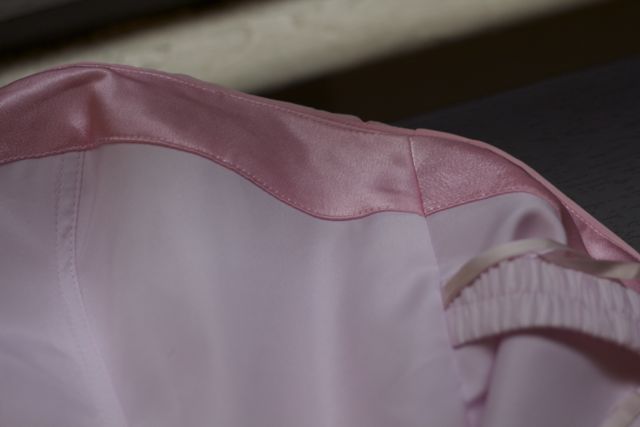 …professionally made…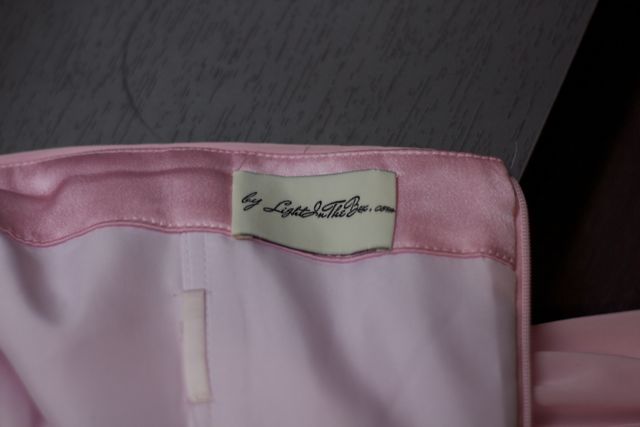 …and tidily hemmed.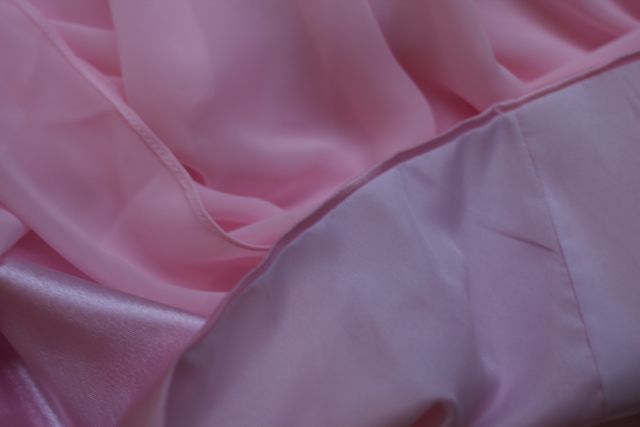 I'm yet to figure out what the internal strap is for – maybe keeping the dress on as you're zipping it up?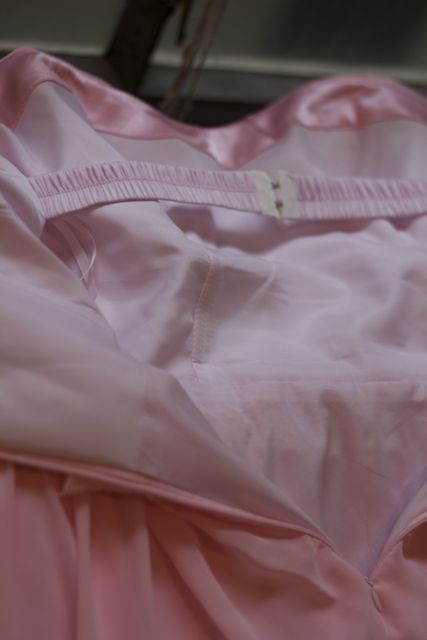 My only concern was that the colour chart is pretty patchy. I had trouble deciding between this colour – Pink – and something called Pearl Pink, and in the flesh this doesn't really look like either. If I'd been thinking properly I'd have ordered a colour swatch while I was ordering the dress so I could make a more informed decision when choosing the colour for my bridesmaids.
So now it's up to the girls – either we go with chiffon dresses from Light-In-The-Box, or we go with my other dream plan – mismatched floral dresses with red sashes….. hmn, decisions, decisions….