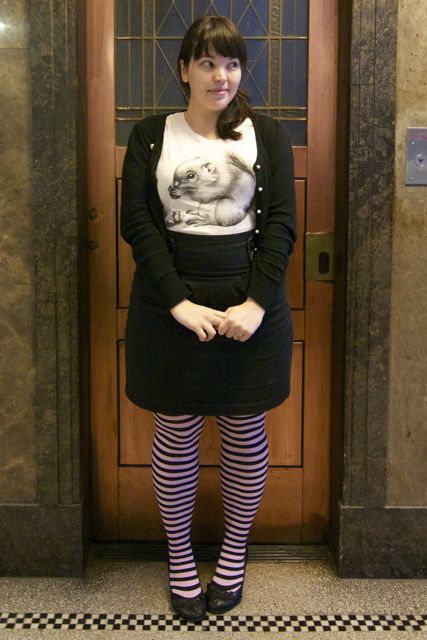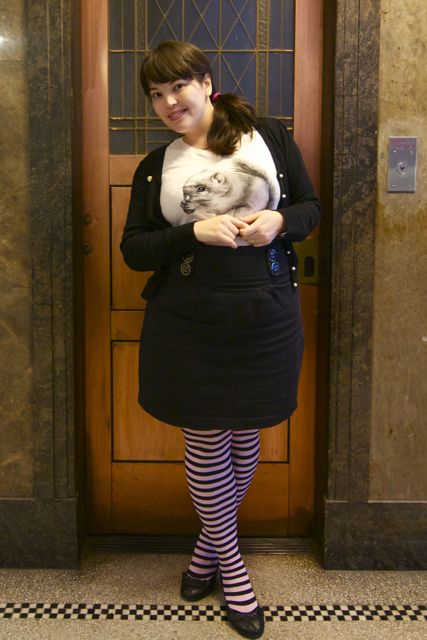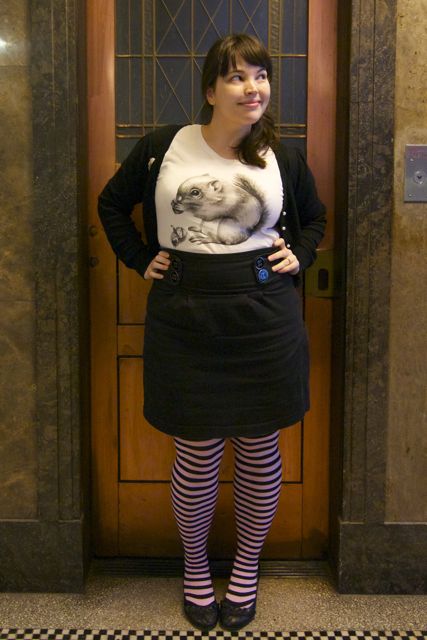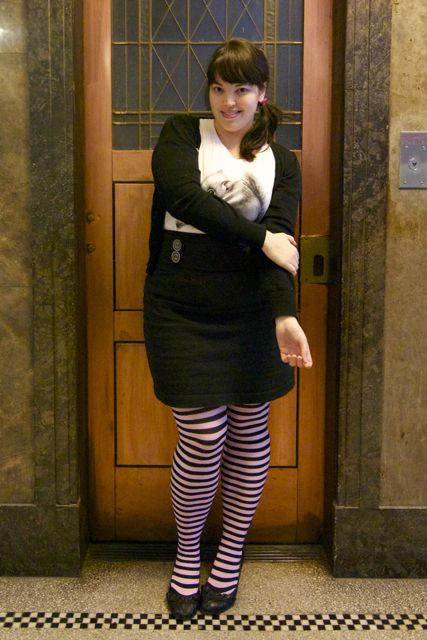 Top: T-Bar
Cardigan: Friends of Couture via Cardigan Store
Skirt: City Chic
Tights: We Love Colors
Shoes: Wittner
Hope you're all having/have had great weekends! I've accomplished quite a bit (especially considering the fact that I'm a little laid-low with The Dreaded Lurgie).
* I did a DIY project that I'll post up later in the week.
* I bought the first item for The Sophisticate and my wedding (eeee!)
* I made malt biscuits with salted caramel filling – now dubbed 'Malty Salty Elroy Biscuits' after Remote Viewing Podcaster Elroy. A few of you asked for the recipe, so here it is:
Ingredients:
(biscuits)
200g self-raising flour / 75g malt powder / pinch of salt / 150g softened butter / 50g caster sugar / 1 egg
(caramel)
75g dark brown sugar / 50g butter / 1/2 tsp salt flakes / 200g condensed milk
method:
Sift the flour, malt powder and salt into a bowl and add softened butter. Mix until it resembles breadcrumbs then add caster sugar and egg. mix the dough together then wrap in clingfilm & refrigerate for at least 30 mins.
Preheat oven to 190 degrees celcius.
Roll the dough out to a thickness of 8-9 mm then cut into rounds (I use a champagne glass). Bake for 10 mins until golden, then allow to cool.
Meanwhile make the caramel by gently heating the brown sugar, salt and butter in a saucepan until sugar has dissolved. Add the condensed milk then cook over low heat for 5 or 6 minutes while stirring constantly. Increase the heat until the mixture boils then as soon as it starts to bubble remove from heat and cool until just warm.
Spoon a swirl of caramel onto the bottom of one of the malt biscuits, then smoosh another malt biscuit into the caramel.
Allow to cool.
Voila! Salty Malty Elroy Biscuits!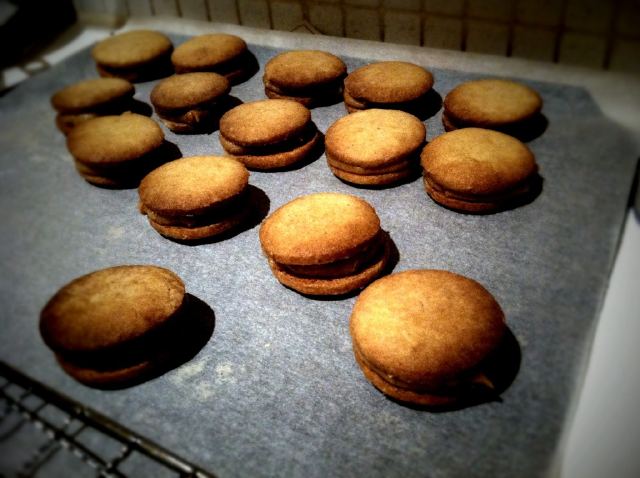 Meanwhile – I promised you all a We Love Colors free shipping code, and in honor of my fabulous pink and black stripy tights – here it is:
From now until the 31st of August 2011 We Love Colors is offering free shipping to Australia and New Zealand on all orders over $30 with the code WELOVENZAUS so if you're hankering over a pair of brightly coloured tights, stripy tights, fishnets, socks, leggings; now's the time to snap them up!