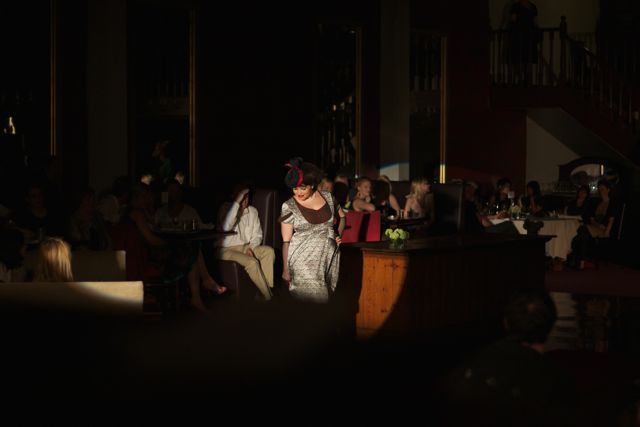 If someone had told me years ago that I would be walking a runway at the ripe old age of thirty two, and without having suffered a Mike Teavee style shrinking and stretching mishap, I'd have laughed them out of the room, but astonishingly on Friday night, that's exactly where I found myself!
I'm not trying to kid anyone here. I'm pretty short, and I'm pretty plump. I'm also pretty happy with the way I am, but I'm a far cry from the willowy young naifs you usually see modeling. When Chitra from Chitra's Closet invited me to help her promote her new Spring/Summer 2010 line I'd envisaged some kind of guest appearance on the night after which I could be safely shelved away so the real models could do their thing. To my astonishment it turned out that when Chitra said "I'd like you to model for me" she meant that she wanted me – short, plump, happy me – to model her clothes on the runway.
I said "yes" before I even really thought about it too carefully, then immediately started to wonder if maybe I'd bitten off more than I could chew. Fortunately Chitra's clothing is so gorgeously made and beautiful to wear that you can't help but feel comfortable in it; Chitra herself is so lovely and embracing of the curvy form; and on the night the aforementioned willowy young naif's were friendly and supportive and I ended up having a jolly time.
First things first I had my makeup and hair done. It's the first time I've ever been professionally "made-up", which was a bit exciting. I don't wear makeup very often, and I wouldn't even know how to apply false eyelashes without gluing my eyelids together, but after Friday I'm tempted to take a crash learning course in how to make myself up, because wow!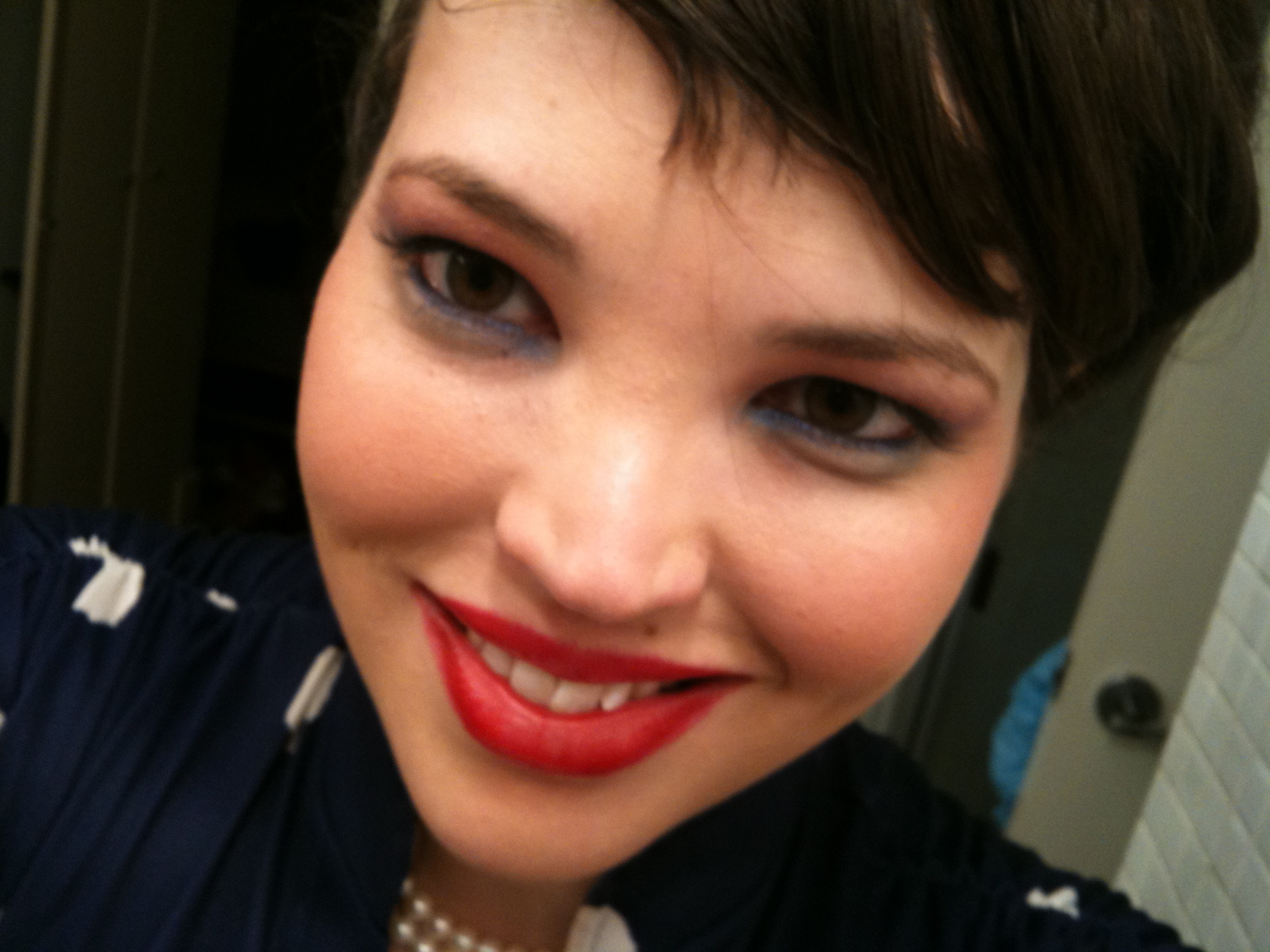 After teasing it to within and inch of its life the hairdresser managed to coerce my normally uncooperative hair into a dramatic sideways bouffant, that looked brilliant later with Kim Fletcher's millinery confections sitting atop it.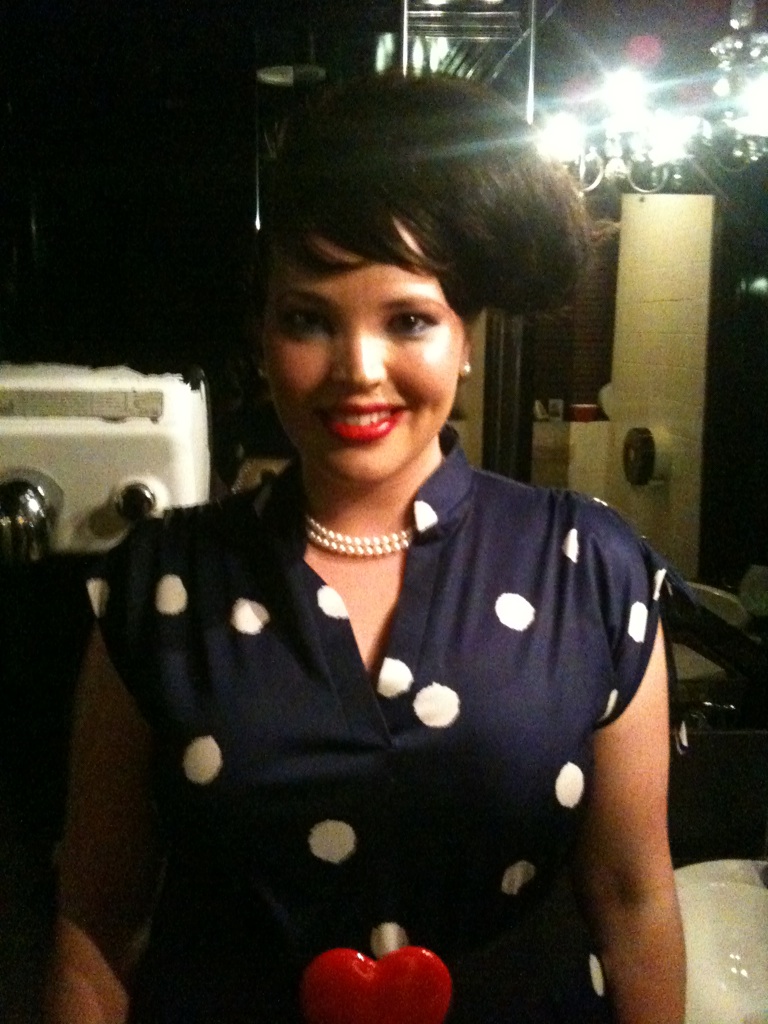 I wore three pieces for the Mademoiselle segment of the show – a musical tribute that paid homage to the movie "Gigi" which tells the story of a carefree young woman who reluctantly learns grace and etiquette and eventually wins the heart of Gaston, a bon vivant of the first calibre.
Our instructions for the first walk was to be carefree and girly which was easy in the silk dress with tulle underskirt that I'd been given to wear: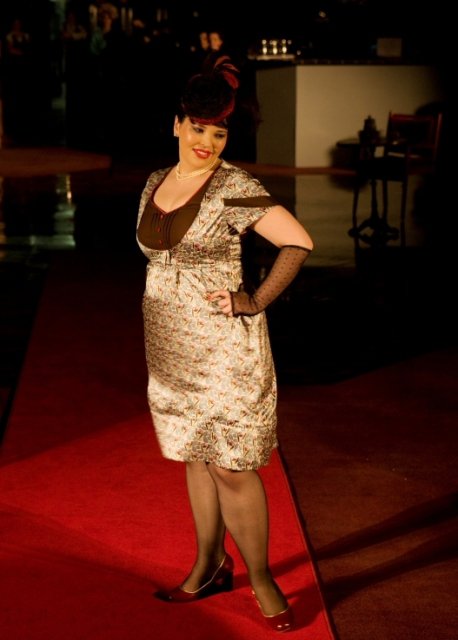 As I came down the stairs and took my first steps into the spotlight my legs were shaking so badly I could barely walk – thank heavens Chitra had deemed it OK to wear my own shoes, I'm not sure I'd have managed to keep myself upright in anything but! I think I got the walk right (though I definitely have to work on the stationary poses!), and I managed to blow a kiss to The Sophisticate's Dad who was sitting in the audience before sashaying back up the stairs to don outfit two: a most elegant satin suit with feature buttons.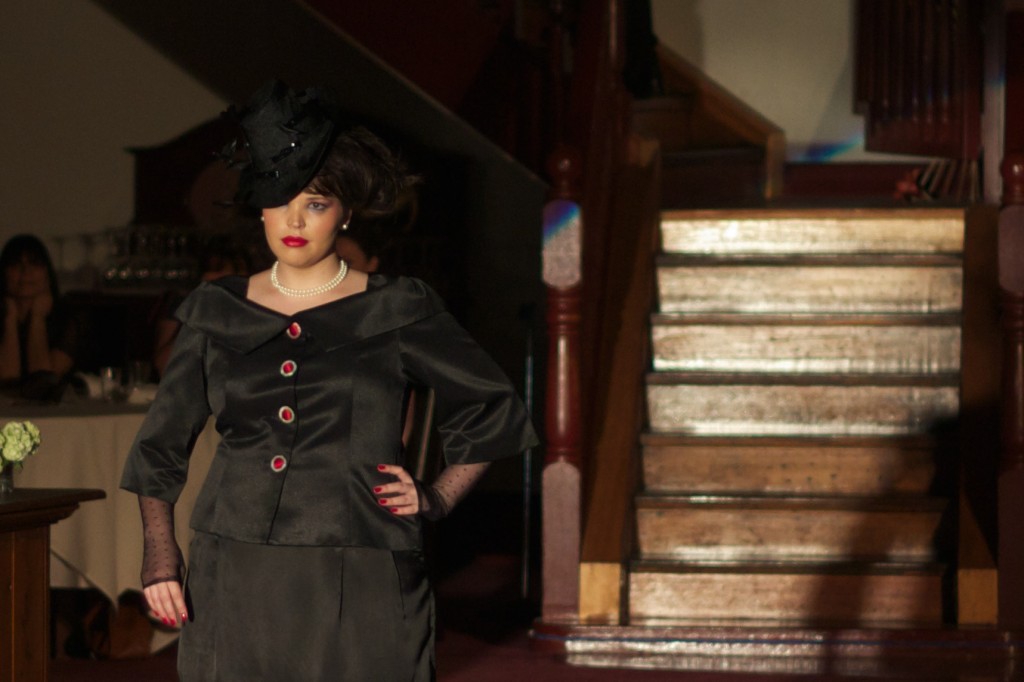 This was a gorgeous piece to wear, and encompassed all the things I love about Chitra's clothing. It's cut to fit curves, so nipped in at the waist, but was generous in the bust and the hips. The fabric's a divine silk satin, and hangs with a satisfying weight while the scarlet lining and fabric covered buttons add an element of fun.
My third and final outfit was one of the dresses I had a soft spot for from the sneak peek of the Spring range. It caused me a little consternation, because it felt a little snug over the old F-cupped rack-of-doom, and it required the purchase of a strapless bra, but I think the result looks lovely… especially from the back.
All in all it was an extraordinary experience, and I'm very grateful to Chitra for the opportunity. It was also exciting to meet a few readers on the night! I hope you all enjoyed the show!
For more photos of the entire range, check out the Chitra's Closet FanPage on Facebook