Blouse: Victoria's Secret
Cardigan: Table 8
Skirt: Eliza Parker
Shoes: Poetic License
Stockings: The Sock Shop
Hehehe. Sorry, I do like a good pun though I know it scandalises The Sophisticate (his least favourite blog title is "Back to the Fuschia"). After nearly two years of blogging I sometimes struggle to come up with new blog titles, so when I think of one that gives me the giggles I usually put it up quick smart. And besides, they are starry, starry tights, so ner.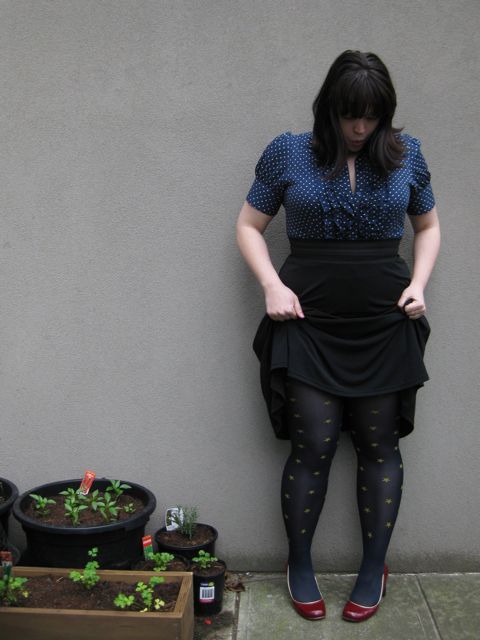 Don't black and navy go together marvellously? I used to have to wear the two paired when I worked at Dymocks Booksellers and it's taken me at least this long to recover from the trauma of wearing the same outfit every single day, but I tried these stockings with at least three other outfits before I realised that actually no, teaming them with my black Eliza Parker skirt was the go.
I bought the stockings on impulse from the "Sock Shop" (no website, sorry guys) hidden away in Melbourne's "Walk Arcade" – they also had stocking with hearts! And spiders, but I was less excited about them. They were of the "two sizes fit all" variety that I am so dubious of, but the sales assistant swore they'd fit no problemo, and they did, but they are a bit prone to what Angela from Angela See Angela Blog refers to as "Stocking Crotch". It's a problem easily solved with what us ex-Canberran's called (charmingly) "Scungies", and what the rest of Australia apparently refer to as "Sports Briefs": heavy duty underpants that you wear on top of your regular underpants so that no-one can see your, er, underpants.