Top: Forcast
Skirt: DIY
Shoes: Mel (similar here)
Belt: I Will Fly
You'd be forgiven for thinking this was a dress, but it's actually a skirt and top combined. The two blacks are just slightly different (different fabrics: The top is a stretchy jersey, the skirt a suiting fabric) so to soften the difference between the two I've added a feature belt.
This is a great way of getting around the issue of two items that almost but don't quite work together, and I use it regularly. Not just to match blacks, but to marry two pieces – like two different colours, or two different patterns – together.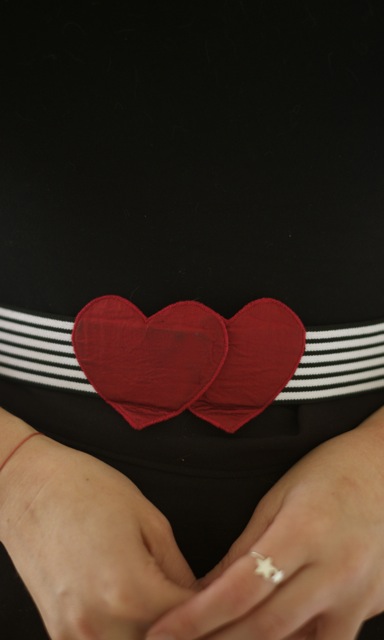 The belt's an oldie but a goodie. It's an elastic belt with two fabric hearts that snap together, and I spotted it on Etsy a few years ago. I contacted the buyer about getting one custom-made to my measurements (don't you LOVE Etsy? Clothes made to fit YOU, not YOU trying to fit clothes)
I bought the top at the end of last year, and its been one of my favourite recent purchases. I hadn't heard of the brand Forcast before, as their Victorian stores are all in malls I'm not familiar with. I stumbled across them on a work trip, and I'm glad I did because this top is just lovely.
It has a wide flattering boatneck that adds length to my short torso, but miraculously doesn't make me look ridiculously top-heavy. There's a built-in shelf bra which is obviously useless for me in regards to bust support but does mean the top doesn't ride up, and it also provides a double layer of coverage so the fabric doesn't become sheer.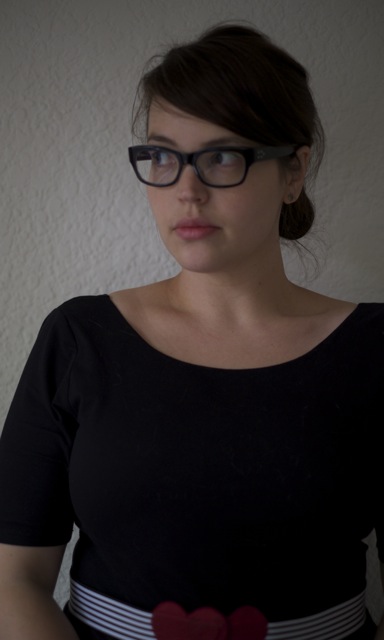 The half-length sleeves are a new trend that I'm really starting to appreciate: very elegant and retro, with a vaguely balletic style, but the real killer feature for me is the deep scooped back: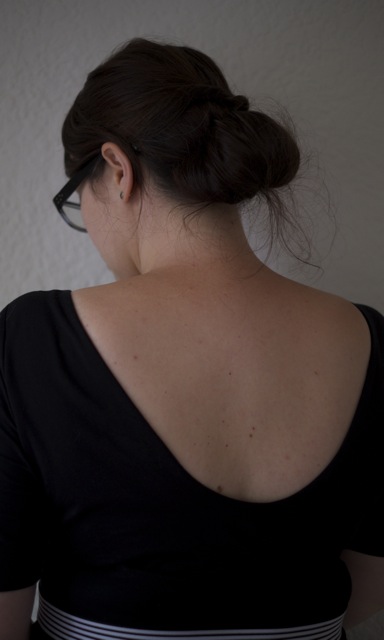 Lovely.