Dress: Lagamta
Of all the seasons I like autumn the best. It probably comes from growing up in Canberra, where they really do do the best autumns: A temperature cold enough to cut, but the air will be absolutely still with a perfect blue sky high above.
Melbourne's only turned on a few of cold clear autumn days since I moved here ten years ago. It tends to be a greyer, damper affair than up in my home town. But I still love it.
I love dusting off my boots and cardigans. Tights, jackets. Cold enough to warrant a quilt on the bed, but not bone chill enough to make it (more!) difficult to get up in the morning.
This year I've been looking forward to autumn because the lovely ladies at Lagamta had sent me a couple of pieces from their Lines: Winter Collection.
The two women behind the Lithuania-based Lagamta are Siga and Jurga, and their friendship – and eventually business partnership – began when Siga came to Jurga to have her wedding dress made.
The motto of the company is Clothing items, made with love, from the very best materials. To be worn proudly which is something I wholeheartedly endorse.
Reading their blog gave me a little more insight into the company and their ethical business practices. They're conscious and aware of where their materials come from – right down the thread and buttons. When Lithuanian linen proved impossible to find (the last Lithuanian farmer stopped growing it seven years ago) Jurga and Siga sourced fabric that had been woven in Lithuania from raw materials grown elsewhere in Europe. They do this to limit the carbon footprint that their business holds. They have not lined their winter items for the same reason – unable to find a lining fabric that fit with their stringent boundaries (cotton production is notoriously bad for the environment) they chose to leave the garments unlined, and suggest that people wear a slip if they're sensitive to wool (I am, so I do).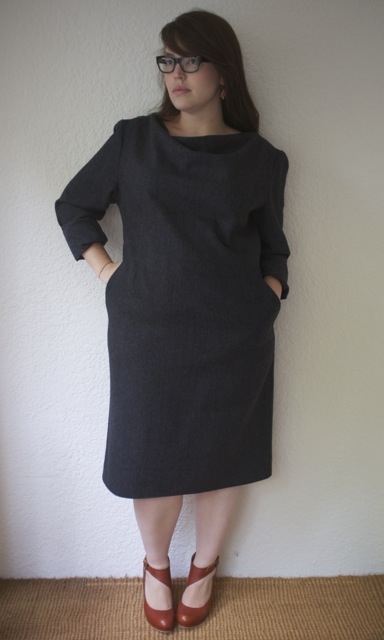 The dress that I chose to try is the Fireside Wool Dress which has been designed for snuggling and comfort. It's loose-fitting, but hardly shapeless, with a defined waist created by some very clever geometric seaming that both conceals and makes a feature of a pair of deep and practical pockets.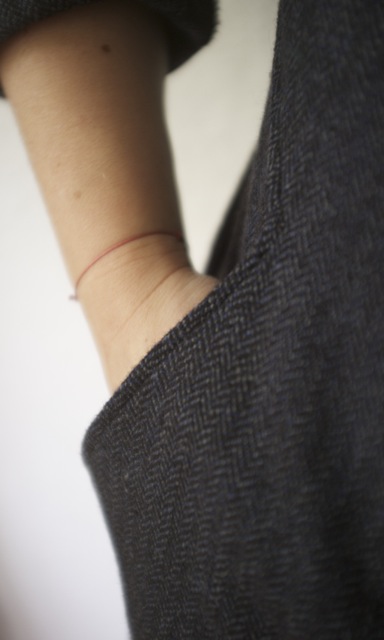 The sleeves are probably a little bit wide for my taste, but cuffing takes a lot of the volume out of them.
The soft folded neckline is a really gorgeous feature of this dress. Equally casual and chic, it somehow manages to make my short (I'll freely admit it) neck look vaguely swanlike, and provides a beautiful frame for collarbones.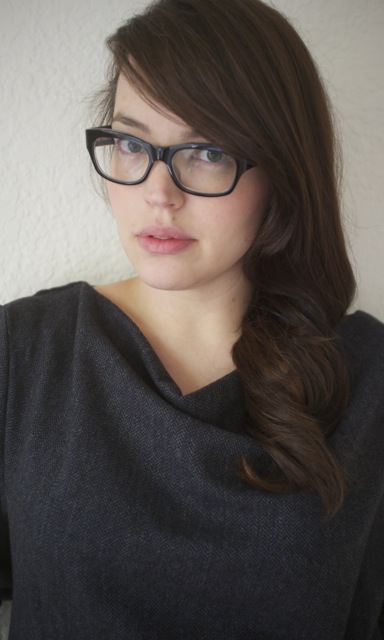 The fabric is an 80% wool blend with a very fine herringbone weave. It's not too scratchy, but I did choose to wear a slip underneath it. I got the XXL because I liked the look with a bit of volume. Jurga makes each piece to order I believe, so you just need to get in contact with them and let them know if you have special requirements (I also got a pair of trousers, gave them a heads-up about my gigantic calves, and the resulting pants fit beautifully)
They've just released their spring/summer collection as well, for those of you heading into the warmer months.