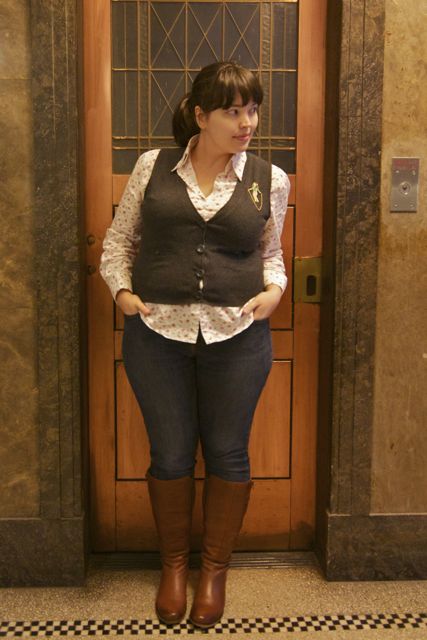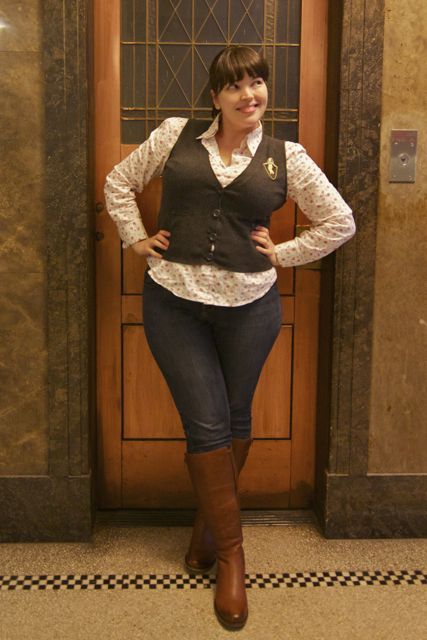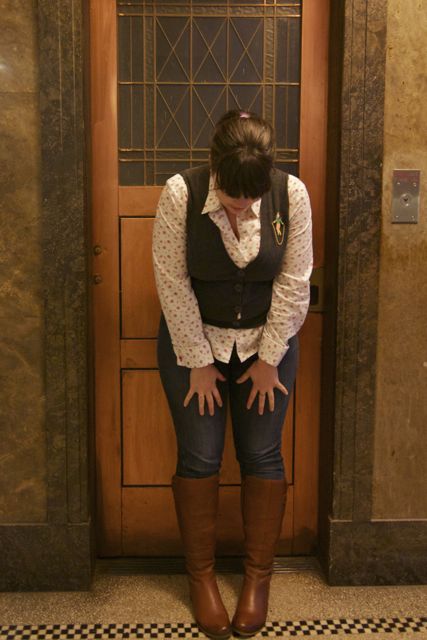 Shirt: Nina Kay
Vest: Target
Jeans: Sussan
Boots: Duo Boots
A girl always remembers her first.
Her first pair of knee-high boots, that is.
For years and years I hunted fruitlessly for a pair of boots that could be zipped up over my muscular calves.
Let me tell you from experience that there's nothing more demoralizing than watching a red-faced sales assistant struggling to zip up a pair of boots while promising you they'll fit even though you know from the expanse of flesh still showing that they obviously won't.
These days there's a lot of choice, but back then you either went with nasty stretch synthetic boots, or you went without entirely. Eventually I turned to the internet, and that's when I found Duo Boots.
Duo was a UK company that had the innovative idea that you should fit boots not just by shoe size, but by calf width too.
This was a godsend – not just for me and my sturdy legged kin, but for the girls at the other end of the spectrum on whom boots fit like wellies.
It took me AGES to make my first purchase. The Australian dollar wasn't looking nearly as healthy as it does now, and the cost was prohibitive.
But you know what? It was the BEST purchase. The black knee high boots that I bought then I'm STILL wearing.
Since then I've added another five pairs to my collection, and every pair has been just as well-made with good quality leather, long wearing soles, strong zips, and attractive detailing.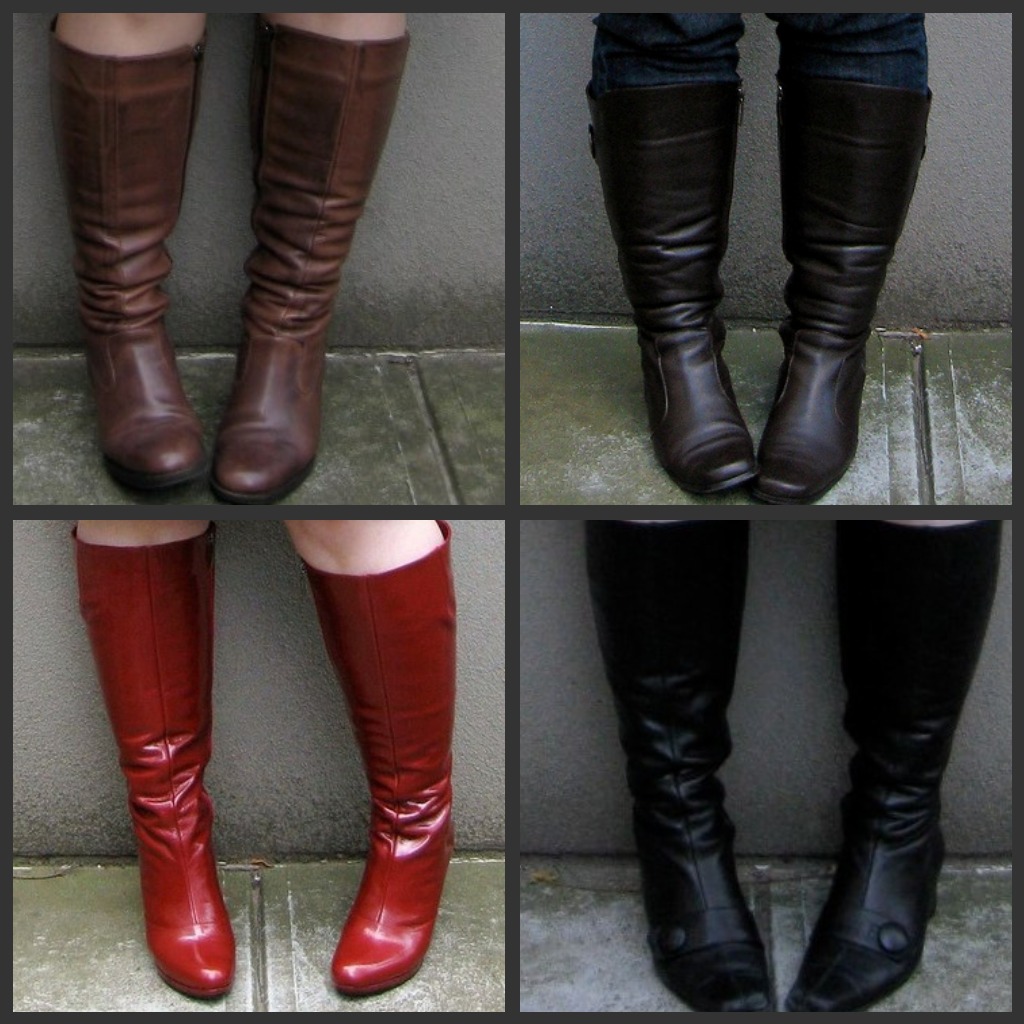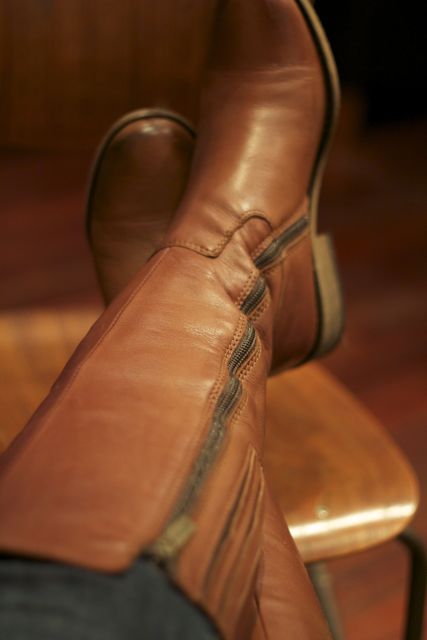 My new pair are called Horatio, and they're my favourite yet, made of a lovely supple leather with a flat heel and a mock zip-and-pop-tab trim on the outside calves: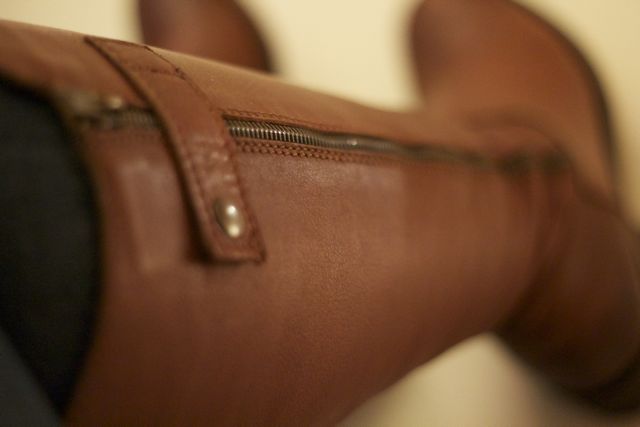 Gorgeous.
So, here's something exciting for my Australian readers….
The weather's turning cold, the boots are starting to show up in shops, and I'm starting to get emails from readers asking my recommendations for wide-calf boots.
I thought I'd take the opportunity to email Duo and ask if pretty please we could have a special discount and they've come back to me with a super-exclusive FREE SHIPPING OFFER for my Australian Frocks and Frou Frou readers!
For the month of May, Duo will offer free shipping to all Australian orders with the code AU11 (woohoo!)
With the Australian dollar doing SO WELL at the moment that means you can get a pair of boots that (pun intended) walks all over the wide-calf boots on offer elsewhere for more or less the same price.
Keep in mind that the prices on Duo's website include the VAT tax which means that the price you'll be charged is quite a bit less than what's listed on the website. For instance, my new Horatio's cost 175 pounds, but the removal of VAT took 29 pounds off that. If I had thought to ask for an exclusive Frocks and Frou Frou discount code BEFORE I'd placed my order I'd have also saved another 20 pounds shipping, making the boots a measly 126 pounds. That's AUD$195. BARGAIN!
I won't rabbit on, but go and check out the boots on offer at Duo – you won't be disappointed!