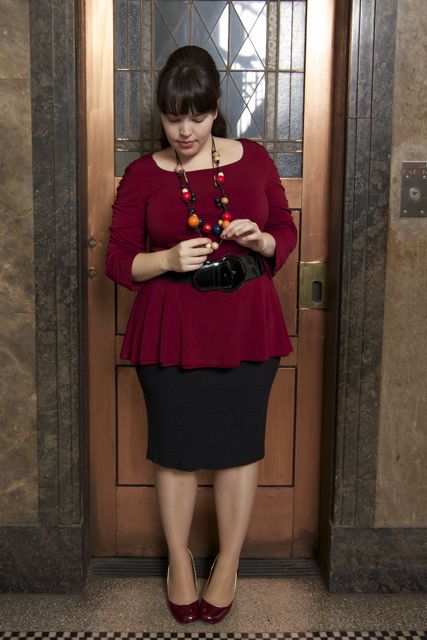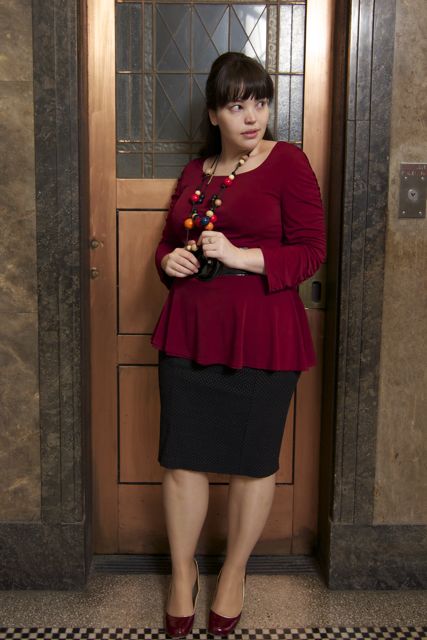 Top: Eliza Parker
Skirt & Belt: Portmans
Shoes: Poetic License
Necklace: Gifted
I would be the first person to admit that I have a pretty extensive wardrobe, but if I'm being totally honest I have to say that I'm a creature of habit and a lot of what's hanging on the racks is a variation on the same theme.
Over the years I've learned what works for my body shape, and what fits with my personal sense of style (I can pretty unequivocally say that suspenders, mini-skirts, tie-dye and harem pants do not fit the bill) so as trends come and go, by and large I let them pass me by.
It's safe. But a little boring.
This season has had a few new trends that I've been tempted to try, including peg-leg pants, riding boots and… Peplums.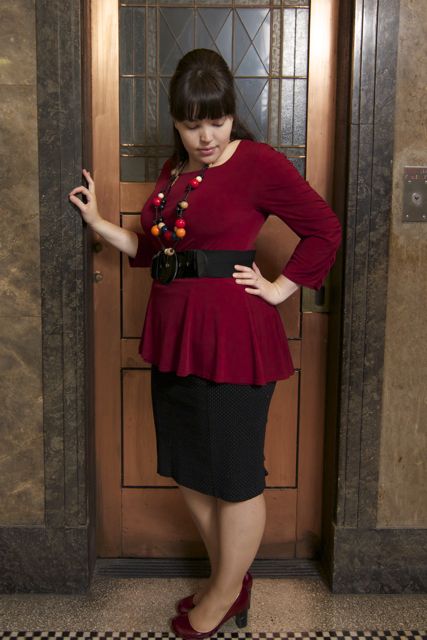 A peplum is defined as "a short flared, gathered, or pleated strip of fabric attached at the waist of a woman's jacket, dress, or blouse". It originated in the 19th Century, had its heyday in the 1940's, then a resurgence of popularity in the eighties. And of course, we all know that fashion is nothing if not cyclical, so no one should be surprised to see peplums enjoying another renaissance.
Peplums emphasize a waist, skim over hips and tummy and help create an hourglass shape – all good things in my book.
I'd never tried them though, and (as we established earlier) I'm a creature of habit so it was looking like peplums would be a trend that I never tried
Luckily for me, Jessica at Eliza Parker thought I should give them a go and sent me one of her Ballerina Tops to wear!
The "skirt" on this top is so long that certain other retailers *coughASOScough* might even consider it a dress in its own right, but it lends just the right amount of elegance without being too voluminous at the hips. The fabric's the same as my favourite Geneva dress, and the top has a ruched v-neck back and a wide-scooped neckline that shows off collar-bones, but is perfectly appropriate in situations where you might not want to be flashing too much cleavage.
Because the peplum style was so foreign to me I put the call out on Twitter for suggestion on how to wear such an item, and people suggested belted over a pencil skirt. What do you think?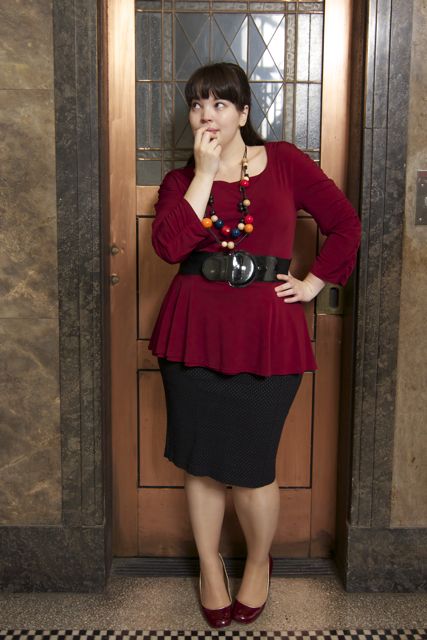 Have you embraced the peplum trend yet? How would you wear this "Ballerina" top?