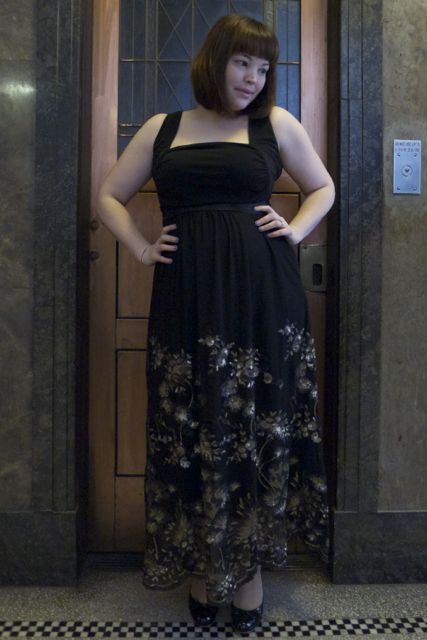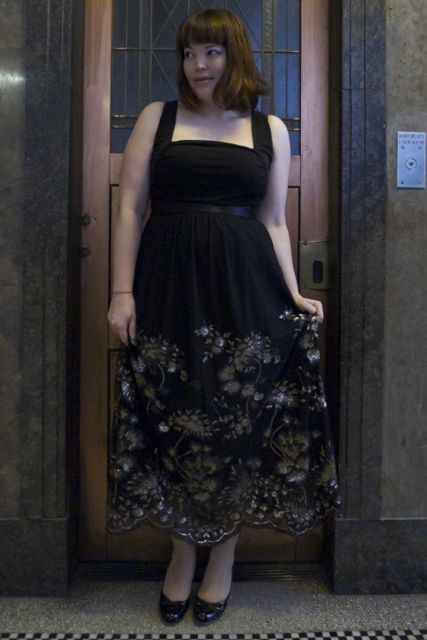 Dress: Igigi
Shoes: Milu
This dress is RIDICULOUSLY gorgeous in person. Seriously. My pictures do NOT do it justice.
It's the Ekanta beaded dress from plus-size powerhouse Igigi, and it's an absolute showstopper.
It's been a while since I had a Really Fancy Dress for Really Fancy Events, so when Igigi asked if I would like to review this one, I leapt at the opportunity.
Igigi's clothes are always beautifully made, and while I've found that I've had some sizing issues in the past, when it works it WORKS. This dress is an absolute case-in-point. The size 12 fits me perfectly (as my measurements would suggest) though the fabric's Igigi's good quality stretch-lined jersey so there's a bit of margin for error in either direction.
I love the empire waist, which for once doesn't make me look ridiculously top-heavy OR pregnant! The silhouette – combined with the wide neckline and embroidered skirt – actually reminds me of a Regency period gown.
Umn… If I'm being 100% honest, it actually reminds me a lot of a Regency period gown from the 1995 BBC production of Pride and Prejudice that made such an impact on me as a teenager that I had my Grandmother make me a version for my year 12 Graduation formal. (Nerdy? Me?)
The bodice is ruched around the bust and showcases ones cleavage to devastating effect.  The straps are wide enough to  hide your bra, but you'll definitely need a balconette; that neckline is wider and lower than it appears in these photos.
The dress comes with a satin sash, which surprised me a little as it's not pictured on the website. If you've got the enviable waist of the model then you probably won't need it, but I wanted a little bit more cinching assistance so I included it in my outfit.
The skirt of the Ekanta dress is something else. The underskirt is made of Igigi's customary jersey and isn't gathered, so you don't have an excess of fabric sitting around your middle. The overskirt is made of a soft netting and it slightly gathered, giving it a lovely soft drape. The embroidery is heavy with beading, and culminates in a GORGEOUS scalloped hem.
I've seen the dress described as a halterneck, but it definitely isn't (Hurrah! No convertible bra needed!) The back does have a feature of its own though: an elegant keyhole fastening.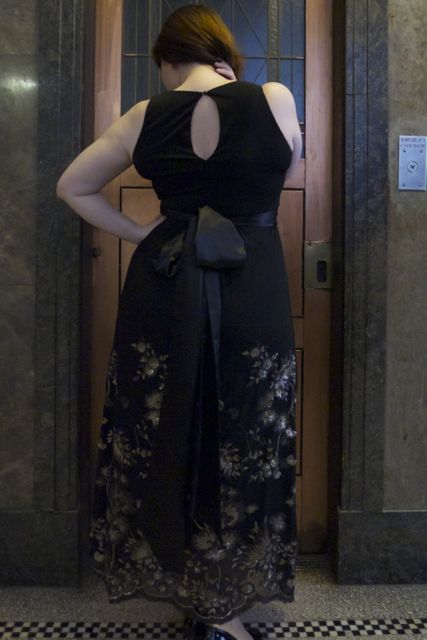 All in all I'd say this is one of the most perfect "formal" dresses I've seen. It's elegant, easy to wear, travels well (great for interstate weddings!) and I can't WAIT for more opportunities to bring it out.
Now, who wants to invite me to some balls?