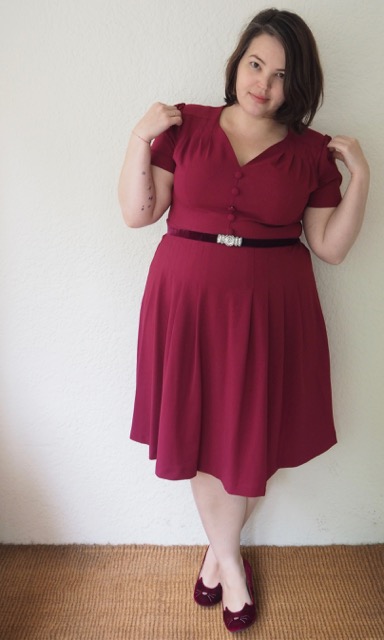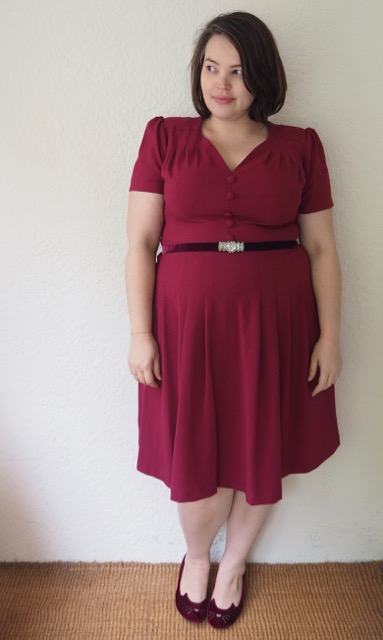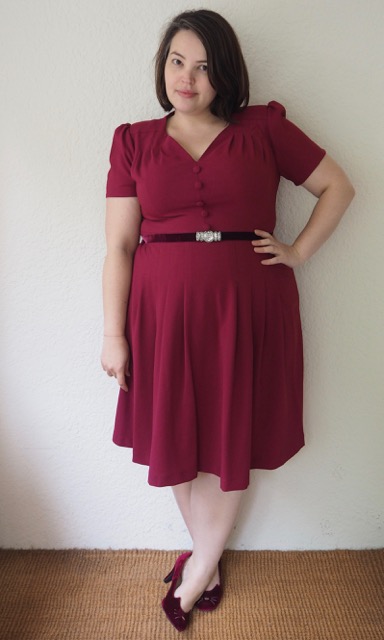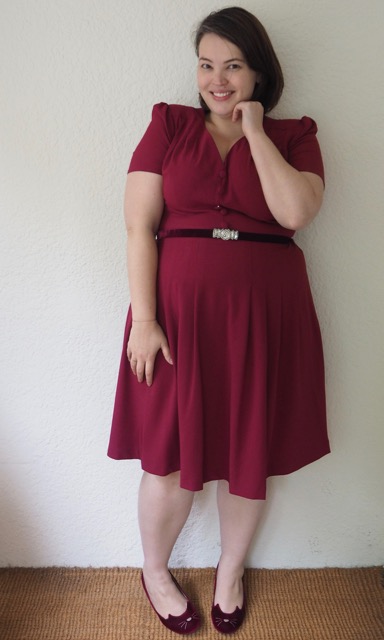 Dress: Hell Bunny via Lady Eleanor
Belt: DIY
I'm not sure I can properly express how happy I am that deep berry red and burgundy is finally back in style and in the shops again. It's such a delicious colour, and perfect for the cooler weather that's finally starting to hit.
As I've been window shopping I've mostly been managing to avoid Buying All The Things, but I couldn't resist this dress.
I spotted it at the A+ Market a month ago at a stall named Lady Eleanor. I was on a self-imposed buying ban – after all, I was there to clean out my closet, not add to it – but Lady Eleanor was right next door, and one of the girls manning the stand was wearing the dress, and it's such a gorgeous colour, and then suddenly they only had one left, and it was in my size, and… well, as you see.
It's a Hellbunny dress, which is one of those rockabilly brands that go up to a size 4XL. The 40's styling works fine in a contemporary setting, though I could have done without the shoulder pads. The dress is made from a fairly thin crepe fabric that has a bit of stretch, but not enough structure to camouflage lumps and bumps, so I wear it with a slip underneath to smooth the lines. The button up front is purely decorative, which helps the bodice encompass The Rack of Doom, and the pleats at the shoulders help ensure the fabric doesn't pull too dramatically.
The dress is called the Moira, and I think it might be an older style as it doesn't seem to be on many websites anymore. It's available in a striking cobalt blue here… but I think the 'raspberry' is better for my colouring.
The belt isn't included, it's one I actually made myself with a really pretty deco-esque belt buckle (you can find heaps on Etsy, I'm particularly obsessed with this one) and some  velvet elastic ribbon. It's hands-down the easiest DIY/remix project in the word, and a spectacularly effective way of adding some glam to a simple outfit without sacrifing comfort.