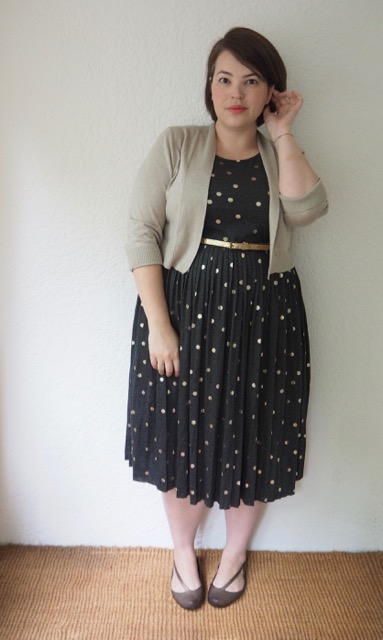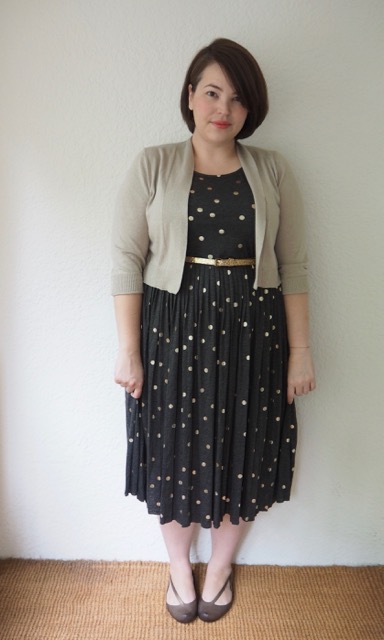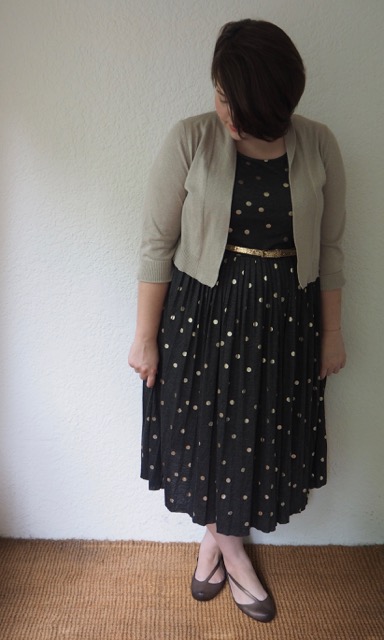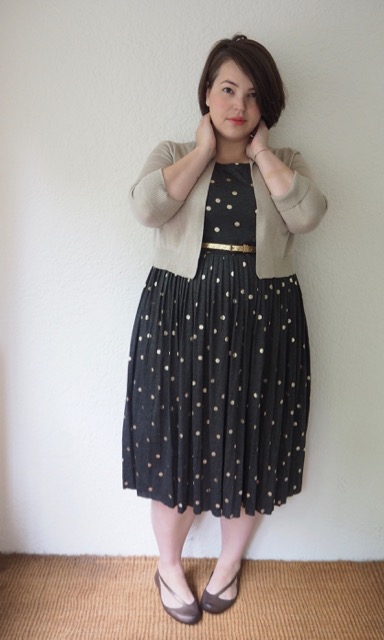 Dress: 17 Sundays
Belt: secondhand via A+ Market. Similar here
Shoes: Mel by Melissa
I saw this 17 Sundays "Steal My Sunshine" dress pop up in my Facebook feed just before Christmas while the independent Australian brand was having a whopping 25% off sale. The gold foil dots, the pleated skirt and wearable jersey fabric. I was sold.
I haven't had a lot of experience with 17 Sundays, but the sizes they had were fairly limited, so I ordered the size 16 and hoped for the best. When it arrived I was totally delighted to discover that the gold dots were as shiny, the pleats as permanent, and the jersey fabric as soft and comfortable as I could have dreamed of.
I'd been hoping that the dress would be something I could comfortably throw on and be instantly and effortlessly glamorous but sadly, the unadulterated dress didn't play nicely with my figure: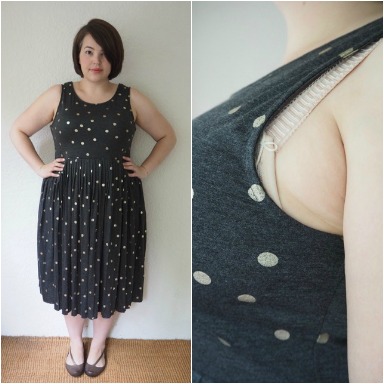 The shoulder straps sit too narrow on my shoulders, making my upper arms look quite beefy; and the armholes are cut too deep, exposing my bra and plenty of what I've discovered is called "sleevage" (that poochy little little bit of flesh in your armpit). The waist rides high (possibly the Rack of Doom taking up too much real estate) but it's also too loose, and the whole fit is just a bit of a disaster. In a perfect world I'd swap the 16 for a dress one or two sizes larger, then bring in at the sides (the way one of my followers, Laura, told me she'd done). I tried the larger size on in Myer (where I believe it's still available, FYI) and the longer waist made all the difference.
I REALLY loved the gold dots though, and I couldn't quite muster the energy to alter the dress so instead I belted it with a fabulous gold glitter belt that I'd bought secondhand from Miss Kate (AKA Misty Belvedere) at the A+ Markets, and the gold(ish) cardigan/jacket that I bought years ago from Calvin Klein Plus at Macy's.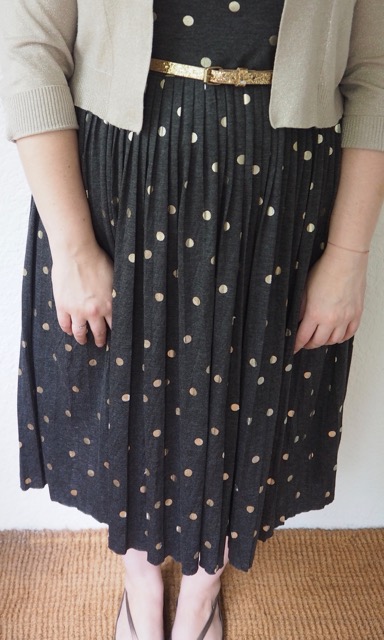 A little accessorising and my "nope" turned into a definite "yep" and this little ensemble is a new favourite go-to.
It's not as effortless and casual-chic as I'd hoped, but the effect is a lot more elegant and grown-up (and multi-seasonal). Down the track I might end up whacking off the bodice and just wearing those gorgeous soft pleats as a skirt, but for now I'm content to just rise-and-repeat the entire outfit.
Apparently 17 Sundays is planning to release a new version of the dress with a seamed bodice (which I'm pretty excited about trying), but there's no guarantee the dots'll be back so if you're loving the effect of gold on heathered grey you should probably hit up a local Myer soon before they all get snapped up.