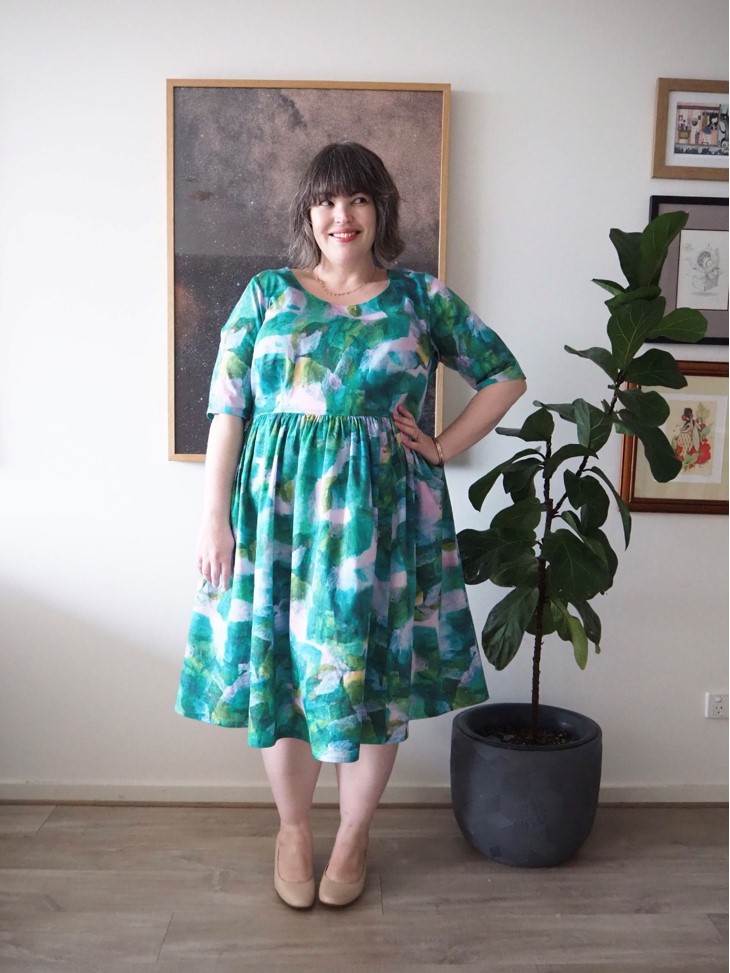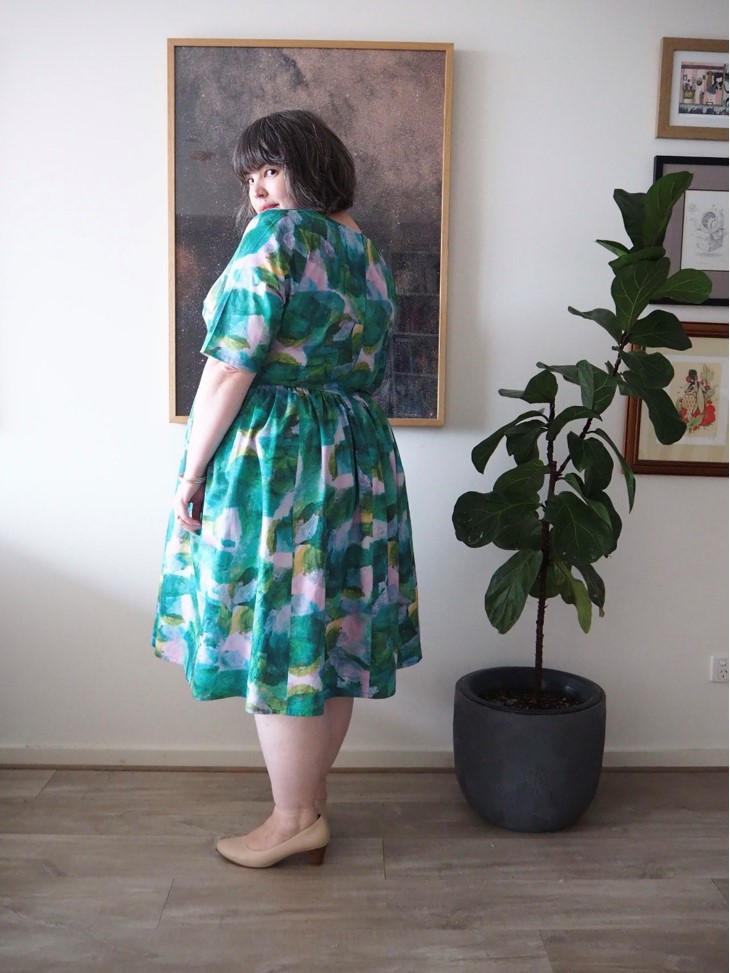 Dress: Cashmerette Honeybourne, made from cotton sateen fabric from Digital Fabrics (print design by Susanna April)
I am not, let's just say, an accomplished sewist. I can sew a straight(ish) seam, and I've more or less learned how to read the instructions of a sewing pattern. I know the difference between a French seam and a felled one. But apart from moving a hem up or down I don't really know how to do alterations. About this time last year I bought myself a copy of Jenny Rushmore's book Ahead of the Curve, thinking that it was probably time to teach myself how to do a full bust adjustment at the very least.
Reader, the book sat on my shelf. Then it sat on my shelf a little more. And then the team at Digital Fabrics got in contact to see if I'd like to road-test their brand-new cotton sateen, and I thought 'Ooooh, I'll need to make something really special with that!" and decided maybe it was time to try my very first Cashmerette pattern.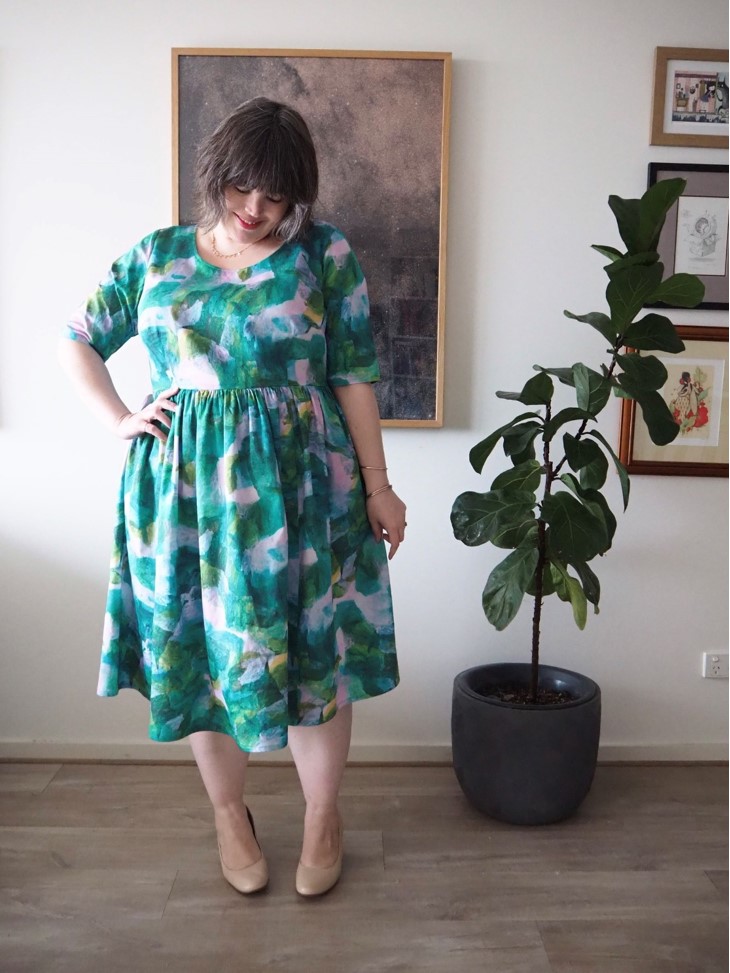 Based in Sydney, Digital Fabrics is a digital textile print house that prides itself on its quality, quick turnaround, and ease of design services. All their inks are non-toxic and water based, and they have a huge range of fabrics on offer including cotton, rayon, linen, ponti, lycra, canvas and more. They also offer on-demand cut-and-make product services for people who might not sew, but would like to take advantage of the ability to print their own artwork onto cushions, teatowels, curtains, totebags, etc.
On the website they have straightforward tutorials on how to create your own seamless fabric repeats, and if you're feeling Very Serious about this textile design thing, you can actually take a one-on-one online class that will guide you through the process. Or you can do what I did, and simply choose an existing print from Digital Fabrics' gallery of artists.
The print that I chose leapt out to me from the screen with its gorgeous painterly hues of blues and greens and hints of pinks. It reminded me immediately of Claude Monet's Water Lillies series. Perhaps aptly, it's called My Heart's Garden, and it's by Brisbane based artist, Susanna April.
Digital Fabrics sent me My Hearts Garden printed on their beautiful new Poppy sateen, a 100% cotton fabric with a slight sheen, and a soft hand-feel. It's light enough to billow when it catches the wind, but with a weight of 140gsm, it's perfect for use in items that need just a little structure. Which is to say: it was perfect for Cashmerette's Honeybourne.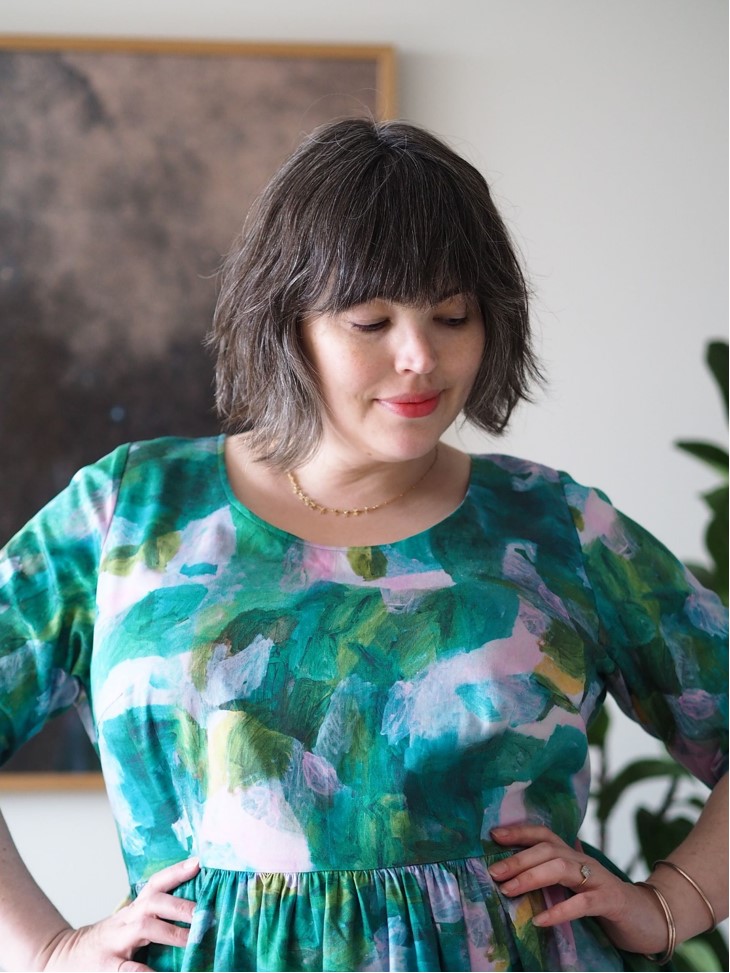 The Honeybourne is available exclusively with Ahead of the Curve, and it's a woven dress pattern with a darted front, sleeves, and a full skirt. It's the pattern where Jenny teaches you a brand range of alteration techniques, including full and small bust adjustments, a narrow shoulder adjustment, a full bicep adjustment, a swayback adjustment, and broad back adjustment. It comes in sizes 12-32 and in three cup ranges: C/D, E/F, G/H. I made the 18 E/F, and full disclosure – for all my hyping myself up to learn how to do adjustments, it fit perfectly (as far as I can tell) straight out of the packet.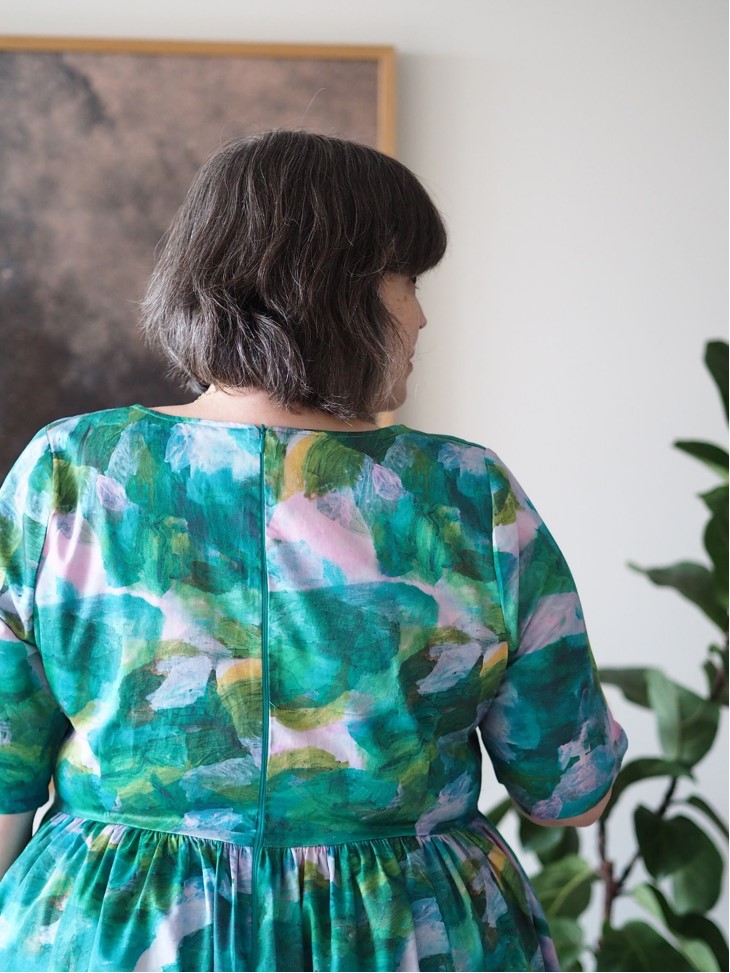 With the full gathered skirt, fitted bodice, and half-length sleeves, it's got a real 1950's party-dress vibe to it. There's an enormous amount of yardage in that skirt – it's actually six panelled, though the abstract print disguises that well – and it's actually the perfect length for me to wear over my tulle skirt when I really want to fancy it up.
I love the pattern, and I LOVE the fabric; which at just $44 per metre is virtually the same price you'll pay for fabric from one of the big European design houses. I'm keen to try my hand at designing my own print next time (or enlisting some three-year-old help!)