Ok, so first off. I'm still here!
I've been merrily posting away on insta (which I can do on my phone, always a benefit when you're the time-poor parent of a four year old), but a couple of people have mentioned that they miss my posts on here, or don't have insta, or that they're missing things because of the mysterious Gods of the Algorithm, so I've set myself a challenge to reboot Frocks and Frou Frou and post more regularly (even if sometimes it might be repeated content from the 'gram).
Posting to my own blog makes it a lot easier to share links and go into greater depth about what I'm making and wearing, and I do like being in control of my own content… I'll never push myself to make video, for instance. And I'm paying for hosting and a domain name, so I may as well start using it, amirite?
So here we are!
I've given the website a bit of a facelift (it's been looking the same for about a decade, so it was past time) and done away with some of the old widgets and categories, but if there's anything you're missing please let me know and I'll see if I can bring it back.
So what's been going on this year…
I got married? That seems like as good a place as any to start.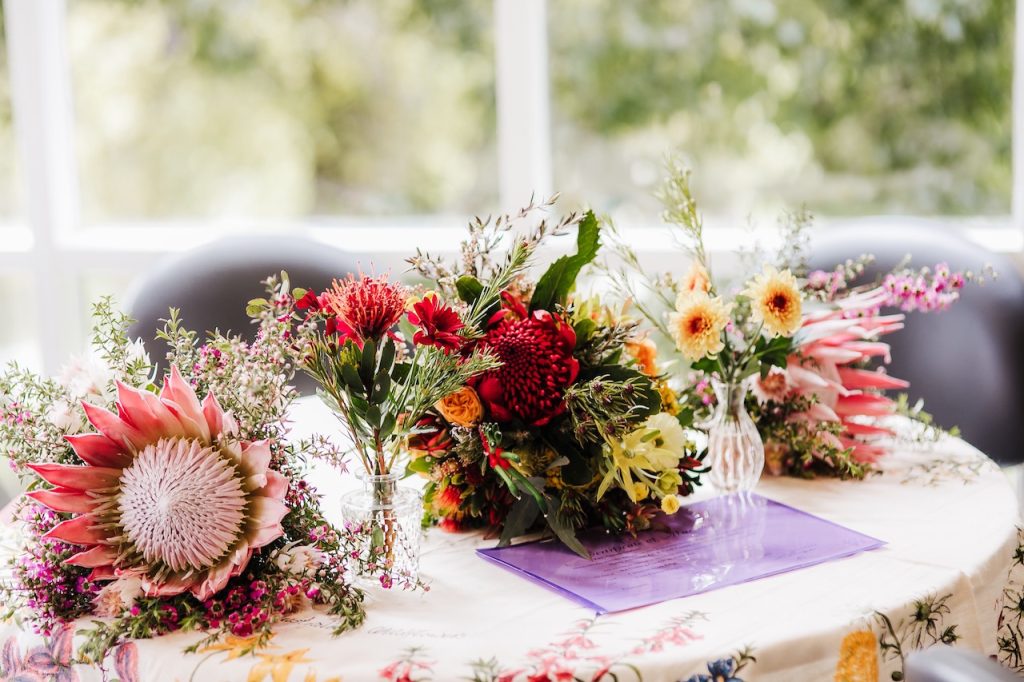 It just happened a couple of weeks ago, at a community arts centre in our local park. It was a very relaxed affair: a "party with a ceremony at the start" as I kept trying to impress on everyone RSVPing. Grazing platters, Spotify playlist, dozens of children running underfoot.
Still, even a relaxed "party with a ceremony at the start" is a good excuse for a fancy dress, and way back in 2019 I'd fallen hard for one in particular.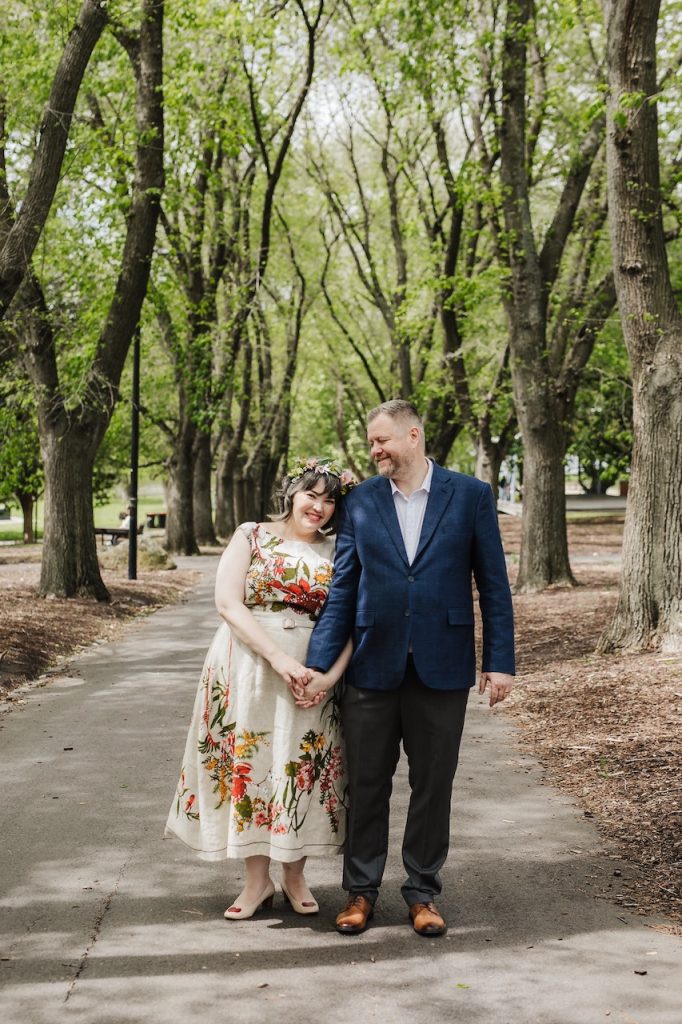 Sewn by the incredible Sue Hall of Shall Design and made of vintage tablecloths printed with my beloved Australian flora, it's the ethically and sustainably produced gown of my dreams.
I chose the style: boatneck with a deep-v back, and an a-line skirt with pleats at the back that gave the skirt a glorious amount of volume and movement when I walked. I picked a few tablecloths from Sue's comprehensive collection, sent her my measurements and left the rest in her capable hands.
When it arrived I could have cried. It was perfect, and it was perfectly me.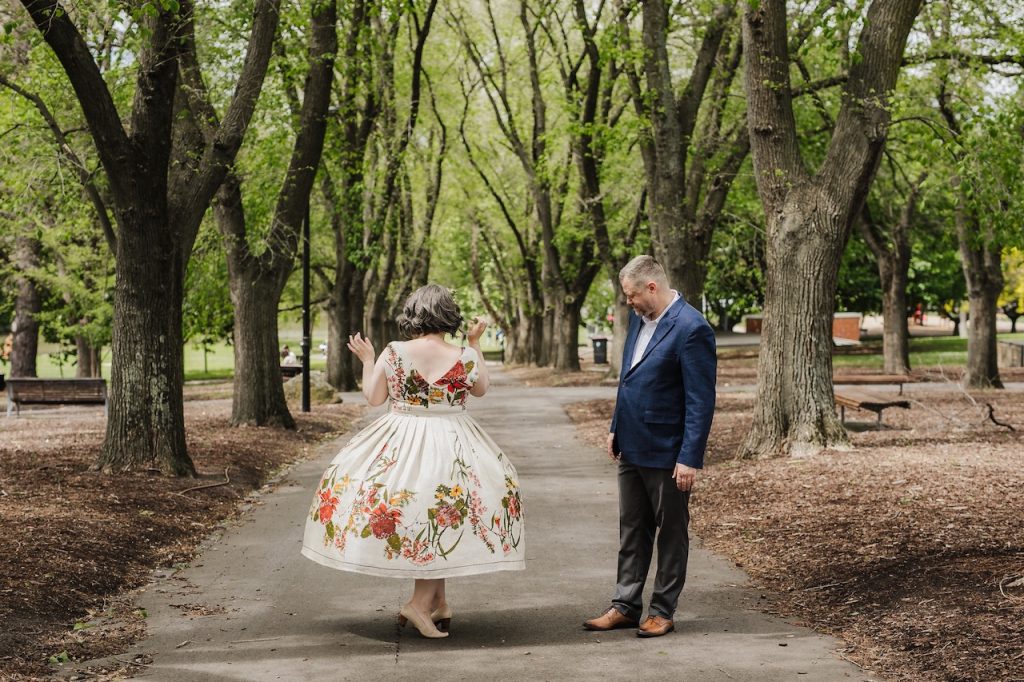 For my something old I chose a comfortable pair of my own shoes, hand painted with hearts on the toes using my own DIY instructions
For my something new I had a pretty new lingerie set
For my something borrowed I had a pair of titanium earrings from my Mama
And for my something blue I wore an astonishing opal necklace that was a gift to my mum from her parents when she was just a teenager.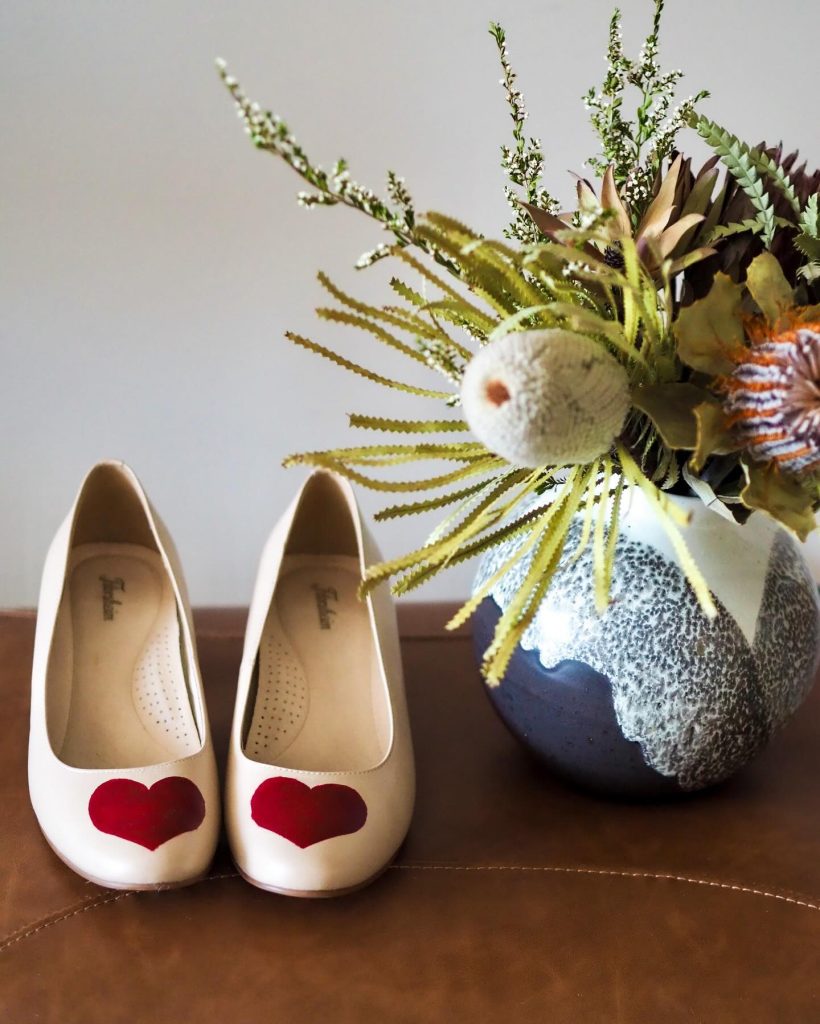 I was determined that my two bridesmaids would be comfortable in dresses that they'd chosen themselves and that they'd wear again (and I also wanted to buy the dresses for them) so I sent them both to eShakti, where, despite there being many hundreds of styles to choose from, they somehow managed to pick the exact same dress (in different colours and with slightly tweaked details). We all – my mum included – had our hair done by the lovely Kelly at Sien hair, and our makeup done by Clare at Clare Leah Makeup (who was such a pro with four people who basically never wear makeup and could give her no further guidance than 'I want to look like myself but, like, the best version of myself'.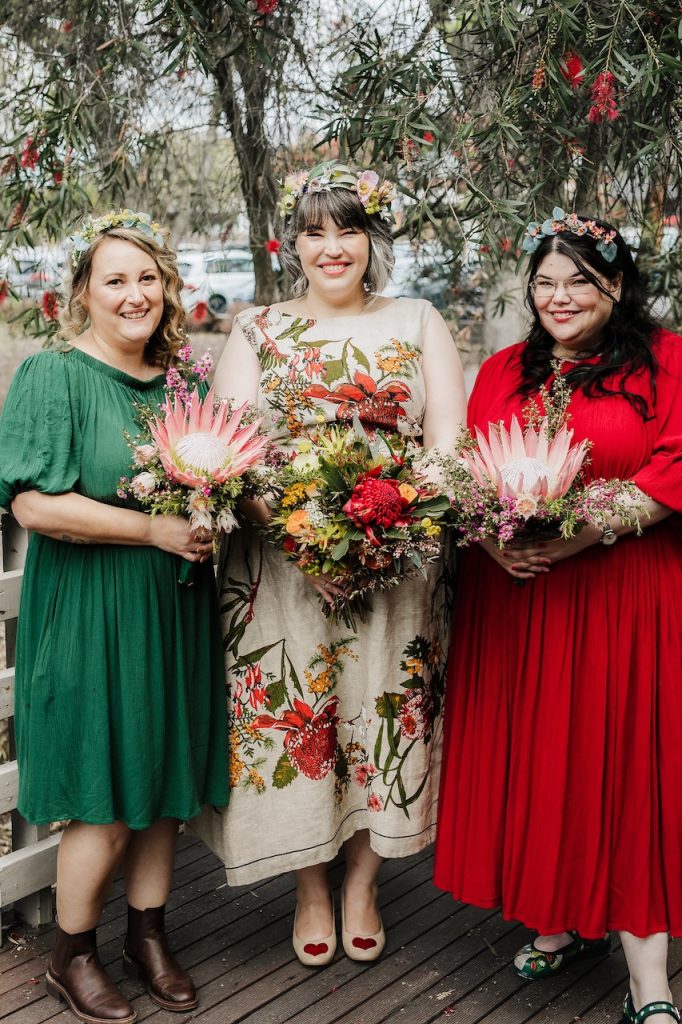 For the venue our humble community centre featured gorgeous big windows that overlooked the gardens, high ceilings, and an undercover porch that would provide some protection in the event of rain. It also boasted lino floors, a visible kitchenette, and a very unassuming entrance.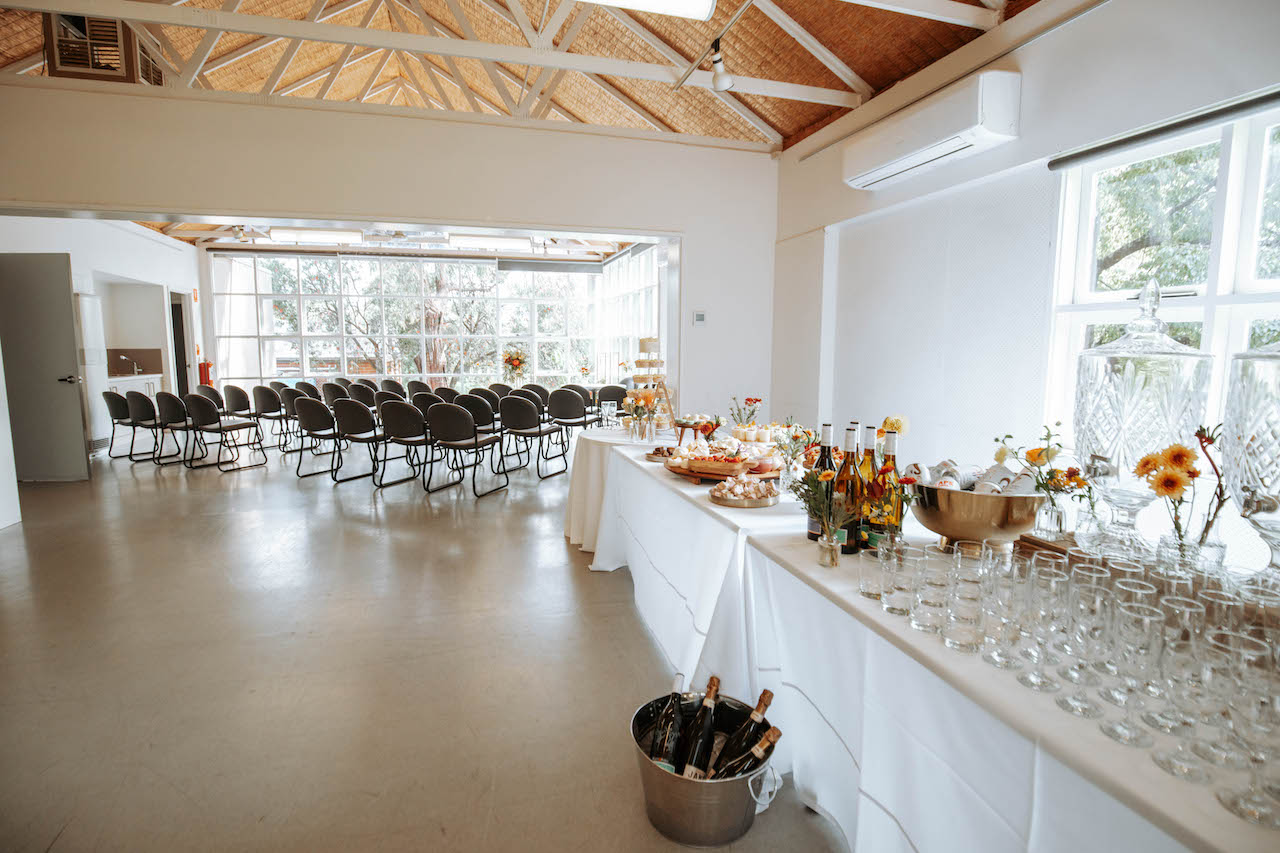 I enlisted the help of the marvellous Jay from Vision Weddings to help me turn it into a wedding venue, and she was an absolute legend.
She didn't bat an eyelid at my complete lack of styling ideas or shoestring budget, making wonderful suggestions and recommendations. In the lead-up to the day she juggled vendors and suppliers, from the wedding nannies, the caterer, the florist, and her own excellent team.
She hung lanterns, and polished glassware, and arranged furniture, and when I arrived on the day everything looked perfect.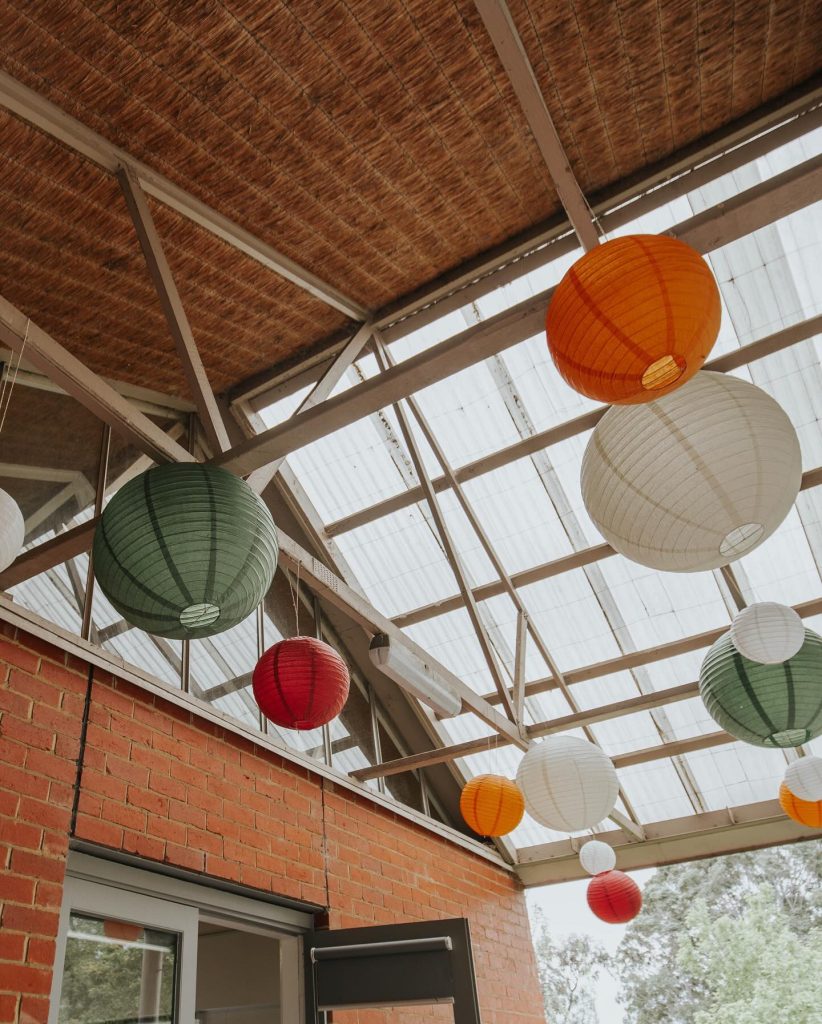 When I started planning I really wanted to make sure I was supporting small, local, independent and women-owned businesses wherever possible, and the choice to have Alexandra Duguid do the flowers was kind of a no-brainer. Alex's gorgeous workshop is very close to home, and she's an eco-conscious florist, which means that she exclusively uses Australian blooms and her displays never use floral foam. She made the floral displays that we used around the venue, the greenery backdrop to the grazing table, and the little posies for the bud vases we used as favours.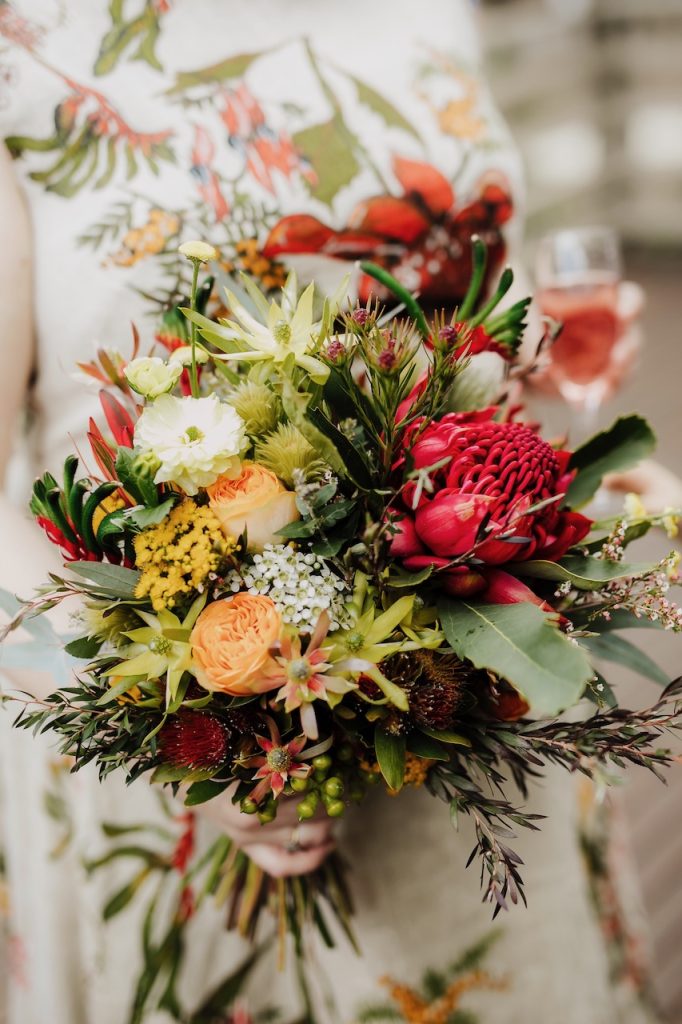 My multi-talented mum actually made the bridesmaid bouquets herself, with stunning King Proteas, Blushing Brides, and Geraldton wax flowers from Gather Flower Farm.
We ordered an enormous grazing table from I'm Plattered, and it was both a feast for the eyes and the tummy with an amazing array of delicious nibbles (including vegan treats). The dessert table was a smash, especially my special request – a pavlova board where guests could build their own from scratch with fresh ingredients!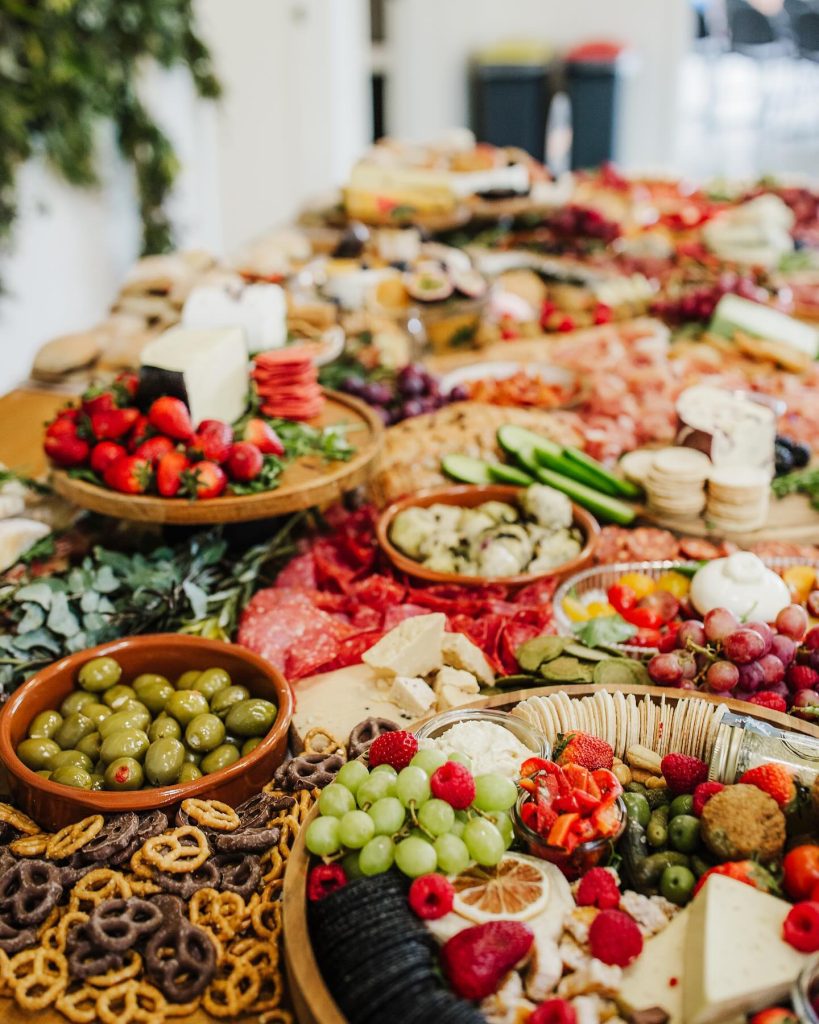 In lieu of a wedding cake we decided on cupcakes, and enlisted the services of Minicups. Nimmi is a self-taught home baker who really went the extra mile to make sure the cupcakes were perfect, testing different styles and icings until she was absolutely happy with how they looked and tasted. For the main cake at the top we chose a vanilla cake from Mister Nice Guys vegan bakery.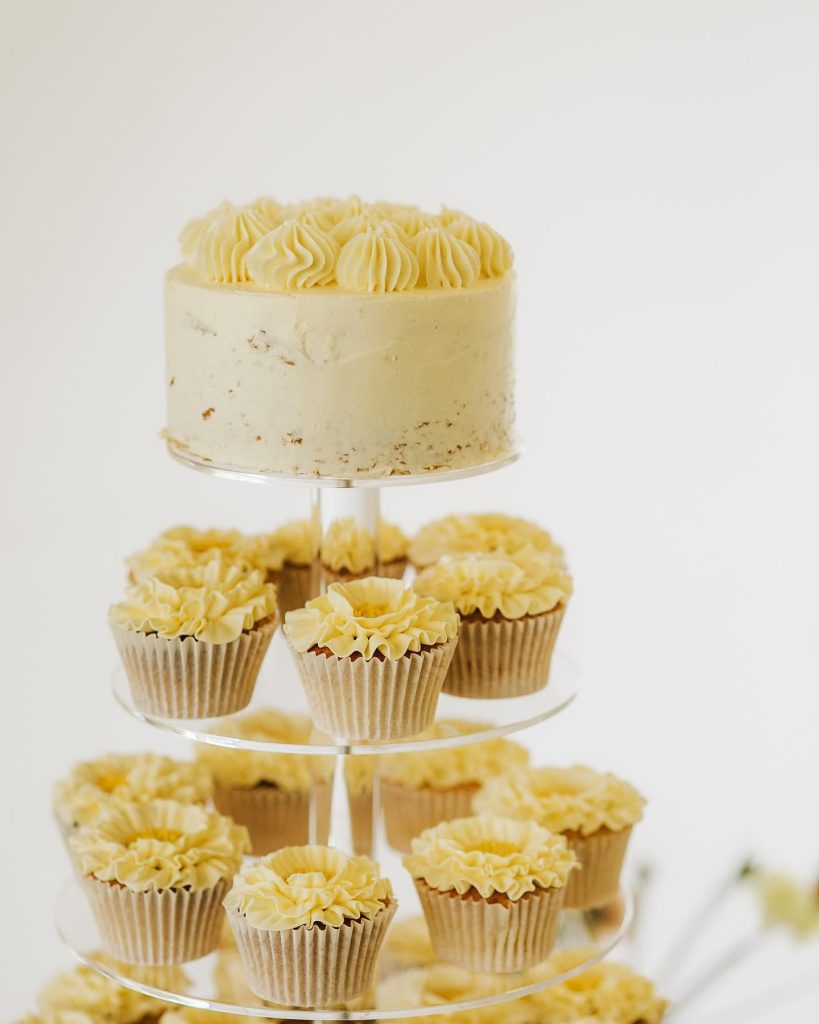 Lastly, but most importantly, our photographer is the sublime Sophie Gyles of Sister Scout. Or formerly of Sister Scout, I should say. She's officially hung up her camera, but the Mister and I had so enjoyed the family shoot we'd done with her in the early days of E's babyhood that we begged her to come back to help capture our day. Which, I'm sure you agree, she's done masterfully. 
There's others to thank. Our extraordinary friend Gareth who performed the ceremony part of the party-with-a-ceremony-at-the-start, our local barista Rodney from Mister and Missus M, who manned the bar with his usual charm, and everyone who traveled near and far to join us in the celebrations. 
We felt very lucky, and very loved.