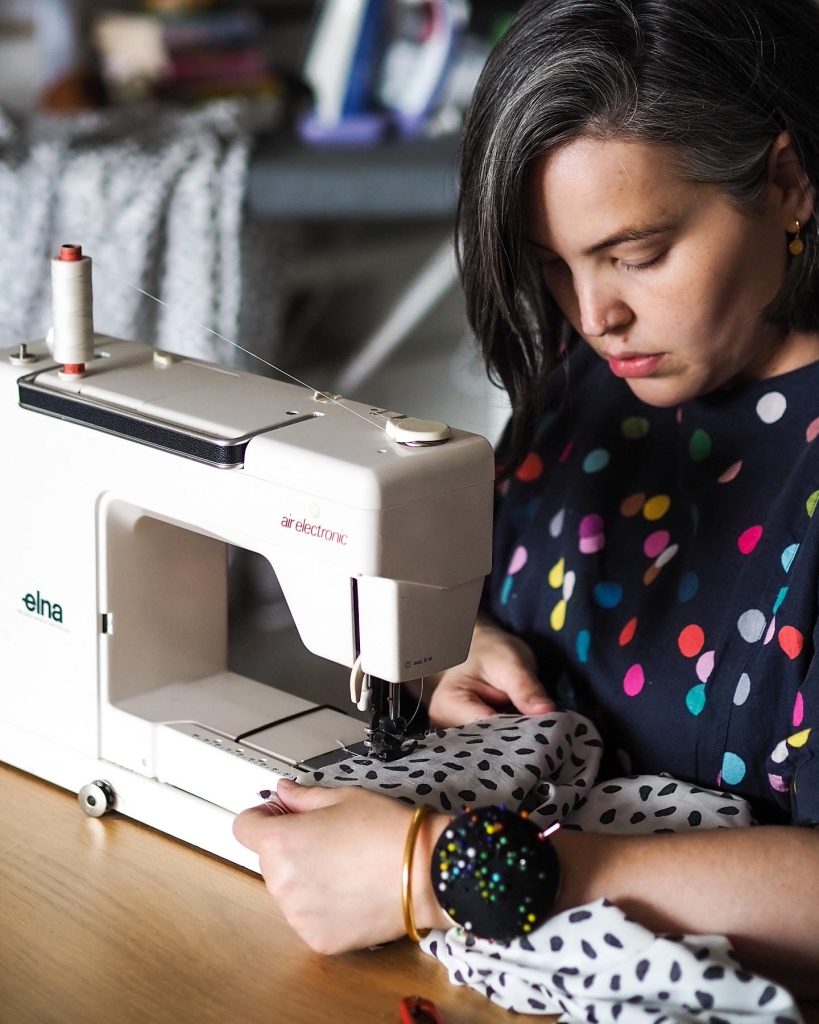 *pokes head out from under rock* er, yes. I'm still alive. It's been months since I last wrote a blog post, but I'm definitely still alive. It's been a busy whirlwind of a year, but I've recently come to the conclusion that that's just Life.
I've had a couple of incredible new partnerships this year (Nancybird! Erstwilder!) plus E turned three (oh my god) and I turned forty-four (oh my god).
I'm not going to make any promises here about posting more often, because I always start with the best intentions and then it all just falls by the wayside. Getting the laptop up, and the photos taken, and the post written… I'm on Instagram pretty regularly, if you're ever wondering how I'm doing (you can find me here)
I've been doing a lot of sewing lately. I think it's a bit of a self-care thing that I do when I feel overwhelmed by stuff outside my control – the government, the pandemic, the awful awful war in Ukraine, the climate crisis, the sickening rise of the alt-right, etc etc. I'm channelling it into Me Made May, by trying to wear something I've made myself every single day.
Here's what I've been wearing:
---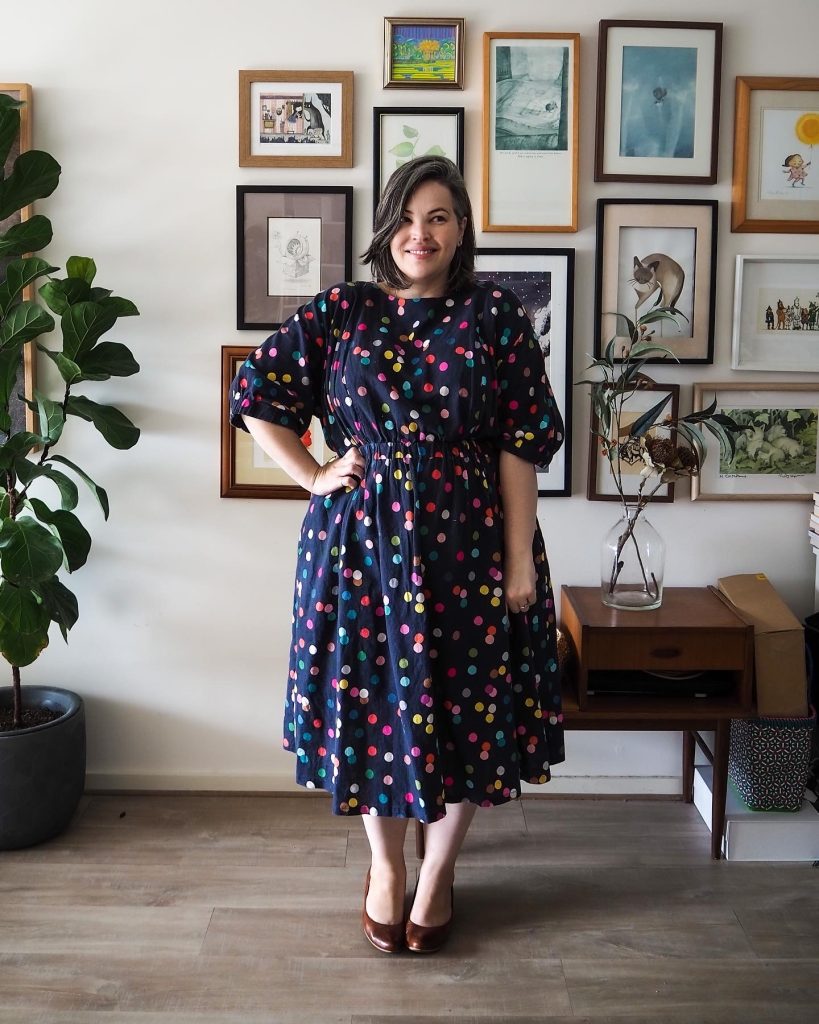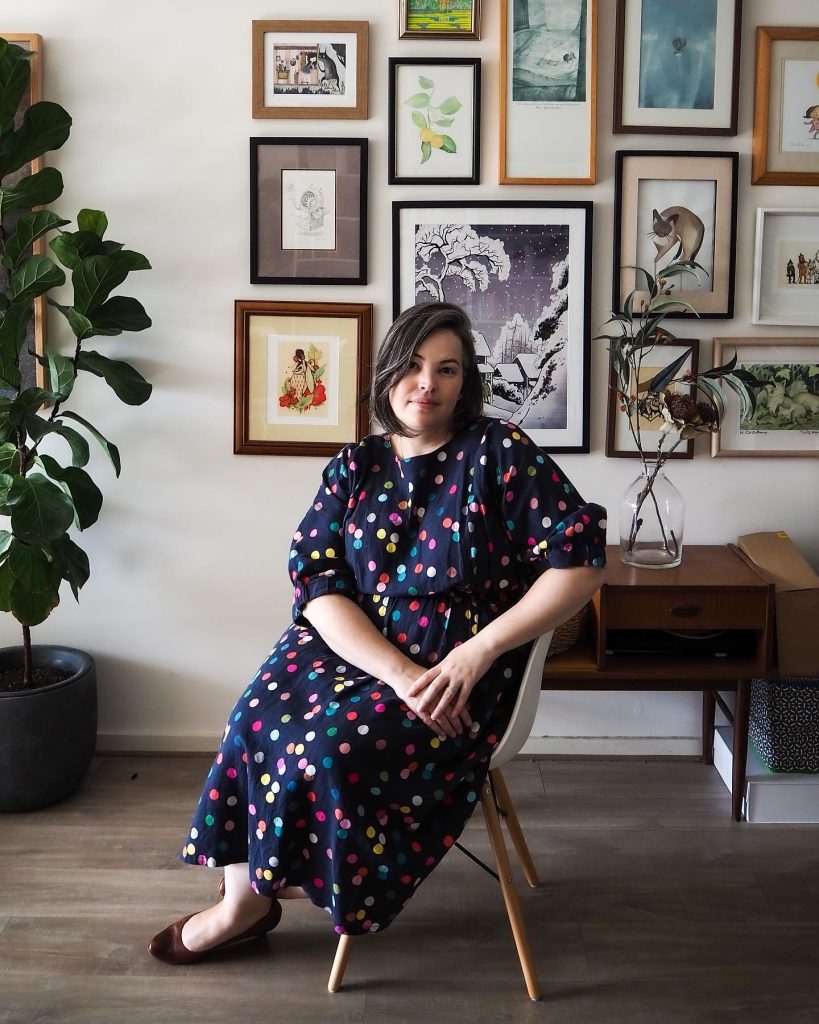 Me Made May: Day 1 – Cuff Dress in Doops Designs Fabric.
I've been thinking about how learning to sew my own clothes has changed how I dress, how I shop, and how I view my body.
Sewing has opened doors for me that the fashion industry has worked so hard to keep closed for larger bodies. I can dress in the colours I love, the prints that catch my eye, the natural textiles I crave. I don't have to compromise on things fitting one part of my body, but not another. I don't have to stick to the styles that the fashion industry considers appropriate for someone of my size. I don't have to worry that my clothes were made by a vulnerable person being paid a pittance in a workshop somewhere else in the world. It's liberating.
I still buy off the rack – I'm too impatient and still too much of a beginner to tackle more elaborate designs, sometimes I'll see a print that I simply can't go past, and sometimes I just want something quick and easy. And that's OK. But on the first day of Me Made May, I'd love to encourage everyone who's been thinking of learning to sew to give it a try. It's a wonderful skill to master.
---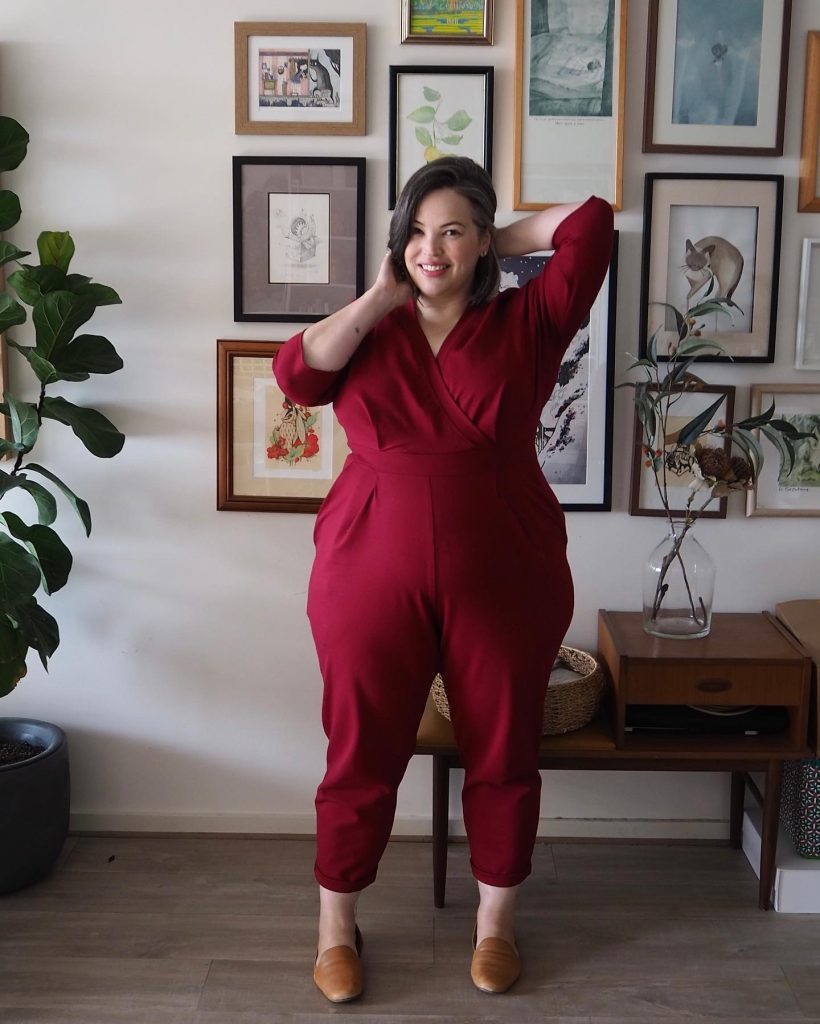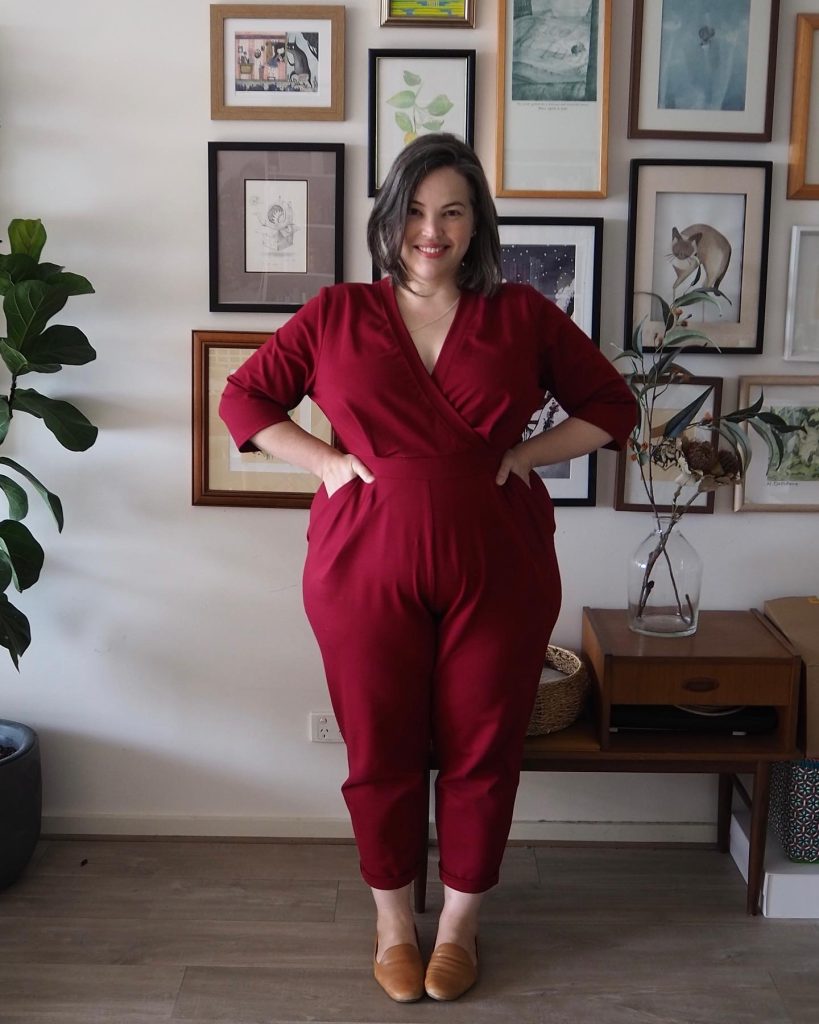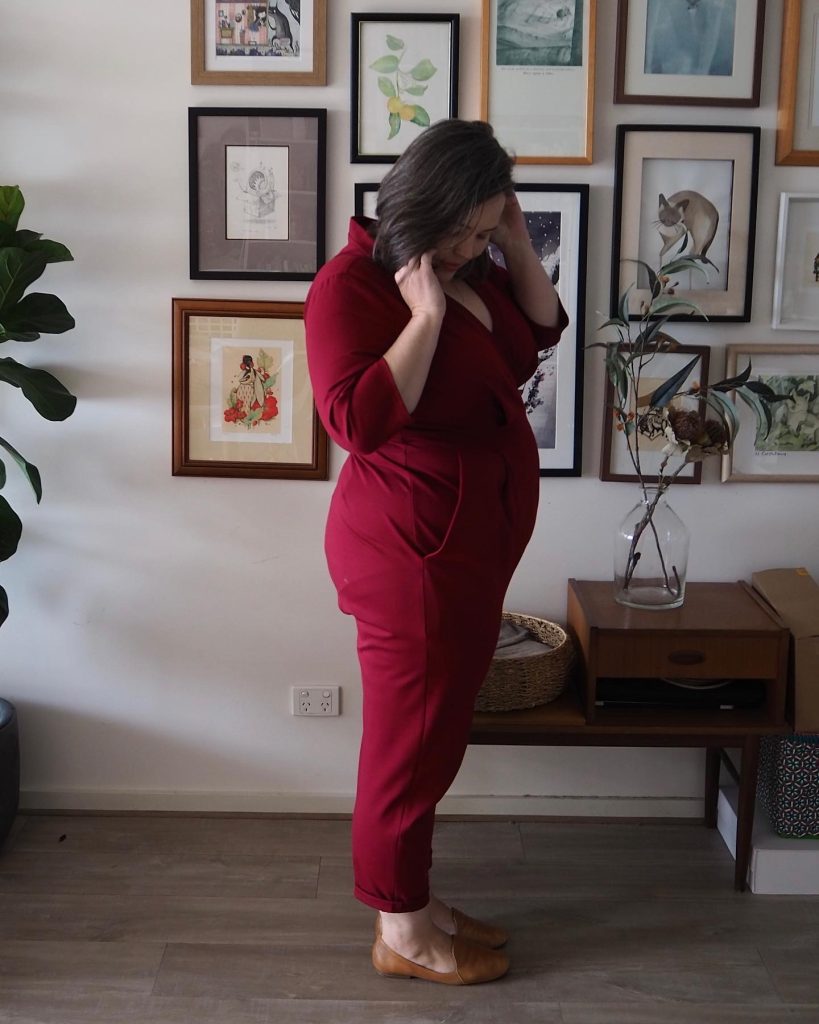 Me Made May: Day 2 – Sirocco Jumpsuit from Deer & Doe in a rich red ponte from Rathdowne Fabrics
My favourite thing about sewing is that glow you get when someone compliments what you're wearing and you get to say "thanks! I made it!"
The Sirocco Jumpsuit from Deer & Doe is one of those unicorn patterns for me: the new extended-size version fits my body perfectly straight out of the packet. It's both polished and astonishingly comfortable, classic and yet also on-trend. The wrapped neckline somehow manages to show cleavage without making me feel like my g-cups are on display. It gives me an hourglass shape that – trust me – is much more butternut pumpkin in real life. This is my fourth, and I wasn't sure if I'd like the solid colour (post c-section I have a bit of an apron that I'm struggling to love) but I LOVE it. The heavier-weight fabric helps, and it's in my powerhouse colour, and it makes me feel a million dollars.
---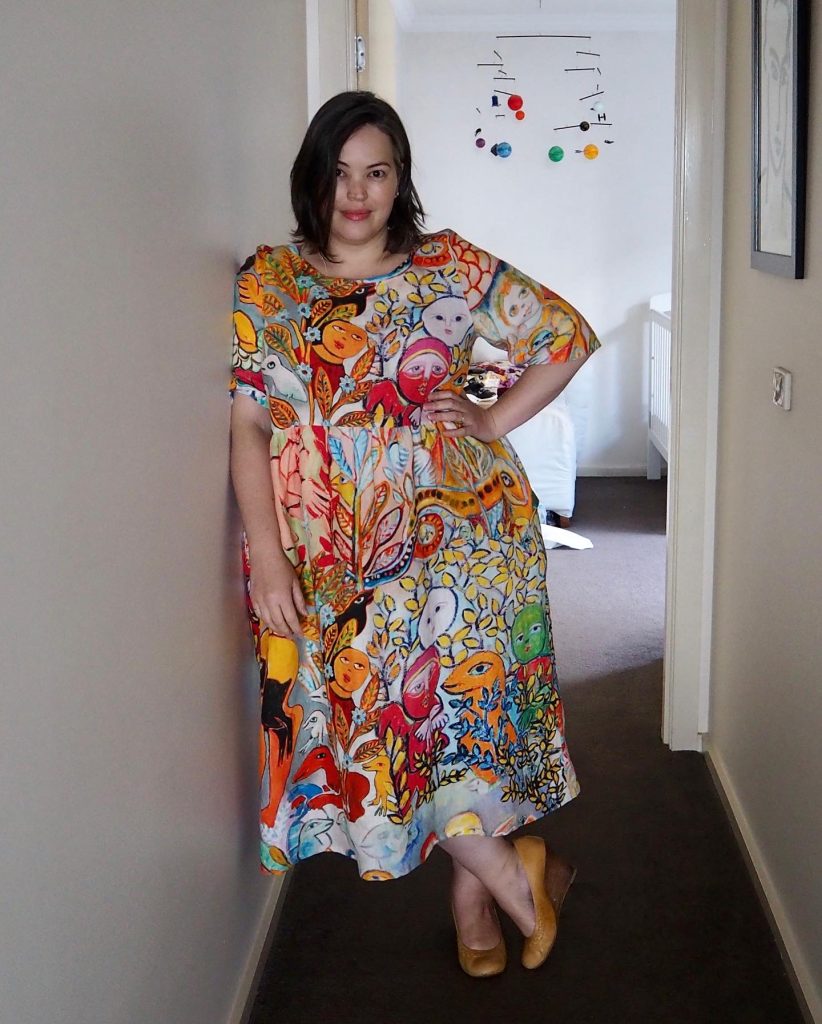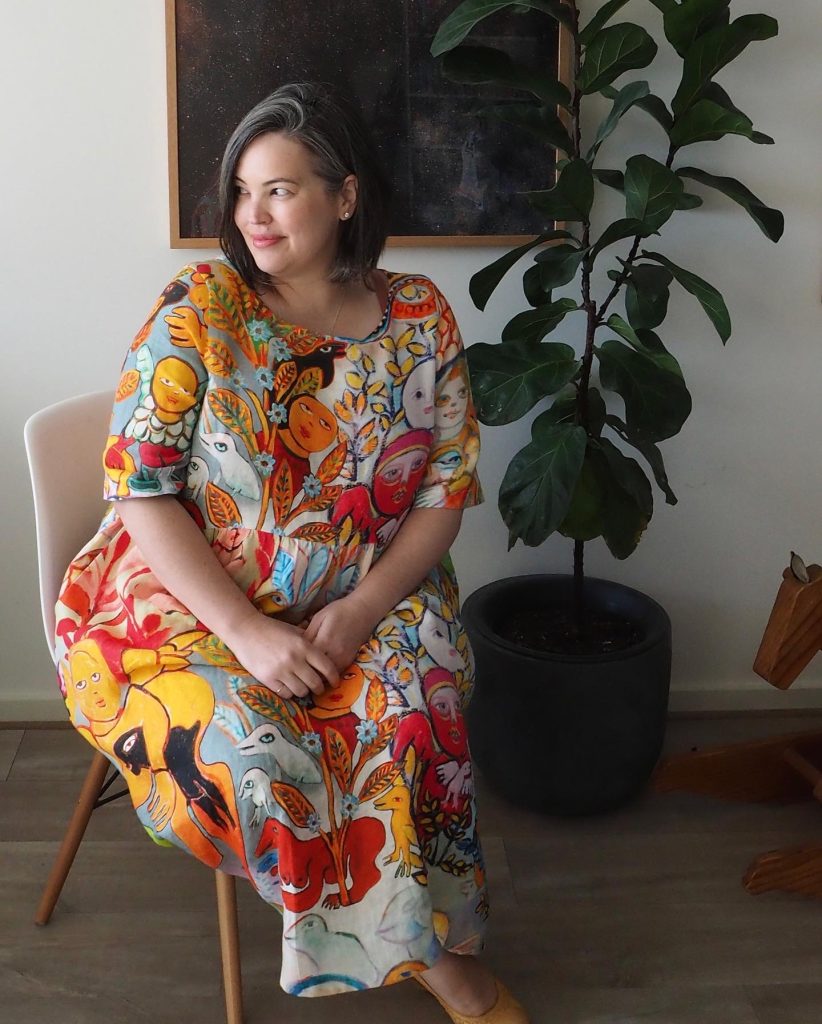 Me Made May: day 3 – Demeter Dress in a repurposed tablecloth.
Years ago Gorman did a range featuring art from the late, great, Melbourne artist Mirka Mora. At the time they went no larger than a size 14 (not that they're much better these days with a limited range up to a size 16), but the prints were so beautiful that I sincerely considered buying multiple dresses and taking them to pieces to sew into something that would fit my (excluded) fat body. It would have cost hundreds of dollars, and common sense prevailed, but occasionally I'd see someone wearing something from that range, and I'd get a little twinge of regret.
Well, my patience was rewarded a couple of weeks ago when Kip & Co announced that they would be celebrating their 10th anniversary with a line of Mirka Mora bedding and homewares.
I jumped online immediately, and snapped up this gorgeous linen tablecloth, printed with Mora's iconic figures and colours.
Measuring 145x270cms, this stunning tablecloth was the perfect size and weight to make Anna Allen's Demeter Dress (with my favourite Birchgrove Trouser pocket from Muna & Broad substituted for the original in-seam pockets)
I chose my pattern placement as carefully as I could, braced myself, and got to cutting, and the result is a perfect linen Mirka Mora dress better than I could have ever bought.
I love it. It makes me feel like dancing.
---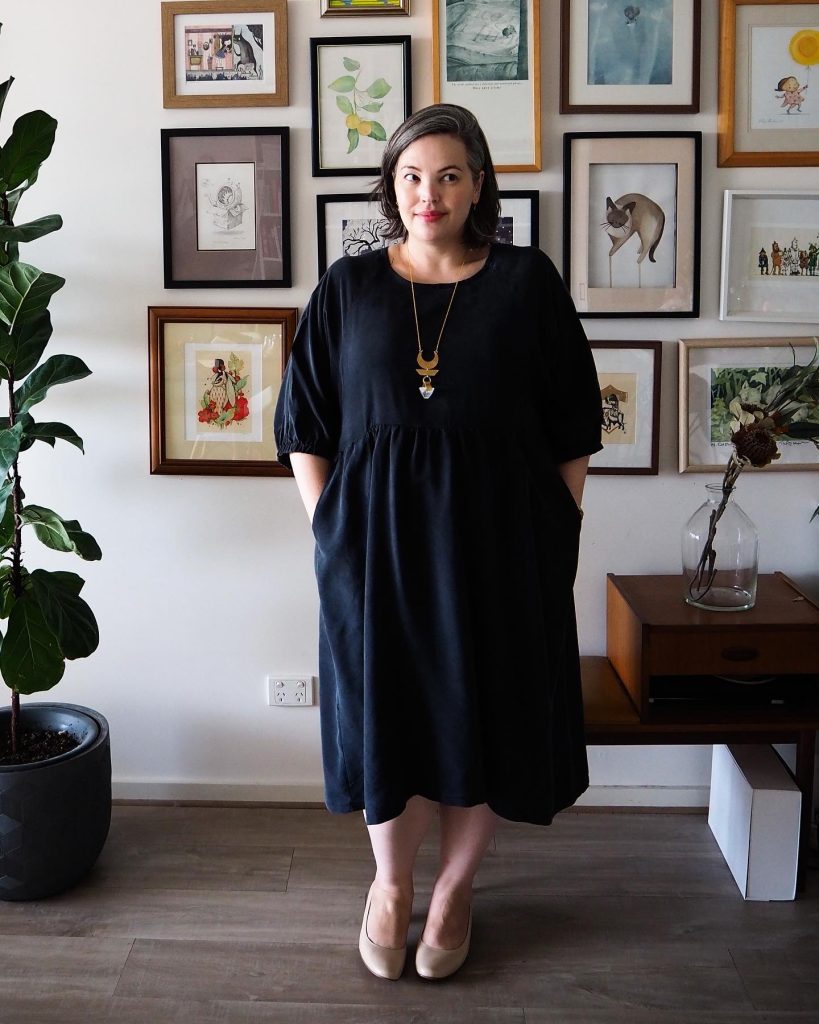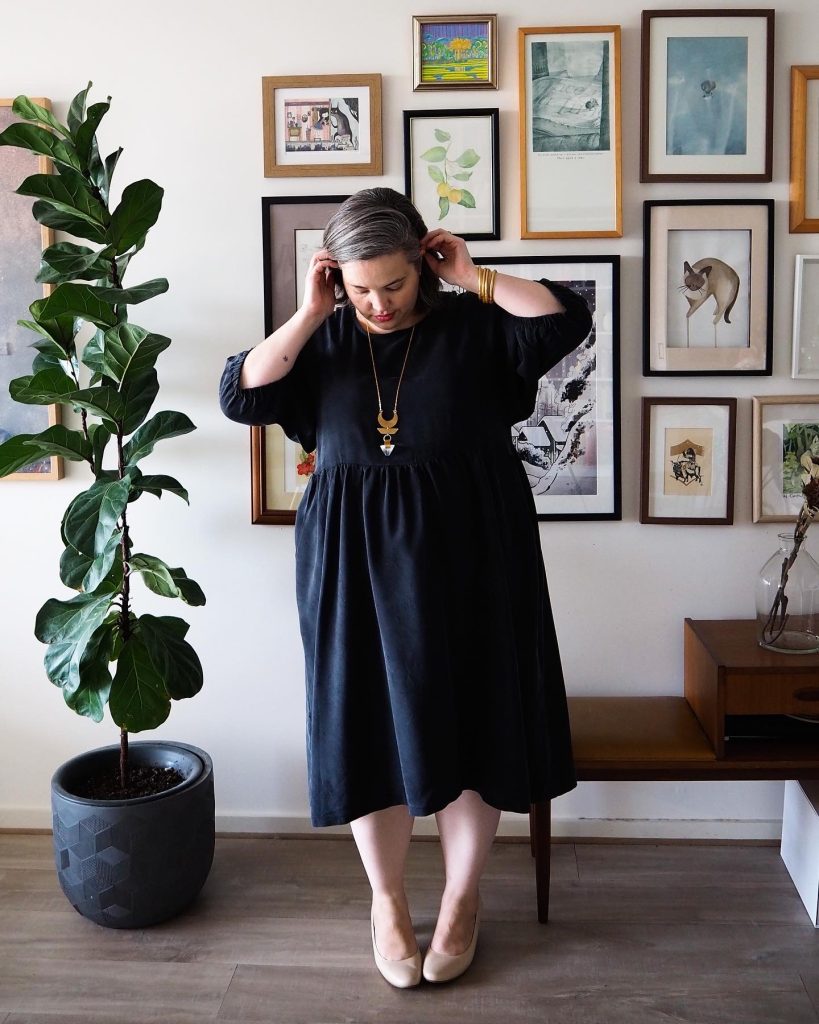 Me Made May: Day 4 – Hope Dress from Style Arc in a silk twill from Drapers Fabric
I don't always wear colour and prints! I am a Melbourne girl after all, and sometimes I have to lean into the whole black thing.
I made this dress almost exclusively because I wanted to try the whole "puffed sleeve" thing that's having such a moment in fashion right now, but I didn't want to commit to a REALLY puffed sleeve. This one is much more akin to TAL's cuff top, but the dolman sleeve style means there's less volume under the arms.
The only alteration I made was subbing out the neck facing for bias binding, and the flappy side-seam pockets for the pockets from the Fen Dress from Fancy Tiger Crafts.
I don't know if I mucked up the measurements for the sleeve elastic, or whether the pattern assumed I had much more spindly forearms than I really do, but a few months after I finished the dress I went back and re-did the elastic so that it didn't sit tight and it's made the difference from a dress I only wore occasionally to something I reach for regularly.
---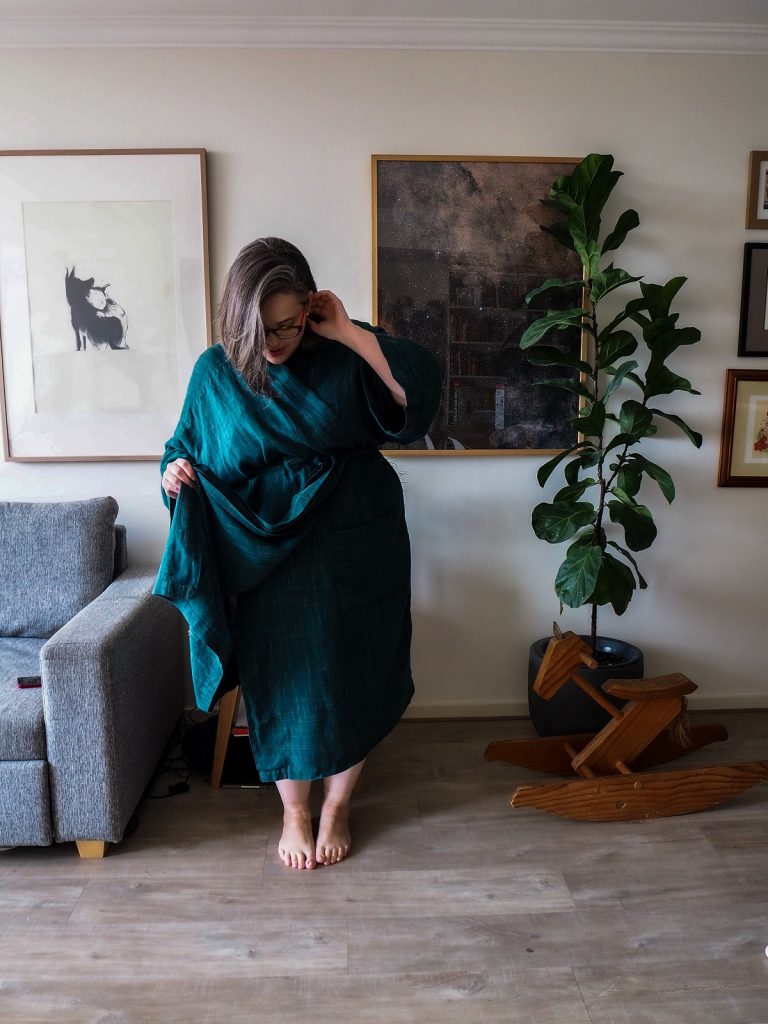 Me Made May: day 6 – Medlow Robe from Muna and Broad in a linen from Linen Shack
The thing about skinny privilege is that as a general rule, even the most woke, socially aware, politically correct and empathetic straight-sized folk don't know they have it. They don't know the feeling of going to the doctor and having them decide that – regardless of your symptoms – losing weight will cure you. They don't know about the anxiety of sitting on rickety chairs in cafes. They've never tried to shrink themselves smaller on an airplane because the person next to them looks repulsed by the fact your thigh is touching theirs. They don't – and this is the most mild microagression, but it's very pertinent right now with all the Mother's Day catalogues pushing bathrobes like there's no tomorrow – know the frustration of putting on a dressing gown, and despite it being the very largest size available, having it overlap by mere centimetres at the front.
Honestly, if you're plus-sized and you are still on the fence about learning to sew, Muna & Broad's #medlowrobe pattern should be the thing that pushes you over the edge.
I made mine from a glorious linen from The Linen Shack months ago, and I have worn it every single day since then. I took it on holidays instead of pyjamas, because I was so confident the generous wrap would be all the coverage I'd need, even while lounging on the couch with my parents (it was). The deep pockets are perfect for stashing tissues and phones and paperback books, and the attached belt means that I never lose the sash.
I'm planning to make another one for winter, just as soon as I find the perfect fabric, and then I will never, ever, EVER have to suffer annoyance of answering the door while clutching the edges of my flimsy RTW robe closed in a desperate attempt to retain some dignity.
---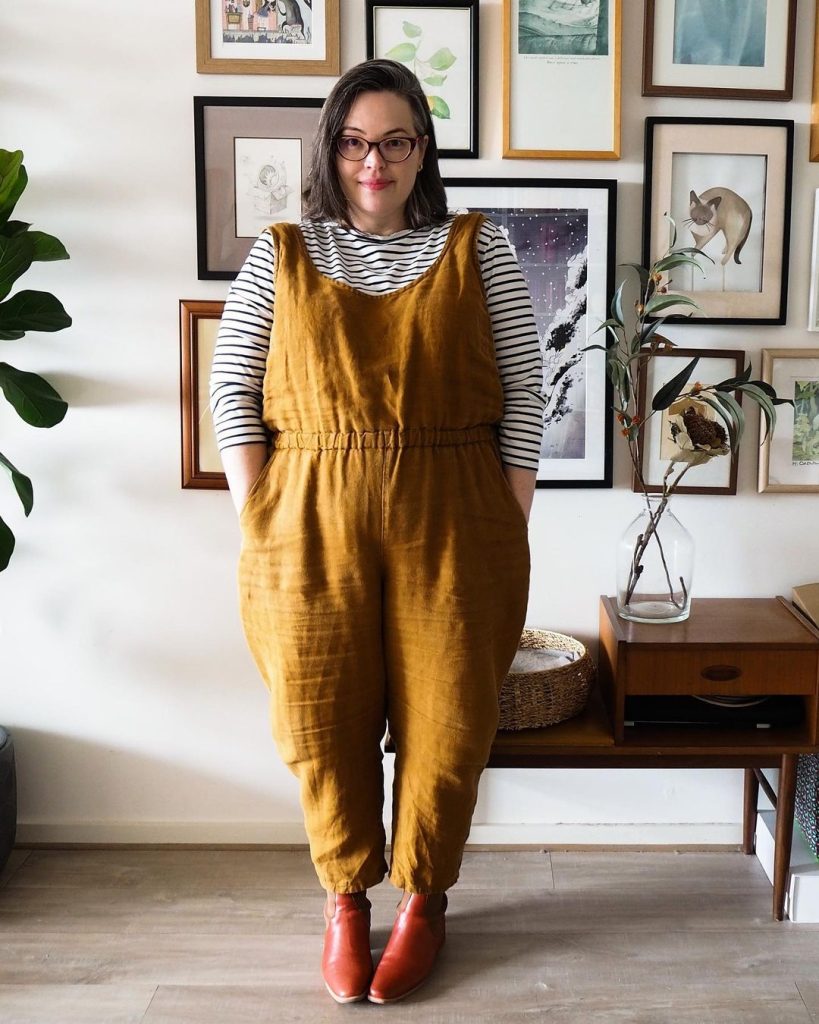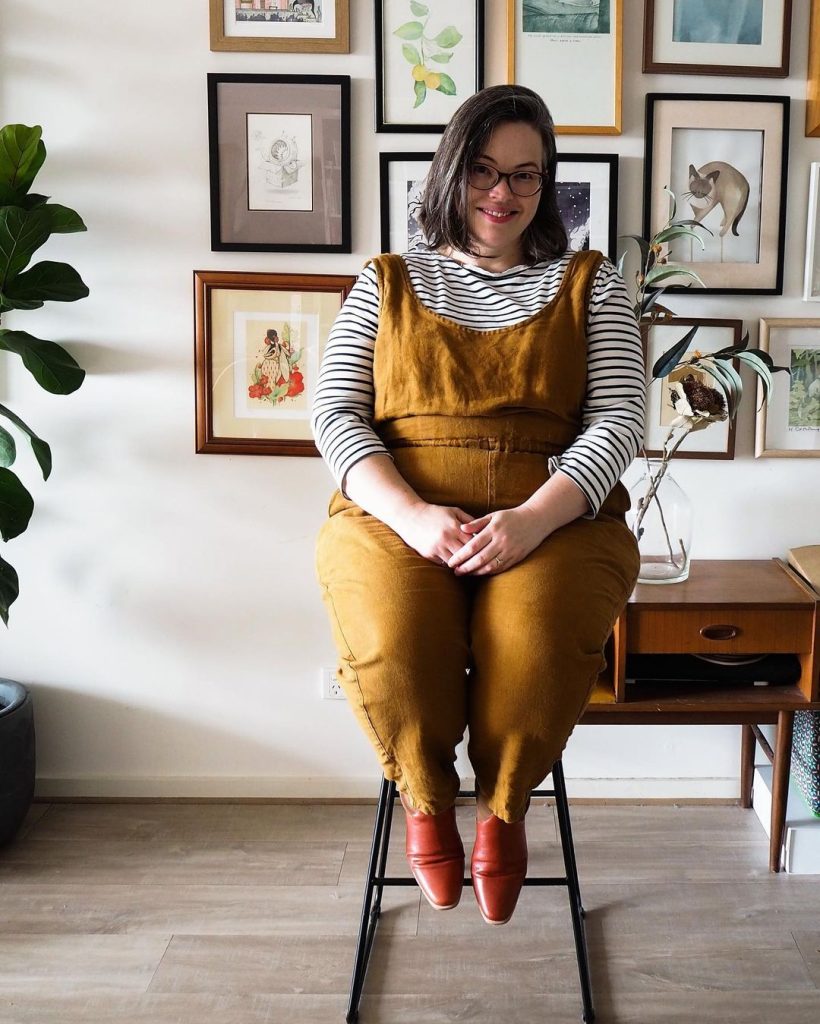 Me Made May: day 7 – hacked jumpsuit using Birchgrove Pants from Muna & Broad frankensewn to a modded version of the bodice from Anna Allen's Demeter Dress. Sewn with a ochre linen from The Fabric Store.
This is actually a make from last year's #memademademay, and it's one of my favourites. I wear it throughout the year – hot days and cold – and it's one of the most comfortable pieces in my wardrobe.
When I first made it I wasn't convinced by the super-low back (a necessity so that I could get into the thing), and I was planning to have another crack at it, but that hasn't quite happened yet.
Worn today with a striped tee from Commonry and boots from Nancybird.