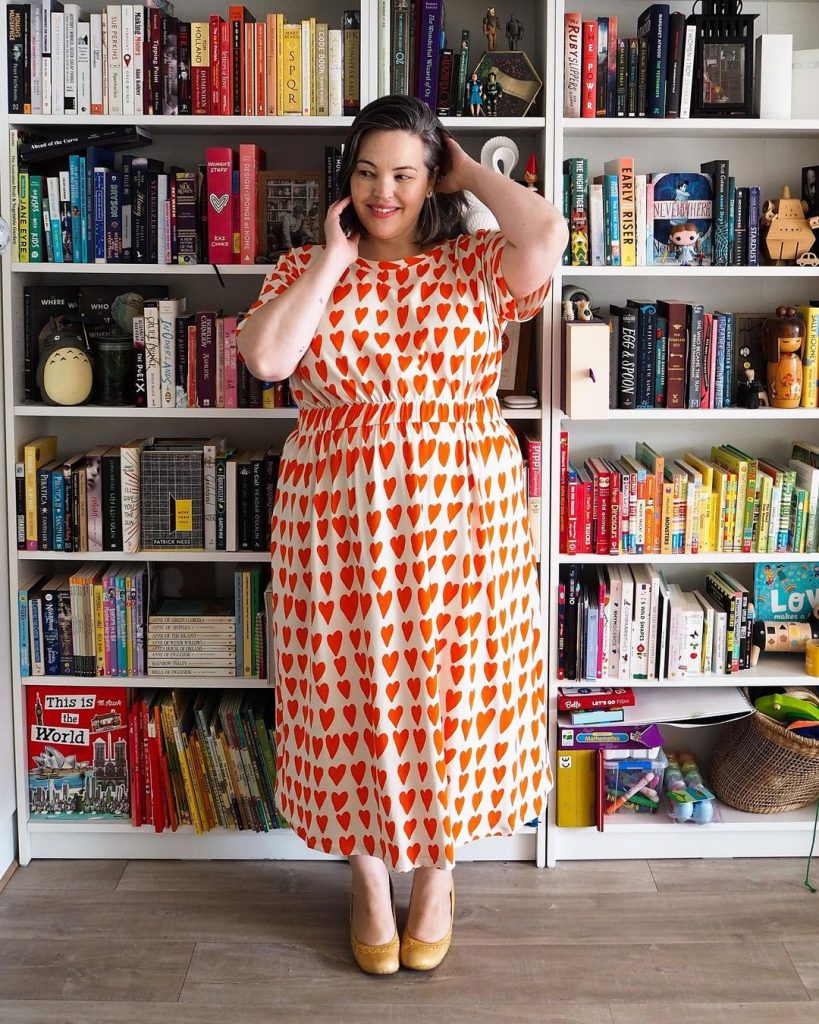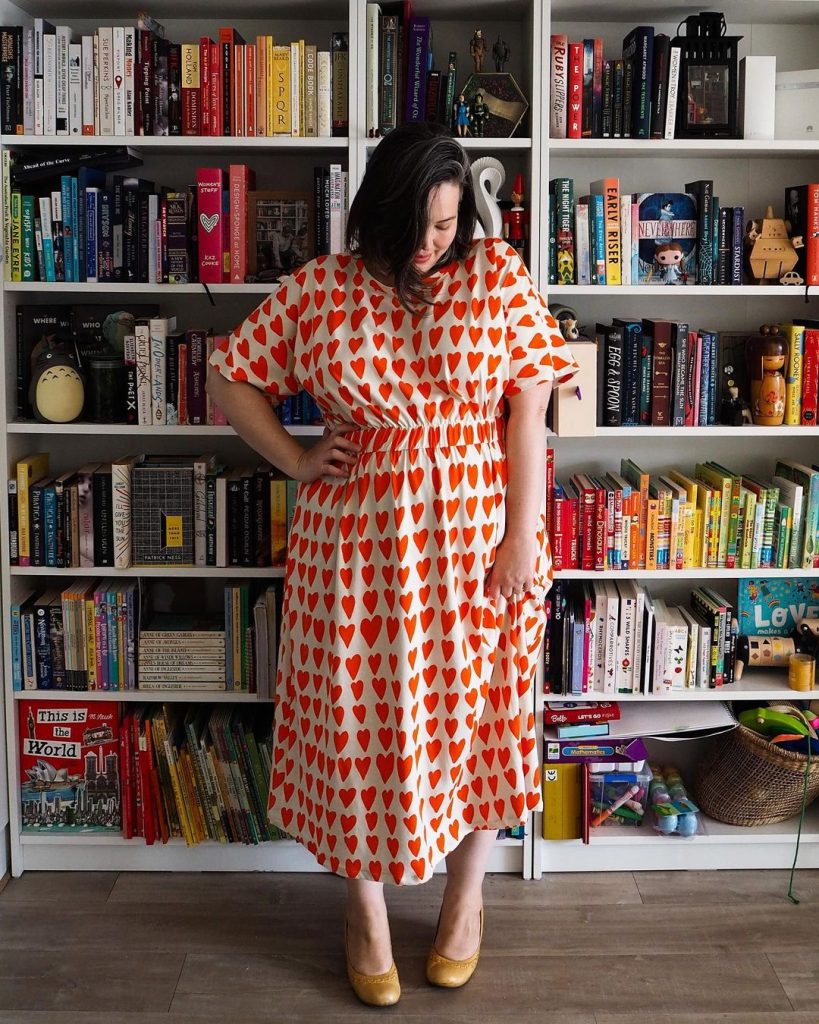 Me Made May: day 8 – self drafted elastic waist dress (bodice a mashup of the Marilla Walker Maya top and the Wiksten top with a bit of extra creative license around the sleeves; skirt a pocketless mod of The Assembly Line's Midi A-line skirt; cobbled together using the instructions for The Assembly Line's Cuff Dress). Fabric from Bonnie & Buttermilk
I don't toile even though I know I really, really should. It's just… with a job and a small child and a household to (co)run and meals to cook and ironing to do and books to read, it's hard enough finding the time to sew one thing, without adding the extra time/money/resources to sew another one in a fabric I don't like as much simply as a practice run.
I think this is probably what I mean when I tell people that I am an extremely amateur sewist. I find a pattern I want to try, and I dive straight in with the fabric I most want for it, and just hope for the best. Usually it pays off.
This dress is basically an exact (plus size) replica of a dress from @kimdergwand, which I saw shared by Tilly & The Buttons a couple of months ago. Kim's version is the Lotta Dress (which @aweedyseadragon has also made an exceptional version of) and honestly if I was being sensible I would have bought the Lotta, made a toile, made any necessary alterations, then used my expensive, imported Bonnie and Buttermilk fabric to make a perfectly fitting heart-print Lotta of my own.
Reader, this is not what I did.
And it was fine.
I'm not quite sure what the point of this story is. I'm certainly not advocating for others to adopt my slipshod ways. I guess I'd just like to encourage people – especially those starting out for the first time – to not be overawed by the sewing process. It doesn't have to be hard, or complicated, or time consuming. It can just be fun.
---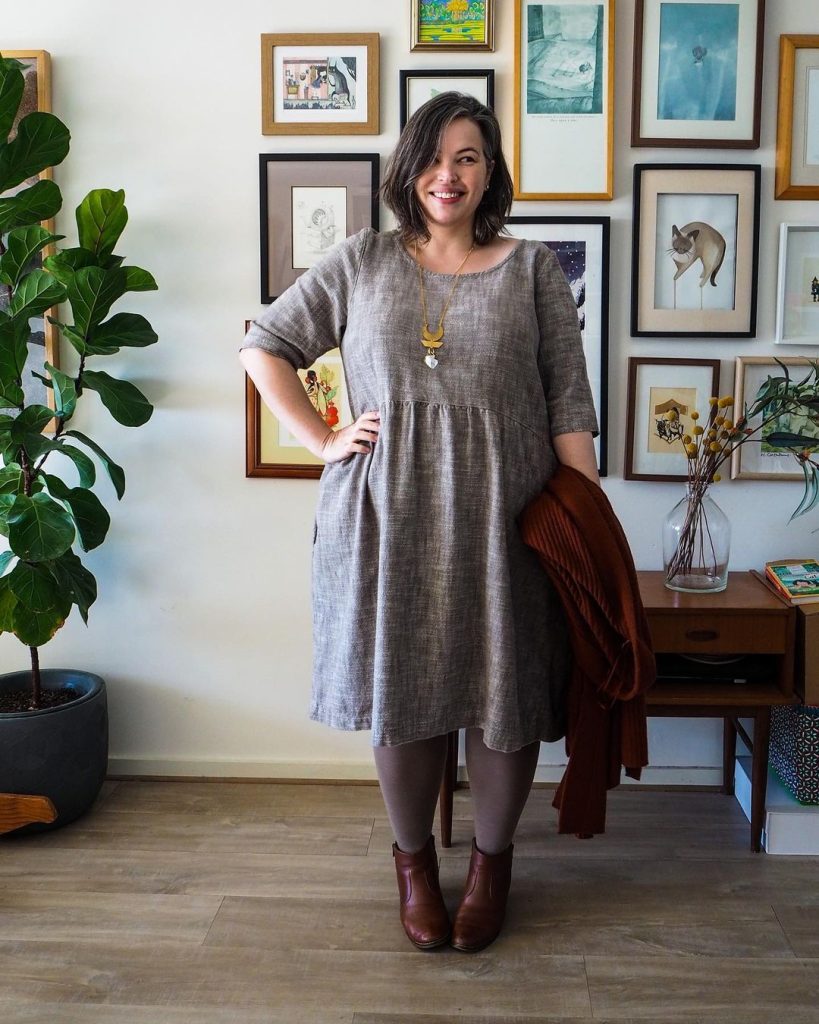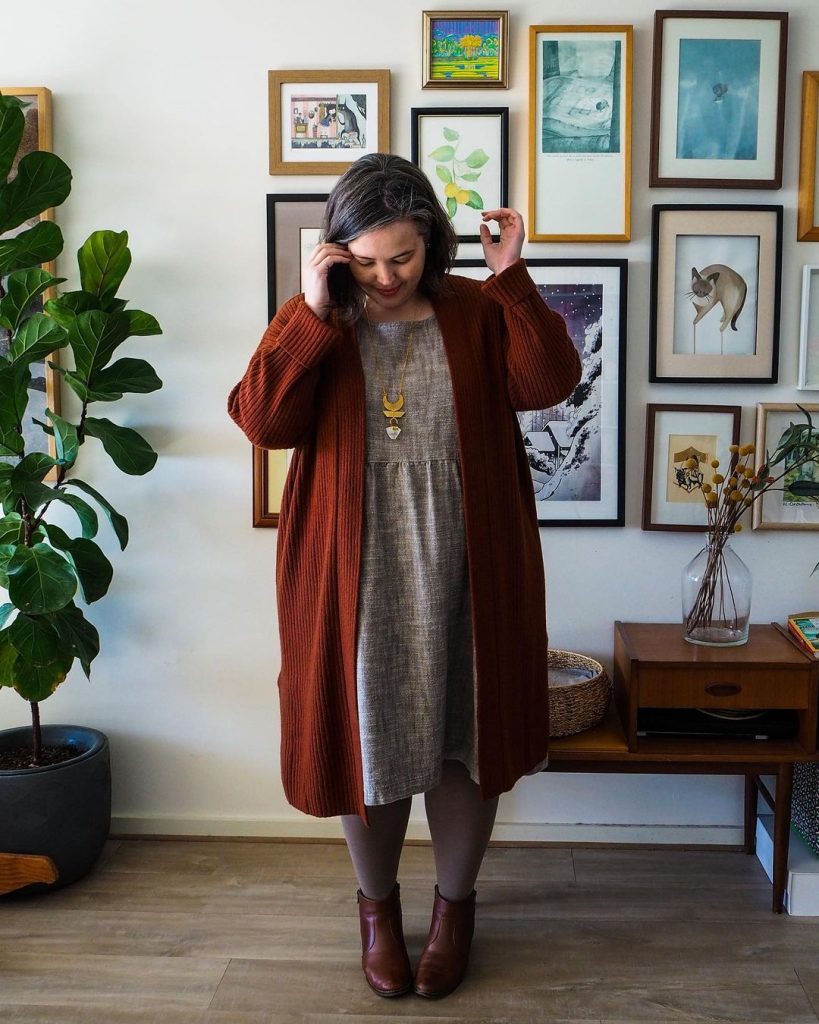 Me Made May: day 9 – Demeter dress from Anna Allen, made from a rough woven cotton-linen slub thing from GJ's Fabrics.
This dress is kind of case-in-point when I talk about how I don't toile, and it ends up mostly OK.
For years I've been on the eternal hunt for the Ultimate Brunswick Hipster Farmer's Market Smock Dress, and to be honest they're mostly all been variations on a theme (boxy bodice + gathered skirt). I've tried about six different iterations from the Fen Dress at Fancy Tiger Crafts (best pockets) to the Hope Dress at Style Arc (puffed sleeves!) to a variety of self-drafted things I've hacked together using different top patterns and skirt patterns.
The one I keep coming back to (and it's annoying because the size range is limited up to a 51" hip) is Anna Allen's Demeter Dress.
It's not a perfect pattern – the pockets are those silly side seam ones that flap around, and the waist seam is too low, the neckline too wide, and the size chart is out of whack. But it's the one I usually reach for when I'm making a smock dress.
The most recent version I made is the Mirka Mora dress from day three of Me Made May, and by this point I know to make it perfect I have to cut a size smaller, lift the neckline up, shorten the bodice and lengthen the hem, and swap out those pockets for my preferred Birchgrove trouser pockets
This, here, is the original version I made, right out of the packet, in a costly linen from GJ's Discount fabrics.
It's not perfect – the pockets are a particular bugbear because they're at exactly the right height to add lumpy volume to my upper thighs whilst simultaneously being too far down my body to be in any way practical – but I still wear it ALL THE TIME.
Wearing it today with a cardigan from Commonry, tights from Snag, shoes from Ziera and necklace from Wyldling Spirit.
---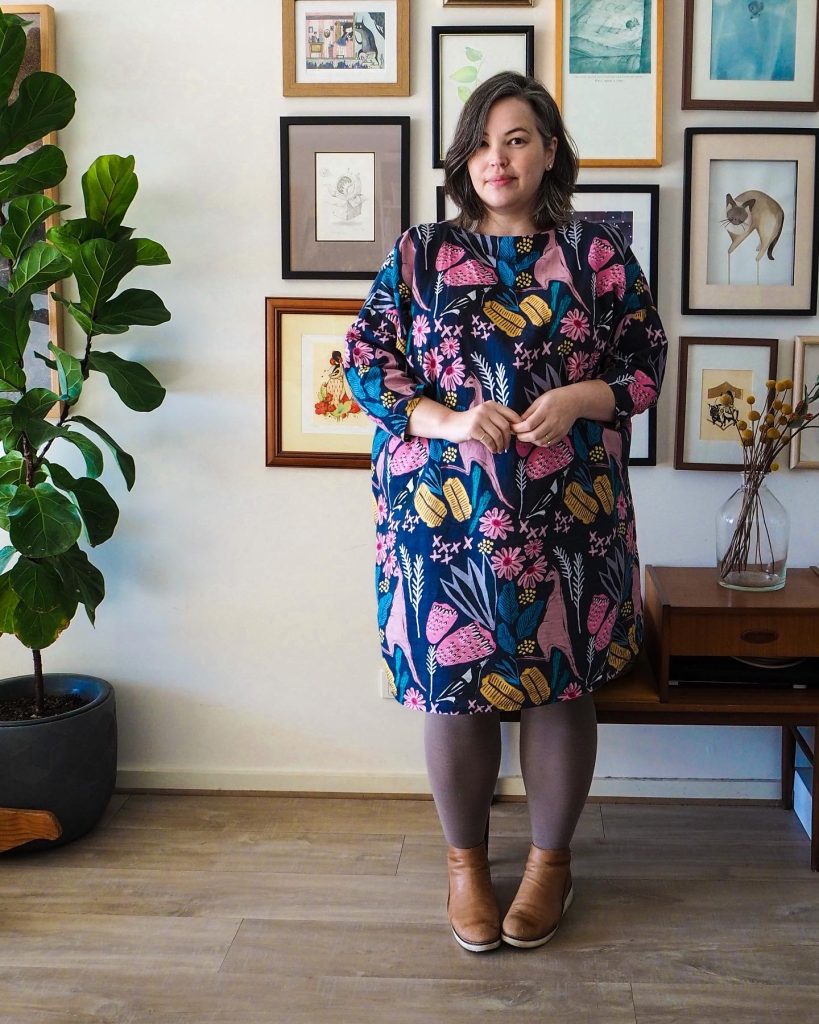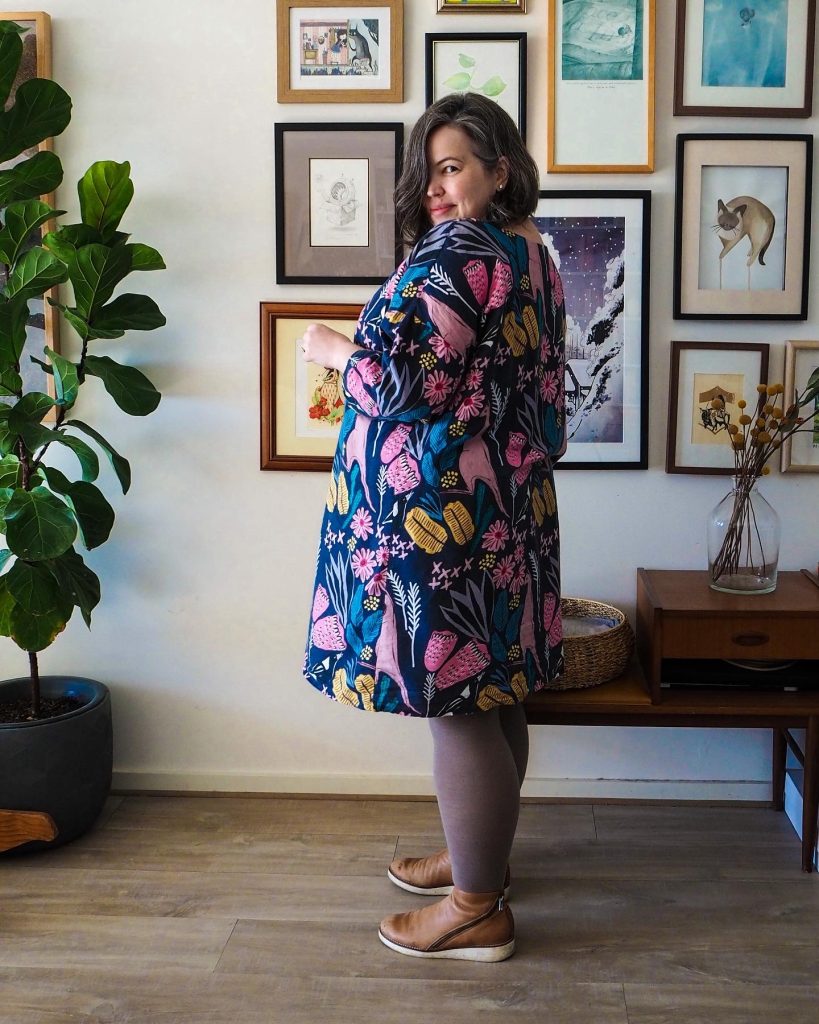 Me Made May: day 10 – Torrens Box Dress from Muna & Broad in a fabric from Doops Designs.
What comes first, the fabric or the pattern? Usually I fall in love with a pattern, then try to find the perfect fabric for the project, but occasionally I fall just head-over-heels in love with a print and I buy a few metres for a future project.
Now that I'm sewing more regularly I'm aware of how much yardage things take, but when I first started out I used to think most things could be made out of 2 metres (it certainly LOOKS like a lot of fabric!).
Which is a long-winded way of saying I wish this Torrens Box Top dress was six inches longer, but at the time I'd only bought a limited amount of this gorgeous linen from Doops Designs, and so it's not.
It's actually a perfectly reasonable length, but I'm a bit shy about my knees, so every time I wear it I find myself self-consciously tugging the hem down throughout the day, and I would never wear it without tights. I keep thinking I need to retire it, but the fabric's just too good.
Maybe one day I'll hem it into a shirt, but for now it just mostly hangs in my closet reminding me that when it comes to stash fabric less is definitely not more.
---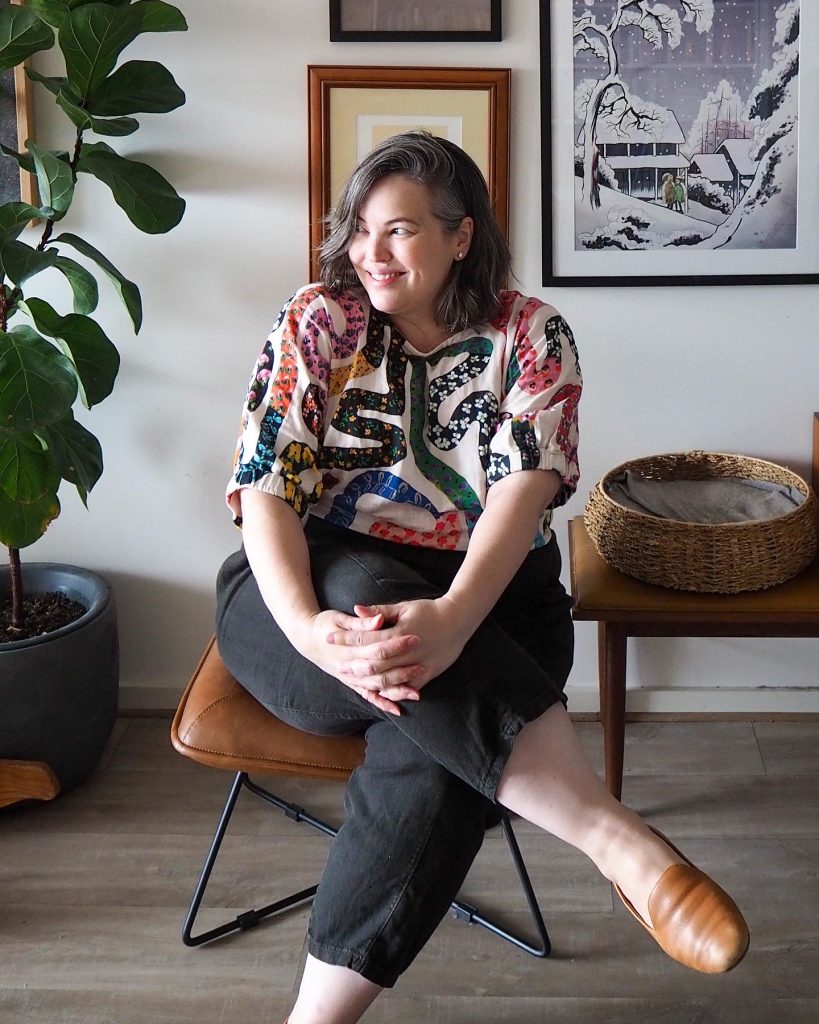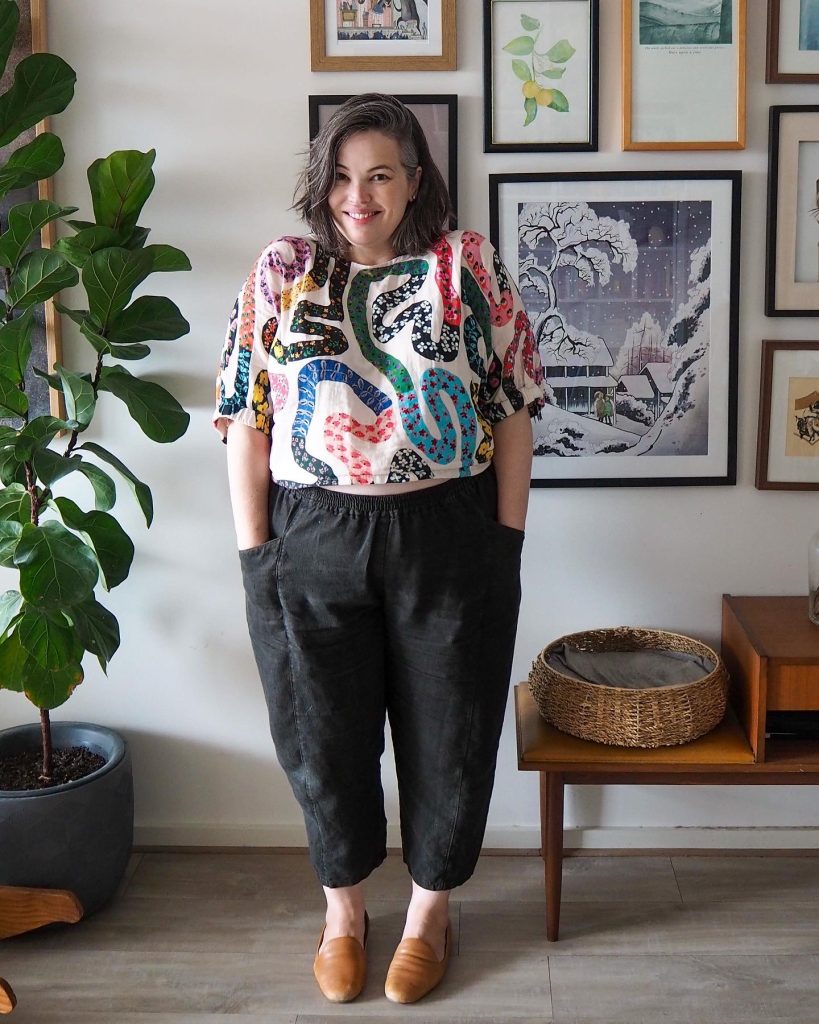 Me Made May: Day 11 – Cuff Top from The Assembly Line in a repurposed muslin wrap from Gorman Playground, and Sculthorpe Pants from Muna & Broad in a linen from The Fabric Shop
So, apparently Gorman has started doing a size 20 (ish, there's not much on offer yet). I have a bit of a love-hate relationship with Gorman. Love the prints, hate the size exclusivity. Love the styles, hate that they have less-than-outstanding ethical fashion cred. Love the staff, hate their reputation for ripping off indie artists.
Nothing in the range – which consists of a whopping four items out of 267 – catches my eye, but (let's be real) if they keep expanding it, I will almost certainly buy something down the track.
In the meanwhile I have my terrific #gormanbutfatter ensemble, made with repurposed muslin baby wraps designed by @melanie_macilwain for Gorman Playground.
I decided rather than make a dress I would make a top and a skirt that could be worn separately or together, and today I'm wearing the top with a pair of Sculthorpe pants from Muna and Broad which were made out of the same heavyweight ochre linen as the jumpsuit I was wearing earlier, but dyed black for Black Fridye by Citizen Wolf when I realized that black pants went with much more of my wardrobe than orange ones.
---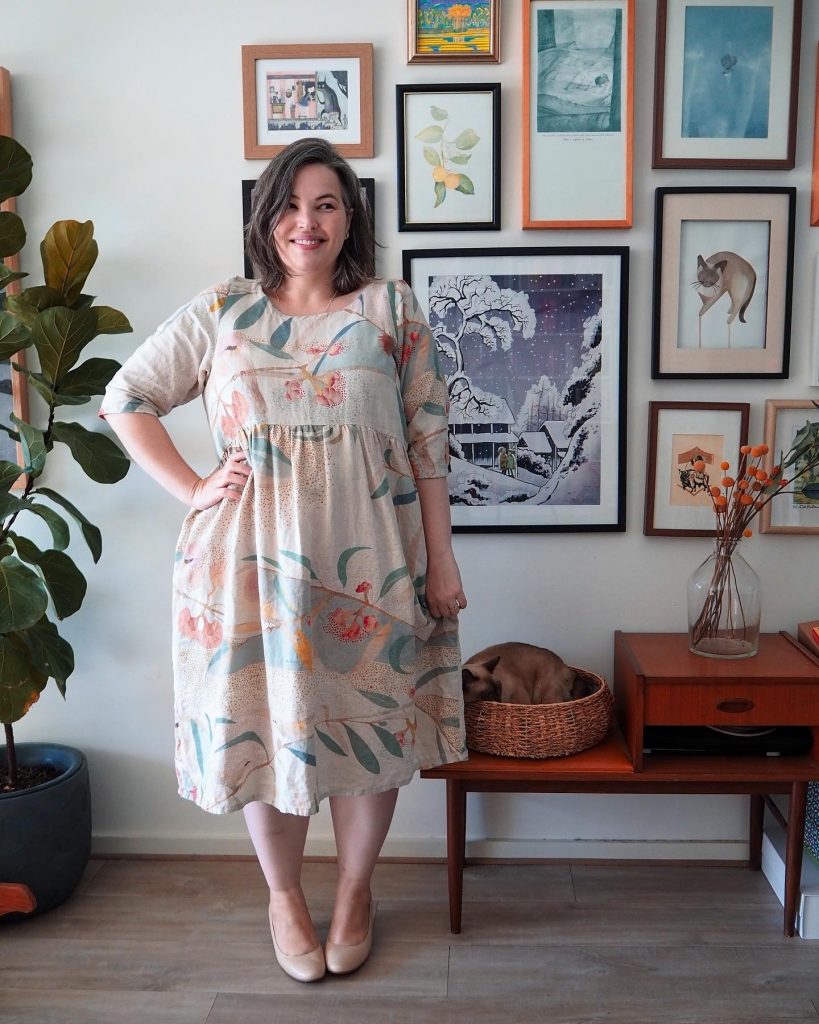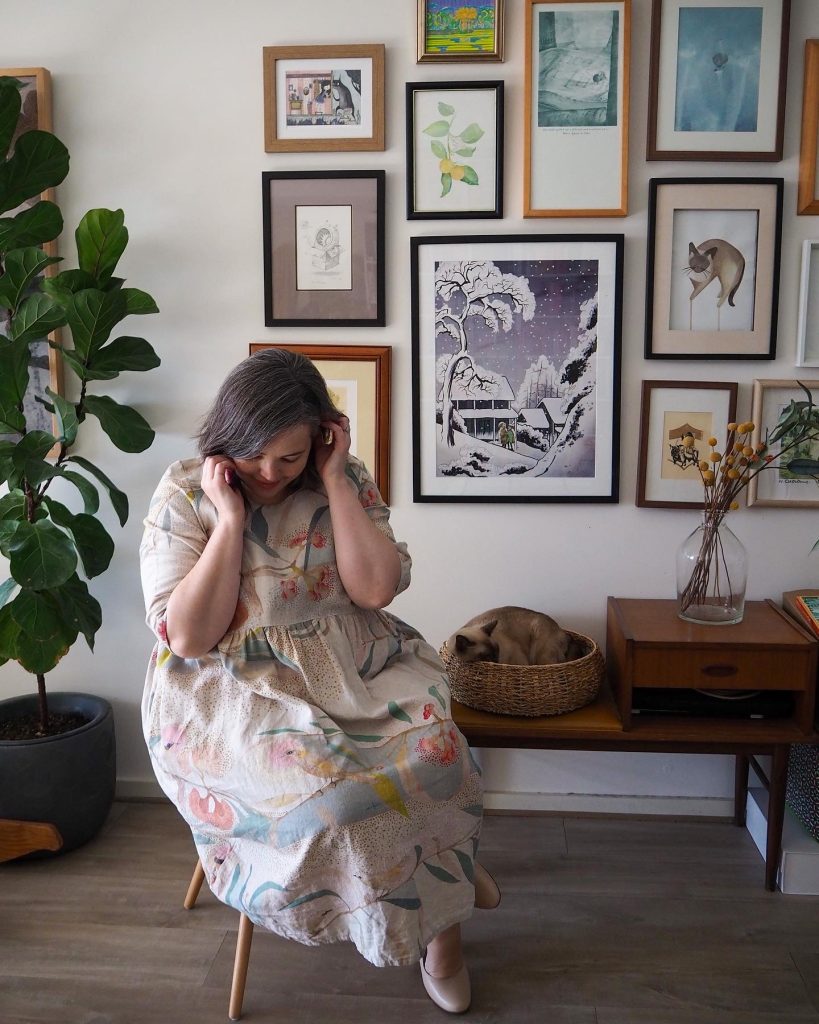 Me Made May: Day 12 – Demeter Dress from Anna Allen, from a repurposed tablecloth from Adairs
The biggest down-side to sewing is that you can't try something on before you make it. And sometimes – whether it's the style, the fabric, the fit, or something else entirely – the project that you've laboured over just isn't quite what you'd envisioned.
I made this dress last year from an absolute show-stopper of a linen tablecloth designed by Dana Kinter for Adairs. I loved it – the pattern, the fabric, the fit. I wore it a handful of times, and then… stopped.
I was looking at it in my wardrobe recently and trying to puzzle out why I so rarely reached for it. Did I think it was too special for every day? (No). Did it fit awkwardly? (No). Was it annoying to launder? (No).
Eventually I figured it out. Originally I made the dress sleeveless, thinking I'd layer it pinny-style over long sleeves in winter, and wear it with bare arms in summer. But I didn't. I had precisely one (1) top that worked under it, and I'm newly self-conscious about my upper arms.
Luckily when I'd first sewn the dress I'd done such a good job of tetris-ing the pattern pieces that I still a smidge of fabric left over.
Too beautiful to discard, too small to do anything with. But just, juuuuust enough to cut two elbow length sleeves.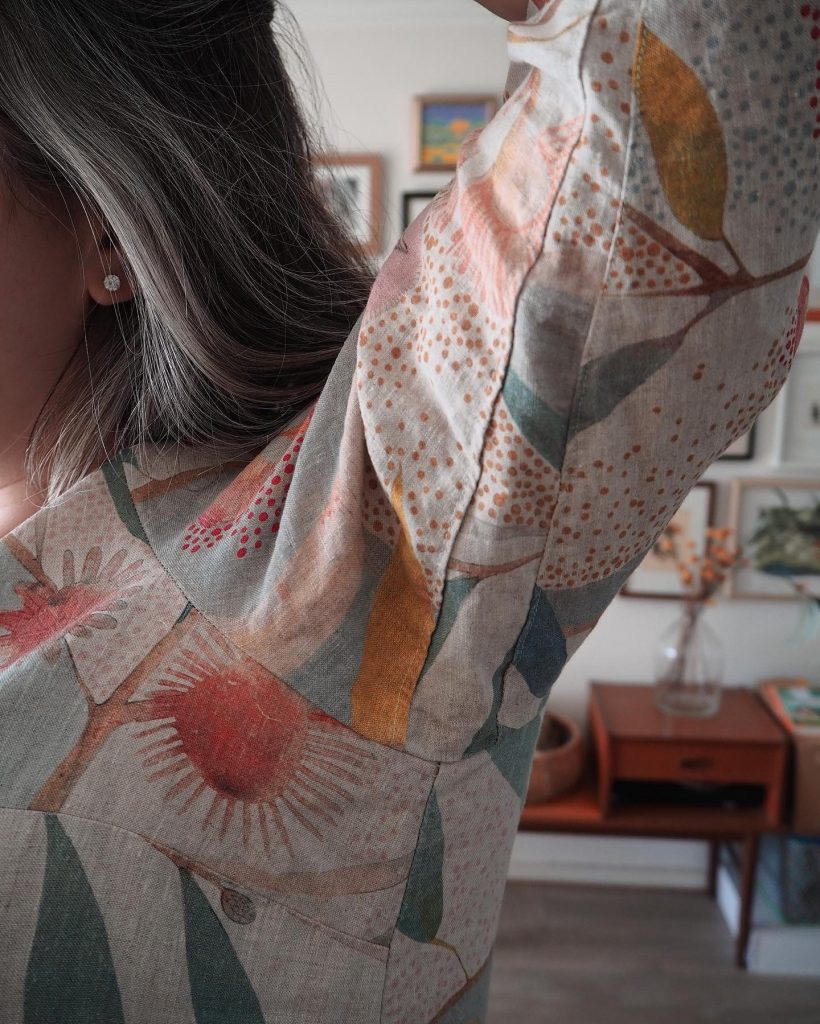 I had to get a bit creative with one (you can see the extra wedge I had to install) and the armscye is cut quite deep, which would have been an issue if I didn't have such narrow shoulders, but a little unpicking, a little creative cobbling, and I have a dress that I both love and will hopefully wear far more often.
---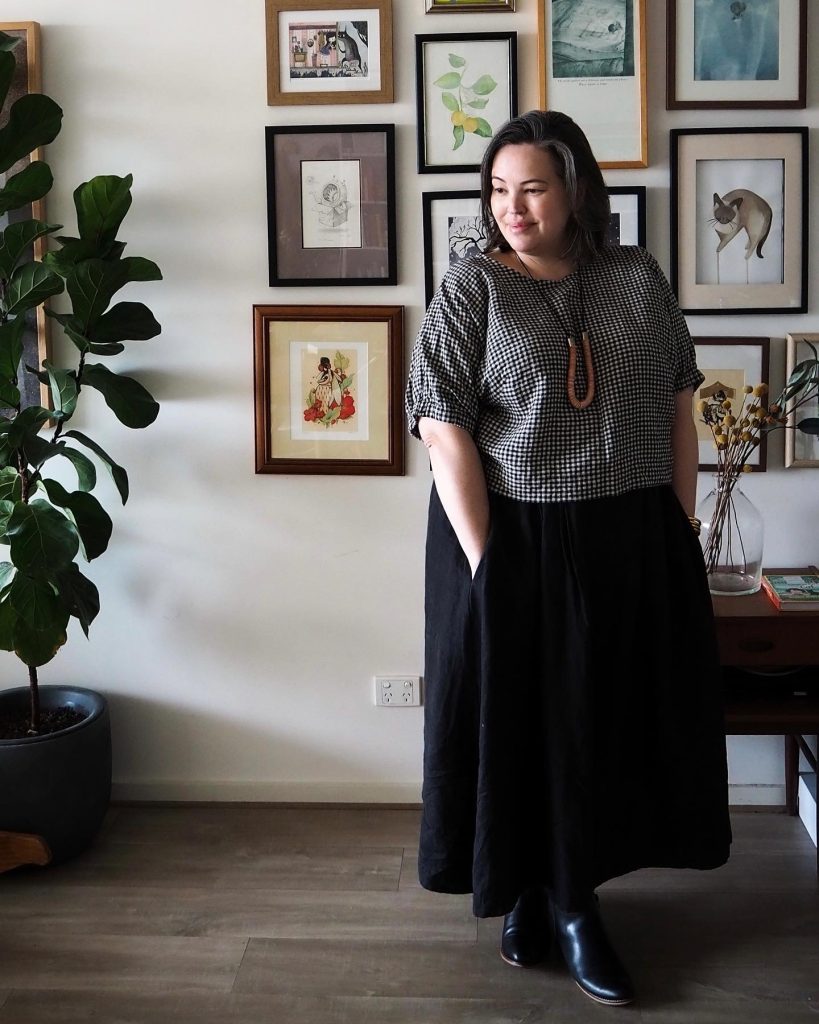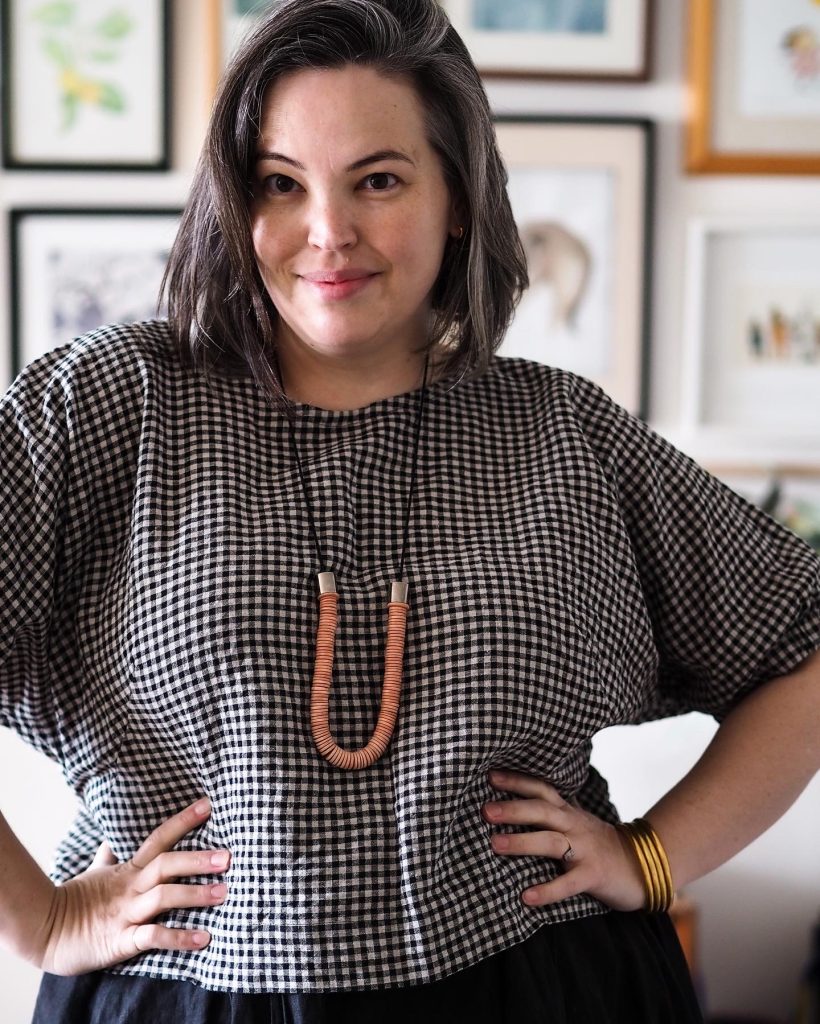 Me Made May: day 13 – Cuff Top in a gingham linen from GJ's fabrics
I've been pretty meh about gingham for a long time. It seemed like such a sweet print – better suited to rosy-cheeked twenty-somethings and romping in meadows. I didn't think I was cool enough to make it look cool and ironic, but then I found this oatmeal & black linen from GJ's which was cool and ironic in its own right.
There wasn't much more than a metre left on the roll, but it was enough to squeeze out a Cuff Top (without facing, front & back cut on the fold, and fairly cropped).
It's quickly become one of my favourite tops! If you're looking for some linen like this for your own project, The Linen Shack has some available now.
Worn today with a black skirt from Eva's Sunday, boots from Florsheim Shoes, and a necklace from Elk
---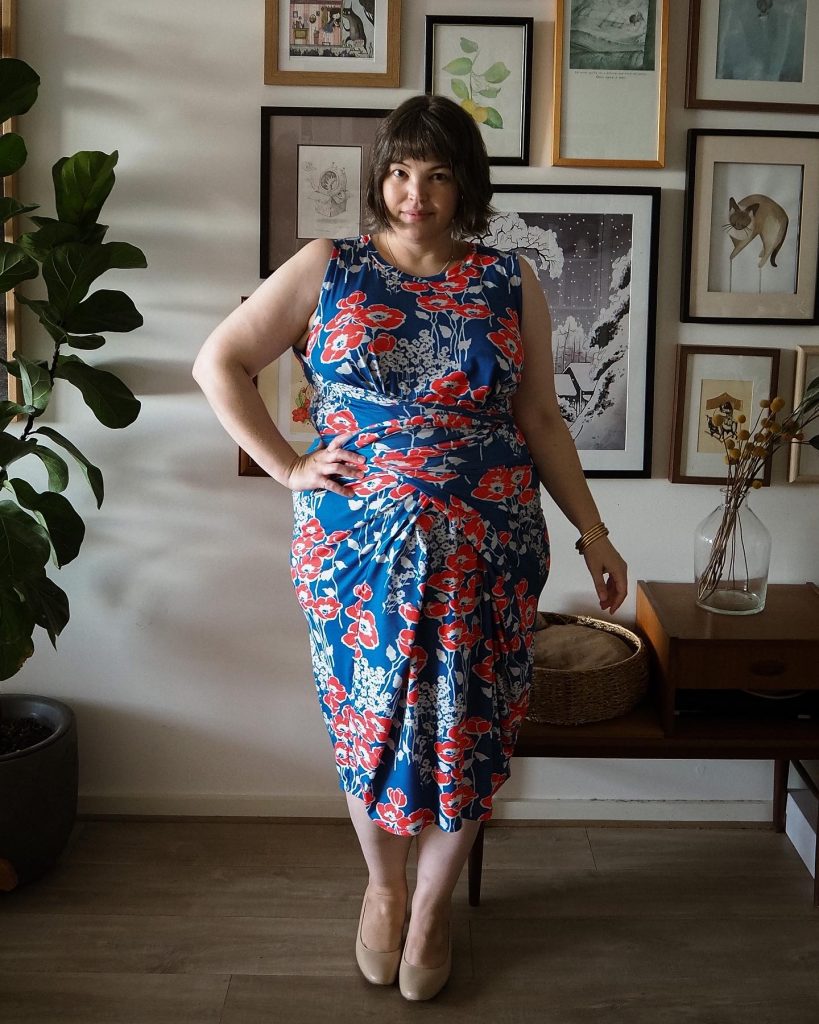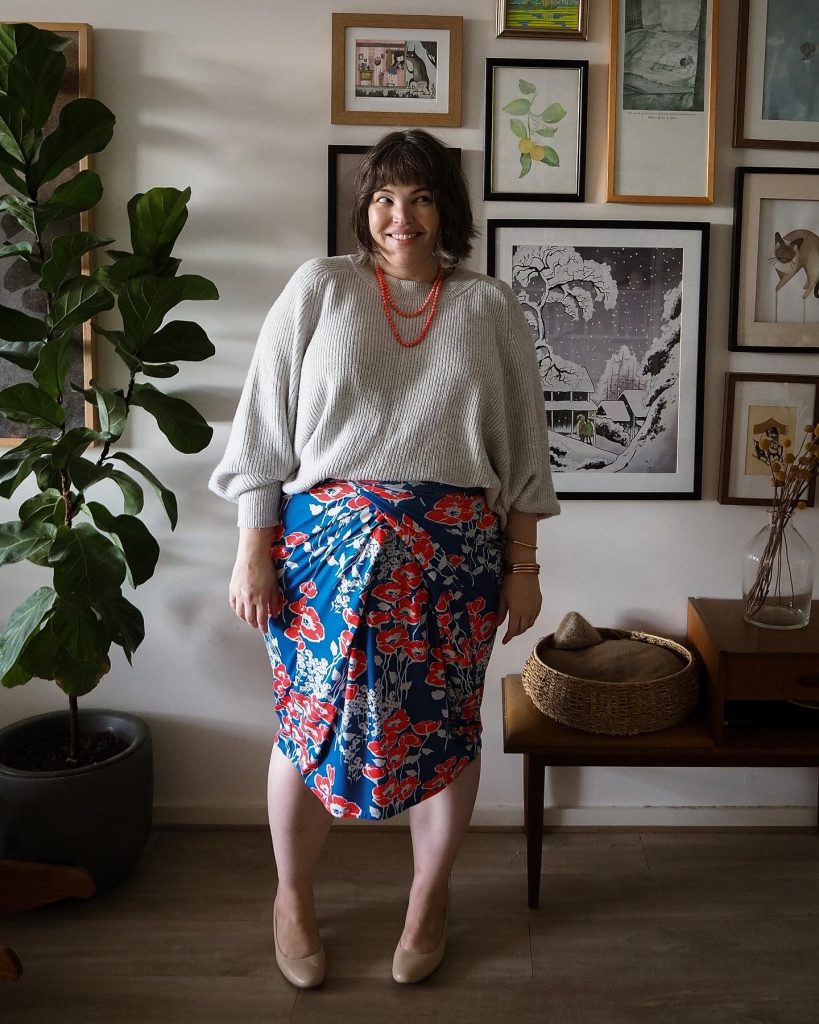 Me Made May: Day 14 – Kielo Dress from Named Clothing in a poppy-print fabric from Spoonflower
I made the Kielo dress earlier this year, and it's such a show-stopper. The deceptively simple wrap shape creates a clever draped and pleated effect at the front, and is both comfortable and versatile. It's been designed for the crossover to wrap at the front, but you can see the simple sheath-dress effect of wrapping it with the crossover at the back too.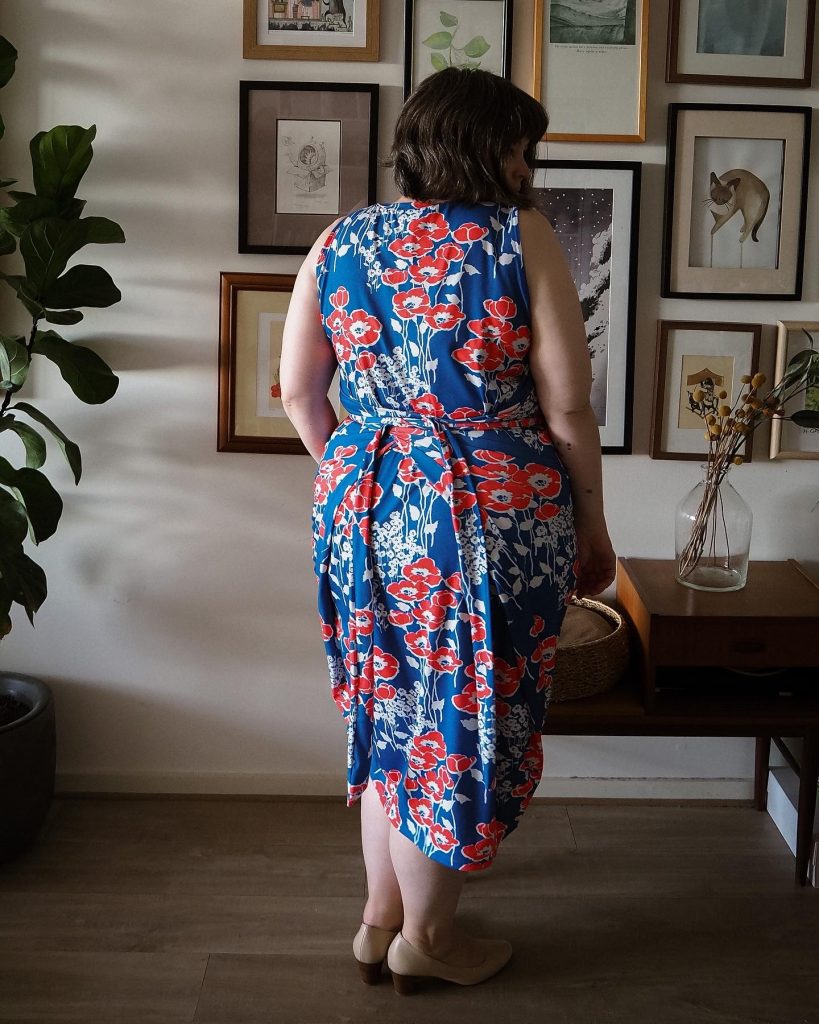 The pattern does have a sleeved option for cooler weather, but the bright print really screamed summer at me, so I made it sleeveless and brought the hem up from the original maxi-length. I'm actually surprised by how well it layers under a chunky sweater – the bodice is clean and tight-fitting enough that it doesn't create extra bulk, and I was able to tuck the hem of the sweater into the wrapped sash to create the illusion of a form-fitting pencil skirt.