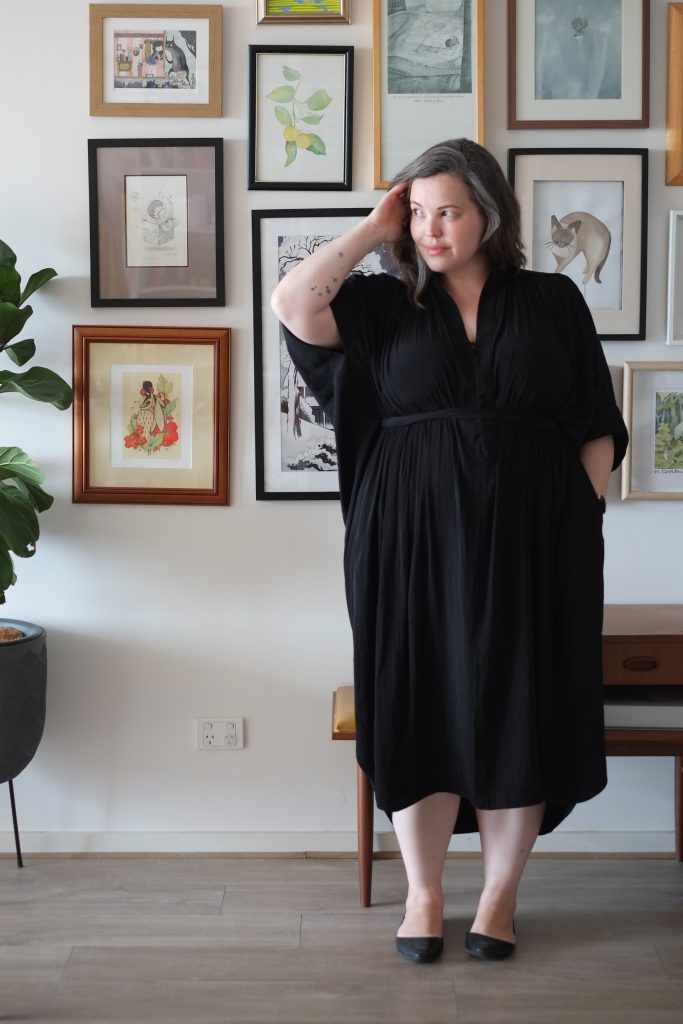 "Six weeks" ahahahahah… yeah, nah. It's been twelve weeks since I wrote that post, and Melbourne has at least another two weeks of stage four lockdown left to go (more, if certain inconsiderate people end up getting the 'rona after their beach revelries and shopping centre "protests"). Stage four has meant: Everything is closed except chemists, supermarkets, petrol stations, and cafes that do takeaway. Allowed out of your house for no more than an hour a day. Not allowed further than 5km of your house. Not allowed out at all between 8pm and 5am. Masks for everyone.
You'd be forgiven for thinking that I haven't posted for three months because I've been living in my pyjamas, but I've actually been trying desperately to inject some level of normal routine into my life, so I get up. I eat breakfast. I shower, and I get dressed for work.
I'm having kind of a tough self-image time lately though. I haven't been able get my hair cut since March, my eyebrows are a mess, my eyelashes are non-existent. I'm glad I decided to embrace my silvers when they came in, because the regrowth would be A Thing To Behold by this point. I still haven't quite managed to come to terms with the changes in my body since pregnancy; and post-winter, post-iso, post-c-section, none of my clothes are fitting properly. Long story short, I'm just not feeling as comfortable in my skin as I know I can be.
It's the worst thing when you're having a bad-self-image day, and suddenly nothing in your wardrobe is your friend. I don't know about you, but if the first outfit I try in the morning doesn't work for me (as is increasingly the issue at the moment) I end up cycling through half my wardrobe trying to find something that doesn't make me feel like crap. I was sick of it.
I saw the One Dress from Every By X advertised on my Instagram feed a month or so ago, and it seemed to by the answer to my problems. Light, comfortable, endlessly adaptable, easy care, non-creasing, breastfeeding-friendly, and versatile enough to wear to a fancy dinner or the beach. I wanted something I could pull out of my wardrobe that would look good no matter what kind of body-day I was having (and that I could wear several times in a row without anyone wondering if maybe I hadn't gone home the night before).
At $360, the One Dress was an Investment with a capital "I", but I reasoned that you can wear it (at least) seven different ways, so it's actually $51 a dress, which is extremely reasonable. Also it was advertised as one-size-fits 6 to 22 (I'm a size 18-20 with G cups, and there's room to spare, so I reckon the size range could be extended) so I figured I'd be able to keep wearing it for years, no matter what further surprises my body had in store for me.
Anyway. I bought it, and I'm so glad I took the gamble.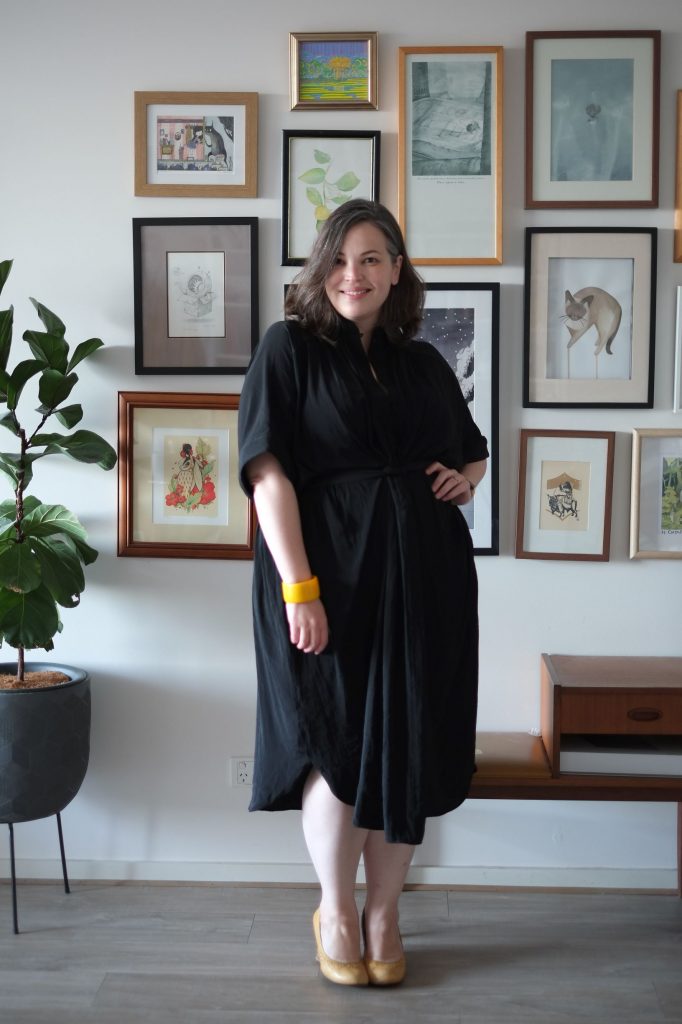 The One Dress by Ever By X is the creation of Kerryl Bullen, a mother of twins (oh my god, I can't imagine) who basically wanted to make a dress that was going to work for women no matter what stage of life they were in. She runs a local and sustainable business that sources upcycled fabrics, makes the dresses locally, and boasts a zero carbon footprint.
The dress itself is a clever and classic style that actually delivers on the promises it makes. It has clever pleating at the shoulders that allows it to drape beautifully over a variety of shapes (yes, even the Rack of Doom). Tiny little buttons are hidden on the inside of the neckline down to the waist, so as not to distract from the clean lines of the dress. The elbow-length sleeves are cuffed, the skirt tapers to curved hems at a midi length (I'm 165cms tall), and did I mention pockets?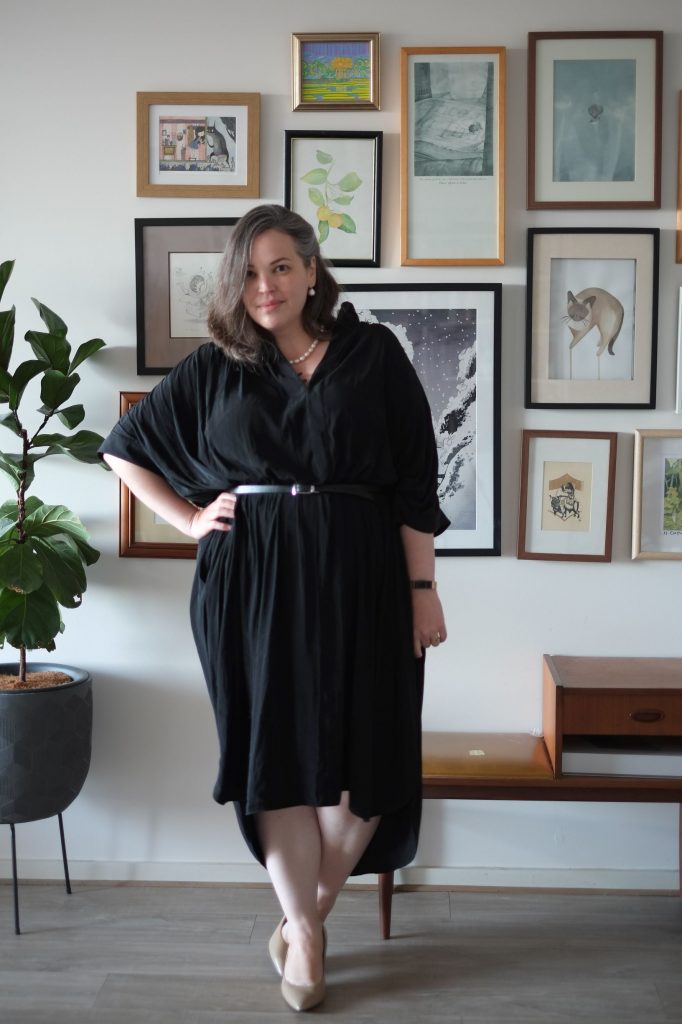 The really clever thing though, are the two sets of tiny gaps concealed in the seams of the dress that allow you to tie the sash (or your own belt) in a myriad of different ways to achieve different looks.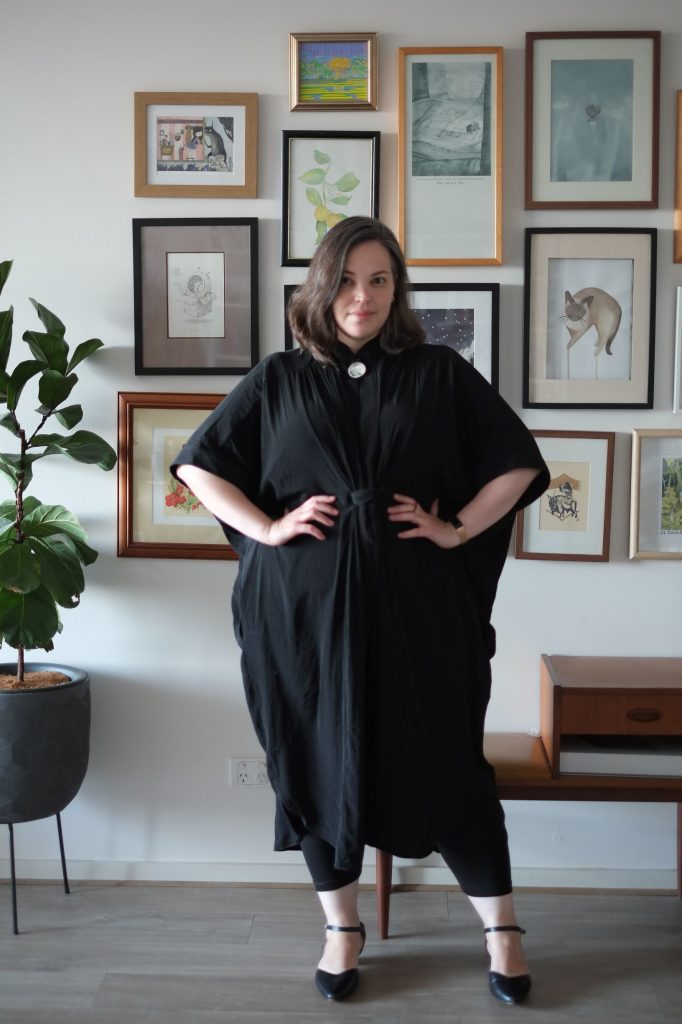 The dress comes with a little booklet that walks you through some styles (Cape, crossover, sheath, caftan, cinch, etc), but I'd definitely say have an experiment of your own too.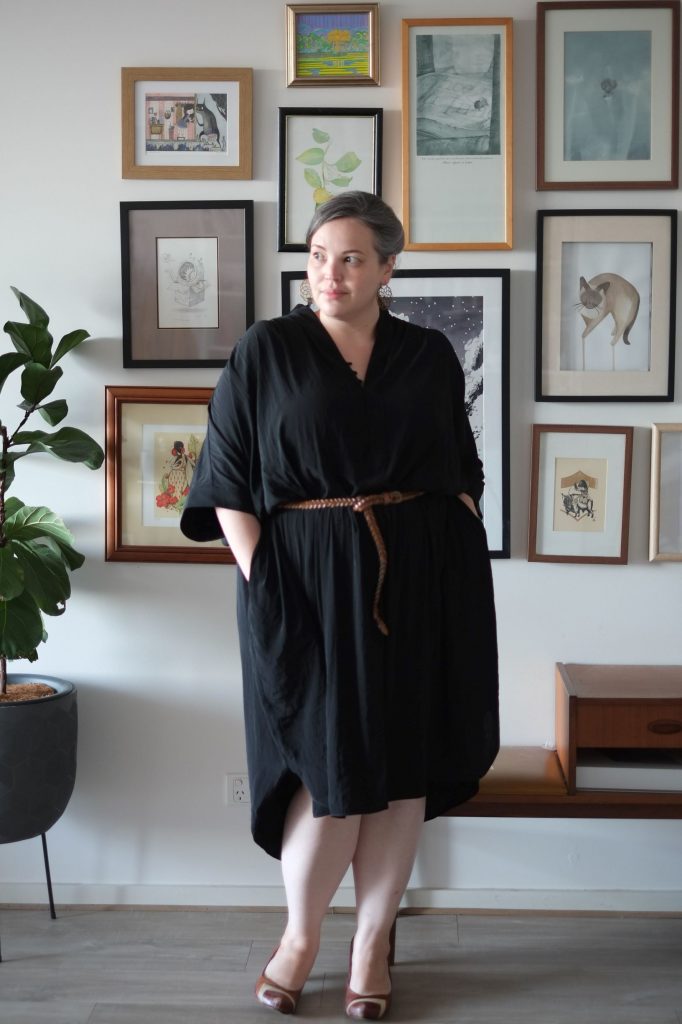 Anyway. This is my new favourite dress, and I'm glad I can just chuck it in the wash and it dried quickly without needing ironing, because I've been wearing it a lot! I can't wait to wear it OUT too! (Come on Melbourne, we can do this.)